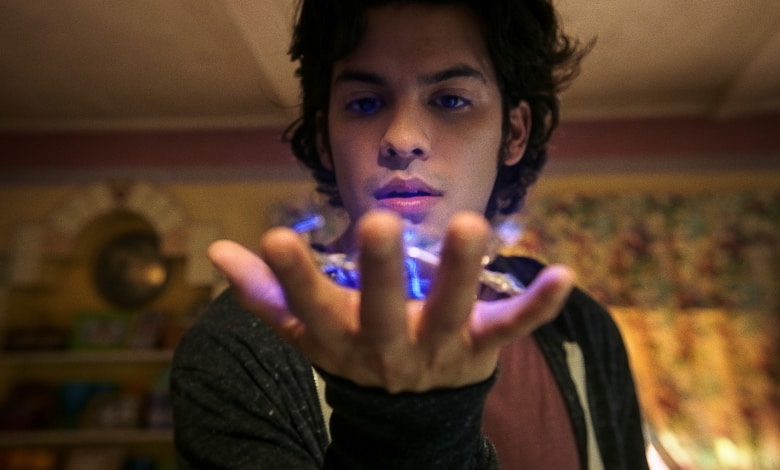 One of the laziest things a critic can say in 2023 is that a film feels like it was cranked out by an A.I. bot.
Blame Hollywood. The industry keeps making safe, formulaic movies. Like "Blue Beetle."
The superhero yarn might have felt fresh a decade ago. Seen today, after countless super heroics have danced across our screens, the film feels too familiar, from the cookie-cutter script to the generic CGI fights.
The charming cast saves scene after scene, but there's only so many times an actor can carry that burden.
BLUE BEETLE | OFFICIAL FINAL TRAILER
Xolo Maridueña of "Cobra Kai" fame stars as Jaime, a recent college graduate struggling to find his first big job. He settles for blue-collar work, where he stumbles into a clash between the head at Kord Industries (Susan Sarandon, given nothing interesting to do or say) and Jenny (Bruna Marquezine), the company's rebellious voice.
Jenny sneaks a mysterious blue scarab to Jaime, one of many silly plot points which push the story along. The device bonds with the young man, transforming him into … Iron Man, complete with a Jarvis-like talking assistant!
Except the suit is blue and he struggles to command its powers a la "The Greatest American Hero."
Now, Jaime must protect his tight-knit family, including an over-the-top George Lopez as Uncle Rudy against Sarandon's villain and her muscle – an enhanced super soldier with powers not unlike the Beetle.
View this post on Instagram
Director Angel Manuel Soto teased a film brimming with woke story elements, and he wasn't kidding. Jaime's annoying sister Milagro (Belissa Escobedo) would make Titania McGrath blush with her victimhood cries.
White characters constantly shame Mexicans by mispronouncing their names or pretending they're "the help." We even get a scene echoing an I.C.E. immigration raid.
It's Identity Politics: The Movie!
Yet we're also told, again and again, about the resilience of the Mexican family unit. That's personified by Nanna (Adriana Barraza), who joins the action in ways meant to make audiences cheer.
They just might, thanks to the energy Barraza brings to the performance.
Of course Uncle Rudy is part radical, part tech guru, able to fix anything in seconds flat. And, naturally, the empowerment messaging comes at us like a bolt of energy from a super suit.
Hollywood has been notoriously late to the party when it comes to letting all nationalities get their closeup. Movies like "Moana," "Easter Sunday" and "The Farewell" are changing that.
Good.
Yet "Blue Beetle," so close on the heels of "Flamin' Hot," makes the blunt representation angle feel cliched already. The film name-checks "family" more often than a "Fast & Furious" sequel.
"Blue Beetle" overstays its welcome by pushing past the two-hour mark. It's never dull, and the sweet bond between family members never wears out its welcome.
HiT or Miss: "Blue Beetle" is an adequate time waster, a well-meaning DC extension heavy on family and victimhood cries.