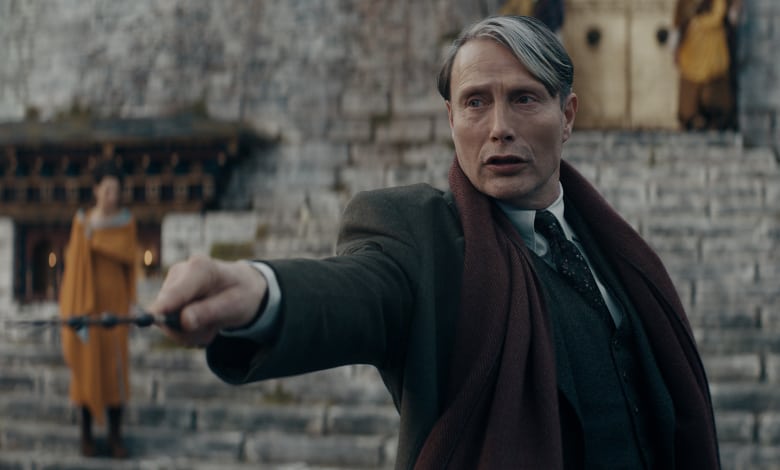 Three movies into the "Fantastic Beasts" franchise, Warner Brothers' lavish "Harry Potter" prequel series, and it appears that the magic has run dry.
The new "Fantastic Beasts: The Secrets of Dumbledore" is a major disappointment, as this "Harry Potter" For Grownups spinoff began with such promise. Despite being written by the Wizarding World creator J.K Rowling and directed by David Yates (who has helmed the first two installments and most of the "Harry Potter" films), the latest and hopefully last entry limps to its typically busy but flat conclusion.
Fantastic Beasts and Where to Find Them - Final Trailer - Official Warner Bros. UK
The first film introduced us to Newt Scamander, played by Oscar-winner Eddie Redmayne, an oddball "magizoologist" who struggles to keep his collection of magical creatures confined to his magical suitcase.
Set in New York of 1926, some 70 years before the events of "Harry Potter and the Philosopher's Stone," Scamander, along with an Auror named Tina (Katherine Waterson) and a baker named Jacob (Dan Fogler) take on the vile wizard, Grindlewald (Johnny Depp in the first two installments).
"Fantastic Beasts and Where to Find Them" (2016) is set in a world I loved, showcased in a film with no center. Redmayne's overly self-conscious turn, with an demonstrative quirkiness (he whispers and mumbles nearly all of his lines), brings to mind the likes of Giovanni Ribisi or Jeremy Davies.
For all the acclaim the actor has received, Redmayne's awful turn in "Jupiter Ascending" (2015) seems less a fluke than many believed at the time. Redmayne is overly mannered in this, as though he were afraid of being upstaged by the special effects.
View this post on Instagram
The visual effects are gorgeous, but Rowling's screenplay is overplotted and busier than necessary. There's an overkill of CGI swirling across the screen at every given moment, which undermines the human element.
A sense of humor and a story always in motion helps, but all this whimsy and spectacle needed someone to anchor it. At the very least, it definitely needed more of Colin Farrell.
Instead of guns, the rival wizards and witches fire bolts from their wands; a shootout in a train station, with wands standing in for tommy guns, is an exciting touch. Yet, despite the setting, it's a stretch to refer to any of the "Fantastic Beasts" films as a true neo-noir genre synergy.
It's also not horror/fantasy noir, neither an "Angel Heart" (1987) nor a "Who Framed Roger Rabbit" (1988). It never conjures up the edge of "Witch Hunt" (1994) or "Cast a Deadly Spell" (1991), either.
RELATED: Stars Couldn't Save 'Chaos Walking' from Bombing at Box Office
What gives the film some kick is the subtext, as this is a tale of dueling ideologies tearing the fabric of society apart. The introduction of "The Second Salemers" is so good, it should have been the film's central plot. Ditto Samantha Morton's disturbing Mary Lou Barebone, who ought to have been the main heavy.
James Newton Howard's score is wondrous, as are the Oscar-winning Colleen Atwood costumes. Fogler's Muggle sidekick and Alison Sudol as the psychic Queenie far outshine Redmayne and a pretty-good Waterson.
It's very telling that the film ends with Queenie and Jacob, in a jewel of a closer.
The first sequel, "Fantastic Beasts: The Crimes of Grindlewald" (2018) begins with a thrilling prison heist, allows for a return excursion to Hogwarts and introduces Zoe Kravitz's previously alluded to Leta Lestrange.
Fantastic Beasts: The Crimes of Grindelwald - Official Comic-Con Trailer
Playing Grindlewald as more than a surprise cameo, Depp is not only riveting, but the movie absolutely needs him. Ditto a warm and commanding turn by Jude Law as Dumbledore, bringing depth to the character's complex past. Redmayne's look-at-me quirkiness is no match for Law or Depp, who frequently blow him off the screen.
Its also, like its predecessor, overplotted – at one point, we even stop to observe a family tree (!) and the third act is loaded with multiple flashbacks and scenes of characters standing around, dropping piles of exposition.
Themes of historical injustice arise, though what truly works in the last act is the villain – Depp's coliseum speech is among his best moments as an actor. A scene involving a battle between a giant feline and an army of multiplying "mantagots" (scary cat creatures) is a wonderful creature tussle.
"The Crimes of Grindlewald" is the funnier and crazier film, very-"The Empire Strikes Back" with its key reveals, cliffhangers and characters left in limbo. It's so good, in fact, that it had me eagerly awaiting the third chapter.
Now we have "Fantastic Beasts: The Secrets of Dumbledore" and, sad to say, the formula feels stale.
Fantastic Beasts: The Secrets of Dumbledore – Official Trailer
If you haven't seen the first two entries, you will be completely lost, as no effort is made to catch up newcomers or to even bring fans up to speed.
After a couple of engaging early scenes, the momentum drops off completely, as it frequently stops and starts, with many scenes feeling over extended. Speaking of which, this two-and-a-half-hour ordeal has a problem that every single "Harry Potter" film (even the great ones) share: they're all at least 20-minutes too long.
Due to a public scandal, Depp has been replaced and the role of Grindlewald is now portrayed by Mads Mikkelson. It's not a smooth transition and akin to those soap opera episodes where a scene would begin with an announcement of "the role of Diane will be played by…" and some stranger would be standing in for a missing actor.
Mikkelsen is a wonderful performer and brought an entirely original take on Dr. Hannibal Lecter to three seasons of the fantastic, shocking NBC series "Hannibal" (2013-2015). Here, no effort has been made for continuity, as Mikkelsen looks nothing like Depp's take on Grindlewald and some time passes before the film even identifies him as such. If you're going in uninformed, it will be confusing.
RELATED: Johnny Depp's 'City of Lies' Courts Biggie's Death
I missed the energy and genuinely scary quality Depp brought, though Mikkelsen isn't bad here, but he's being a placeholder for another actor who owned this role. The production values remain strong but there's precious little emotion, let alone real stakes, to any of this.
A problem with all three films that is especially apparent here: when all of your main characters can teleport, it makes every single action sequence and battle a total contrivance. After all, why fight or even get injured, when you can just go poof and send yourself elsewhere?
There are two good scenes: an odd encounter with crab/scorpion creatures is among the few to garner real laughs and an out in the open wand shoot out is rousing. Otherwise, most of the big sequences offer thick dollops of CGI swirls around the actors running in slow motion.
Give me a Quidditch match any day.
Speaking of which, there's a return trip to a beloved franchise spot but, unlike in the prior entry, the scene fails to juice things up.
The big plan presented in the third act, in which confusion among the team of heroes will aide their quest, only succeeds in attempting to justify lazy writing that we're meant to accept at face value. Then, there's the dopey "Qilin" ceremony, in which a creature performs a Groundhog Day-like ceremony to determine an election.
Considering how strong the "Deathly Hallows" sequels wrapped things up, the concluding scenes here feel like a party that has gone on too long, with the star players looking tired as they shuffle out the door.
There are peaks and valleys in the "Harry Potter" film series but, for the most part, they succeed in their ambition and as adaptations. The "Fantastic Beasts" series is like a wand that has been used too often, with the magic all fizzled out.
On a scale of 1-4 stars-
Fantastic Beasts and Where to Find Them: 2 and a Half Stars
Fantastic Beasts: The Crimes of Grindlewald: 3 Stars
Fantastic Beasts: The Secrets of Dumbledore: 1 and a Half Stars