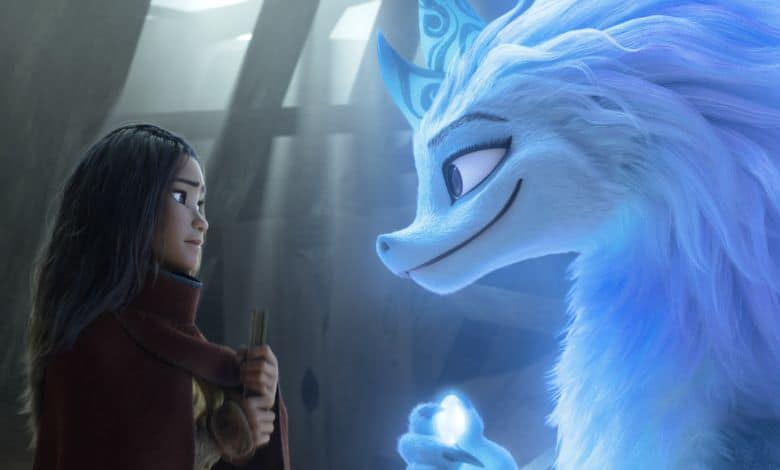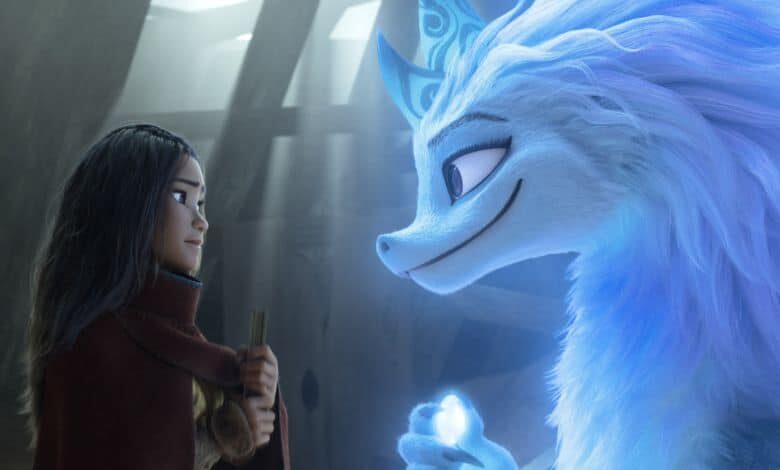 Once upon a time, in a faraway land, we meet Raya (Kelly Marie Tran), who is the daughter of Chief Benja (Daniel Dae Kim), leader of Kumandra.
Chief Benja is trying to end the feud of the neighboring lands, which are referred to as Fang, Heart, Tail, Spine and Talon. A peace meeting, in which the angry, ready-to-strike opponents agree to play nice, is the inciting incident in which Raya discovers how bad things have gotten.
Raya goes on a quest to find Sisu, the last dragon (Awkwafina), to accomplish her mission. Reuniting sworn enemies and restoring peace is a far more difficult task than anticipated in Disney's latest animated film, "Raya and the Last Dragon."
Disney's Raya and the Last Dragon | Official Trailer
In addition to its considerable visual beauty, "Raja and the Last Dragon" is also a cautionary tale about how essential it is to maintain character while others fall prey to their baser instincts. Take that as a political point or just the observation that we don't have to mirror the actions of people who are awful to one another.
An element that I never quite got used to was listening to 2021 tween-speak in a fantasy setting. At one point, Raya begins narration with "Okay, so here's the sitch…"
The overly contemporary dialog is just weird. So is the dragon, with Awkwafina's hit and miss vocal performance ranging from sweet to the sort of forced cuteness that Sarah Silverman only sold to a point in "Wreck-It-Ralph."
The look and attitude of the dragon plays like a cross between "How to Train Your Dragon" and "My Little Pony: Friendship is Magic." Far better is Tuk Tuk, Raya's animal sidekick. The critter has no dialog but, in typical Disney fashion, steals every scene he's in.
RELATED: Why 'The Great Mouse Detective' Saved Disney
I thought Tran stood out as Rose Tico in the bizarrely loathed "Star Wars: The Last Jedi," but I'm more impressed with her vocal performances in "The Croods: A New Age" and here. She is so good in "Raya," bringing inner fire and pluck to her character.
Composer James Newton Howard's score is another major plus.
While the juvenile dialog is a letdown, at least this offers a compelling story with lots of obvious parallels to modern day. There are factions of angry mobs at war with one another and a misty being, that is kind of like a virus, turns people to stone. While the obvious allegories being made will resonate with grownups, the mall-speak lines will date this the most.
There are themes of trust and the need for a willingness to rebuild, but the reliance on formula undermines it. For all the attempts to make this relevant allegory to modern day, it falls short of what "Zootopia" achieved. It's clear from the start what has to happen and where the story has to go.
There a couple of surprise character motivation reveals (similar to that dastardly prince in "Frozen") but otherwise it all goes down like clockwork. The goofy touches sometimes contrast with the animation, which is stunning and on a level of seriousness the film can't always match.
RAYA AND THE LAST DRAGON Clip - "Glowing" (2021) Disney
In terms of being a Disney film that attempts to celebrate Asian culture but just winds up Disney-fying everything, it's at least so much better than last year's live-action "Mulan" debacle.
I actually liked "Raya and the Dragon" and found it very good overall (which is more than I can say for "Soul" or "Frozen II"). It's closer to a passion project than just an outright pre-packaged Disney product but, for all the standout elements, it also resorts to easy crowd-pleasing (like the odd running gag about a "con baby" that seems like an odd reworking of "The Boss Baby").
There's a note late in the end credits that over 400-people worked on this from home, a nice reminder that not everyone social distancing last year was just watching "Tiger King" from their couch.
Two and a Half Stars