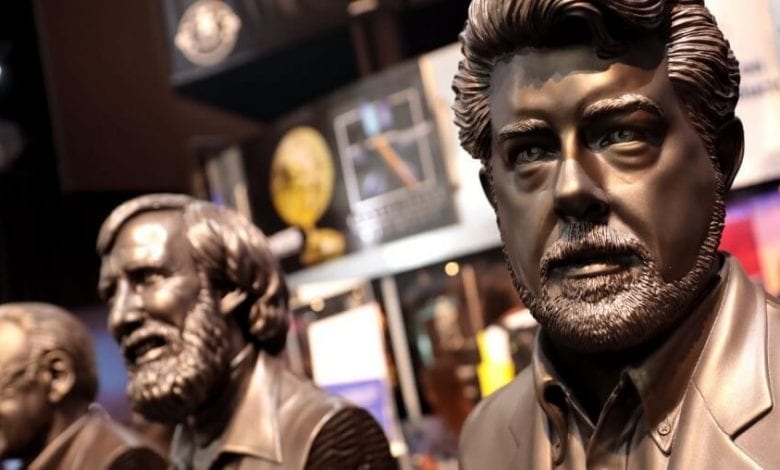 No one blames George Lucas for the creative (but not monetary) failure of "Star Wars: The Rise of Skywalker."
At this point, since Disney acquired the rights to The Force, Indiana Jones, Willow Ufgood and everything in between that was once Lucas', he can now join us in our collective disappointment.
Of course, it wasn't always this way. Lucas, for all the flack he still gets for tinkering with his movies (how dare he make additions to his own art!), the man is unquestionably a visionary, passionate storyteller and technically innovative filmmaker.
One can't help but wonder if Disney is going to utilize a former Lucas property they now own: "Radioland Murders," the 1994 pet project that was directed by Mel Smith but conceived and executive produced by Lucas.
Of the few films Lucas has made that don't work and/or were box office flops, this one is the most fascinating and has the richest history.
Radioland Murders Official Trailer #1 - Ned Beatty Movie (1994) HD
Originally conceived in 1974, with a draft filed by Gloria Katz and Willard Huyck in 1976, Steve Martin and Cindy Williams were rumored to be in the running for the lead roles. The film (which some view as a prequel to "American Graffitti") wasn't made until two decades later.
According to Premiere Magazine, Lucas quietly did some of the second unit directing and used the project as a means to test bounds of CGI technology he was planning to implement in his upcoming "Star Wars" prequels.
Most would cite "Howard the Duck" as Lucas' prime cult movie curiosity item (and deservedly so, as it's the first-ever Marvel movie and, after all, has a duck nude scene in the opening minutes).
Howard the Duck (1/10) Movie CLIP - No More Mr. Nice Duck (1986) HD
Fair enough, except "Howard the Duck" was a massively hyped summer of '86 attraction that caught a case of the "Cats"- specifically, audience word of mouth and horrendous movie reviews from critics out for blood killed it after opening weekend.
With "Radioland Murders," many were unaware it ever played in theaters. The release was akin to Witness Protection on the part of Universal Studios. Of course, the lack of a clearly defined premise and rotten reviews didn't help.
Brian Benben (star of the well-liked HBO series "Dream On") and Mary Stuart Masterson (hot off the success of "Fried Green Tomatoes" and "Benny & Joon") star as Roger and Penny, respectively. The couple is having an ongoing spat while they work at WBN radio. It's 1939 and Roger sweats away in the writer's room while Penny is the assistant director seeking to further her career and divorce Roger.
FAST FACT: "Radioland Murders" opened to an anemic $835K in 1994, with a final tally of $1.3 million.
There's also The General (Ned Beatty), the station owner who runs the operation with military gusto. We also meet Dexter (Corbin Bernsen) the station announcer and Claudette (Anita Morris) the bombshell actress who Penny suspects Roger is having an affair with.
All of these characters and dozens more become suspects as performers die while the radio show (in which a live studio audience enjoys drama, music and variety acts) carries on.
The problem with Lucas' long gestating passion project isn't a lack ambition, available technology or enthusiasm but a lack of self-control.
There's lots of Three Stooges-style slapstick, Keystone Cops-era pratfalls and "Why-I-Oughtta" corniness. To give the film some credit, it never stops moving, whether it's working or tanking.
The cast is amazing and is so vast, there are highs and lows to single out. Starting with the standouts, Christopher Lloyd (as a manic sound mixer), Michael Lerner (doing his Coen Brothers schtick as a fed-up cop) nail the feel of the era.
Michael McKean, Stephen Tobolowsy and comic legends Robert Klein and Bobcat Goldwait all have good moments. On the other hand, Larry Miller is awful and George Burns (who is on screen for seconds in his final film role) and Harvey Korman are wasted.
There are also stand-ins for the likes of The Andrews Sisters, The Shadow, Spike Jonze, Cab Calloway and Gene Autrey; for Golden Age of Radio fans, these quick nods to the superstars of the radio dial are fun.
Telling Stories with Sound: The Golden Age of Radio Drama
In some ways, "Radioland Murders" is a wonderful recreation of a lost form, as the onstage performances are by far the best, most enjoyable sequences. There's a truly funny set piece at the mid-point, in which two actresses are stuck reading the wrong scripts while live onstage.
If only the screenwriters thought to eliminate the silly mystery plot and just keep the focus on the radio performers. Robert Altman's similarly corny (if far better) "A Prairie Home Companion" also worked best when it stuck to the onstage singing and dancing.
Let's return to the idea of Steve Martin in the lead role. The actor, unfortunately, was making his own failed slapstick farce at the same time – Nora Ephron's "Mixed Nuts."
I would have liked to have seen Martin's take on Roger, though Benben works hard in the role. If there's one key ingredient that fails Benben, it's that he's approaching the role as an actor, when this really needed a comedian whose physical timing could match the rapid-fire patter.
Masterson's take on Penny is likewise, no better or worse than what Cindy Williams could have injected. Interestingly, Jennifer Jason Leigh's work in the Coen Brother's poorly received "The Hudsucker Proxy," out the same year, feels closest to what was needed to make the smart, strong-willed female protagonist work.
The Hudsucker Proxy Official Trailer #1 - Charles Durning Movie (1994) HD
In fact, everything here should have been more "Hudsucker Proxy" and less "Brain Donors." If "Radioland Murders" would have felt defiantly out of touch in the 1970's, it was much more so in 1994.
It's all over the place, as the endless pratfalls and punishingly unceasing comic energy either demonstrate organized chaos or a movie spinning out of control. For a while, it seems like "Radioland Murders" is an over-caffeinated French farce, overabundant in its aim to please, until it becomes downright insufferable by the second act.
At least it's not the worst film ever made by Lucasfilm – while it's on the level with "Howard the Duck" (a terrible curiosity item but not uninteresting), it's never as bad as the justly ignored, truly unwatchable "Shrek"- wannabee, "Strange Magic."
I'll give Lucas the last word, per Marcus Hearn's "The Cinema of George Lucas"-
"I loved the film, but it went absolutely nowhere. I like my movies and I'm always surprised if they do well or do terribly. But "Radioland Murders" was inexpensive and we learned quite a lot."
Photo by Gage Skidmore on Foter.com / CC BY-SA