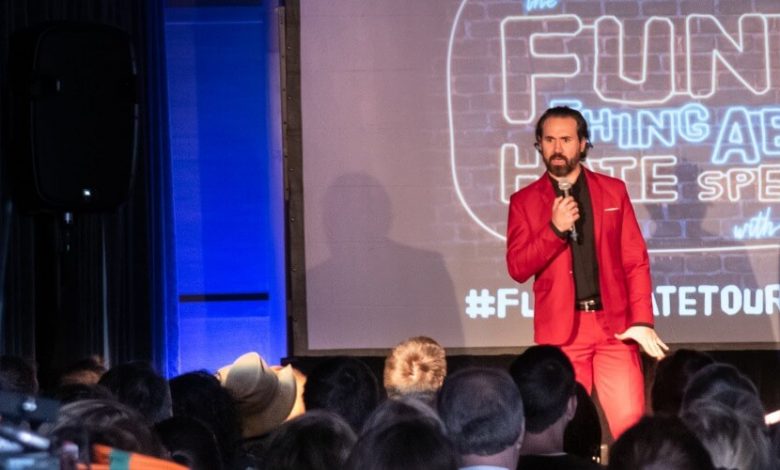 Lou Perez is doing what the vast majority of Hollywood players won't … defend free speech.
Even, gasp, hate speech.
Perez, executive producer for We the Internet TV, is touring the country with his "Funny Thing About Hate Speech" tour.
Part stand-up, part panel presentation, the tour shares the suddenly out of vogue notion that hate speech should be protected. No, Perez isn't Sieg Heil-ing across the stage or condemning minorities. He's reminding us that the more a society clamps down on speech, the less freedom we all have.
The Funny Thing About Hate Speech Tour | We The Internet TV
"Shutting people down doesn't silence them. It makes them louder and stronger," Perez says in the video for the tour.
Perez visited Colorado Springs Nov. 7 after stops in Portland and Los Angeles.
"You're all on a list now," Perez joked during the Colorado show's opening. The crowd, packed into the Phantom Canyon Brewing Company, tilted heavily toward Millennials.
Perez, wearing a bright red suit, took no political sides during the presentation. He did, though, ferret out some reluctant fans of the Commander in Chief.
"It's dark. You can clap," Perez said after asking if any Trump fans were in attendance. More than a few hands came together despite that initial hesitation.
RELATED: Why 'Hot Air' Is a Chilling Attack on Free Speech
The host yukked it up over his own career foibles as well as being newly married. In between, he shared some hard truths.
"Hate speech can be great speech."
"Hate speech can't actually hurt you."
Those messages resonated during We the Internet TV's award winning short, "5 Reasons We Need Hate Speech."
5 Reasons Why We Need Hate Speech | We The Internet TV
Perez shifted to the night's panel discussion featuring Amie Stepanovich and Josh Dunn. She serves as the executive director for Silicon Flatirons. The organization, according to its web site, "elevates the debate surrounding technology policy issues; supports and enable entrepreneurship in the technology community; and inspires, prepares, and places students in these important areas."
Stepanovich brought a left-leaning perspective to the event. Dunn, a professor of political science at the University of Colorado, Colorado Springs, suggested more center-right perspectives.
That likely wasn't an accident. In a perfect world, the battle to preserve free speech is a bipartisan affair.
Perez is a humorist by trade, but the panel discussion focused primarily on tech-related woes, including the rise of online fury.
"We're bathing ourselves in outrage every day," Dunn said.
The conversation veered repeatedly back to the social media giants. Stepanovich worried about Facebook's influence on both the 2016 and 2020 elections. Dunn, in turn, feared a different kind of power over our lives.
"I don't have to trust Facebook and Twitter. I have to trust them more than a government bureaucrat," he said.
RELATED: 'No Safe Spaces' Rages Battle for Free Speech
Perez addressed this reporter's question about the concept of "punching down" in modern comedy before the panel wrapped.
"Comedy," he said, "is about taking on sacred cows." Today's intersectional Left creates a flurry of such "cows," a shifting hierarchy which challenges modern comedy.
"It could be the role of a comedian to take them down," Perez said.
That opinion alone could have caused a kerfuffle. Nothing of the kind happened Thursday, although hosting the event in a red city like Colorado Springs helped.
Overall, no one appeared triggered throughout the night. Beer and mixed drinks flowed as easily as the conversation. Still, the L.A. portion of the mini tour offered a sobering take on why Perez's mission matters.
Panel speaker Debra Soh, a Canadian journalist, required a security presence during her part of the tour thanks to a credible threat posed against her.
---
The final stop on "The Funny Thing About Hate Speech" tour will be Nov. 13 in Washington, D.C. Perez's panelists will be Reason.com associate editor Robby Soave and AEI resident scholar Christina Hoff Sommers.