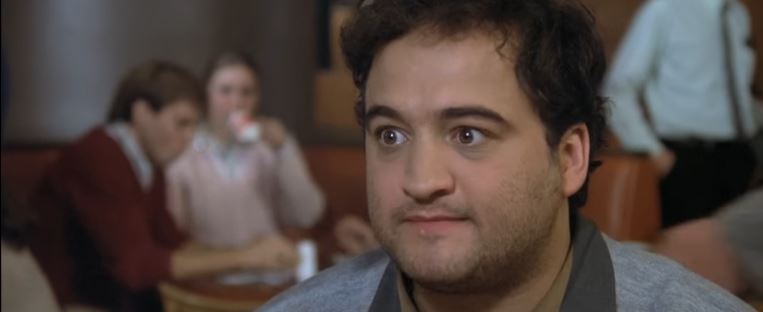 What comes to mind when you recall classic comedies like "Animal House," "Caddyshack" and "Vacation?"
Bawdy? Outrageous? Subversive? Certainly hilarious.
Those films, either created by or delivered with the National Lampoon imprimatur, changed the face of comedy. And they did so without bowing to any special interest demands.
If you were offended by any gags … tough.
Bluto's a Zit - Animal House (5/10) Movie CLIP (1978) HD
If the new National Lampoon overlords have their way, the comedy brand will put that approach in its rear view mirror.
"Inclusive" is now the prime directive, according to a press release from the brand's new owners. Somewhere John Belushi is shaking his head ruefully.
PalmStar Media acquired the dormant comedy brand last year, planning a multimedia resurgence building on its iconic past.
The reboot won't be easy.
It's been a long time since we saw any great National Lampoon product. For too long the name helped promote direct-to-video dreck like "National Lampoon Presents Dorm Daze," a far cry from Belushi and co. at their best.
Now, we're starting to see some action from PalmStar Media.
RELATED: 5 Woke Movies Deemed Not Woke Enough by SJWs
National Lampoon 2.0, now dubbed "NL," kicked off a Comedy Screening Competition this week:
The winning feature-length script will receive a paid option of 18 months by National Lampoon, with the winning writer or team of writers put directly into their mentoring program….
With an eye for highlighting traditionally underrepresented voices, the National Lampoon & Stage 32 Comedy Screenwriting Competition is looking to identify and champion a screenwriter and their comedy feature script. Some of the best comedy finds its success in providing unique insight on something familiar; the humor, irony, or absurdity in an everyday experience is illuminated by some alternate perspective. Accordingly, the comedy landscape—across every medium—is its most rich, thought-provoking, and entertaining when it is inclusive (emphasis added).
There's more:
Aligned with its hallowed tradition of fearless social commentary, the new National Lampoon places a strong emphasis on championing the ideas and work of historically underrepresented creatives.
What about the funny?
Will the new NL be as woke as other recent comedy flops ("Neighbors 2," "Rough Night," "Snatched")? Will the sight gags get interrupted by speeches meant to shame audiences into thinking a certain way?
Better yet, does anyone in charge of the brand remember what the brand did best? National Lampoon took no prisoners.
Truth to power MT @kbdabear Natl Lampoon's "Ted Kennedy VW Ad" that exploded heads in the 70s pic.twitter.com/CbrU2IX0eY #rednationrising #tcot

— Junkyard Dogs (@baileyjer) July 20, 2014
The recent Netflix original film "A Futile and Stupid Gesture" captures a fraction of the brand's irreverent spirit. It's that same spirit that appears to embarrass the brand's new keepers.
A Futile and Stupid Gesture | Official Trailer [HD] | Netflix
Now, this is all a reaction to a single press release. The message suggests a depressing NL reboot all the same.
Comedy is a wonderful venue for alternate voices. It also speaks to universal truths. "Animal House" pitted the "snobs" vs. the "slobs" in epic fashion. Guess which ones ended up the heroes, massive warts and all? You didn't have to belong to any specific group to get those jokes.
And what about those "historically underrepresented creatives?" Does NL plan on tapping some conservative talent for a change? That perspective is M.I.A. on the comedy scene today. Doesn't half the country deserve some representation?
Better yet, why not put special interests aside entirely and just be funny?
RELATED: How Woke Comedy Is Killing Laughter in Pop Culture
The sad reality is that we need National Lampoon now more than ever. The comedy landscape is an artistic crime scene at the moment.
Samantha Bee and her humor-free attacks on her "foes"
Stephen Colbert telling a sitting president to resign while his audience howls in approval.
Jimmy Kimmel using his nightly monologue as an in-kind contribution to "The Resistance"
The jokes, if you can call them that, all flow from the same, repetitive direction.
National Lampoon never fell into such a predictable pattern. The brand got under our skin in any way possible. It longed to poke, prod and provoke with its gags. One joke might make us howl.. The next? We'd demand an apology.
Good luck with that.
That's subversive comedy, the very opposite of "inclusive" yuks the rebooted brand is seeking today.
---
Want more conservative Hollywood coverage? Hit "like" on the Facebook button below!