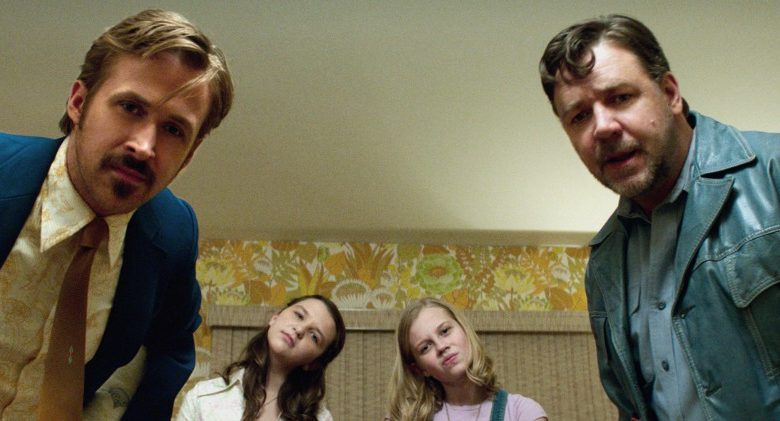 Black, who directed and co-wrote "The Nice Guys," collected $4 million for his 1996 movie "The Long Kiss Goodnight" alone. Landis just sold his "Bright" script to Netflix for $3 million. Yet surprisingly, they're not bitter rivals.
Instead, they're best friends.
Black, 54, and Landis, 30, might seem an odd pairing. Black notes he's old enough to be Landis' father.
Their mutual penchant for entertaining dialogue and plot twists redefined their genres (Black created the "Lethal Weapon" franchise, for one). Their passion for movies and how to make both the creative and the business sides of the industry work better drives their relationship.
The Nice Guys - Official Final Trailer [HD]
The two teamed up for an explosively funny, thoughtful and inspiring joint interview recently on the podcast "Grown-Ass Men" on the Radio Titans podcast network.
The dynamic duo offered a blisteringly paced assessment of the Hollywood landscape just in time for Black's newest movie, "The Nice Guys," and Landis' own terrific VOD feature "Mr. Right."
In the course of the interview, Black updates the status of his new movie in the "Predator" series and they tear apart what went wrong after the first "Die Hard" movie. You'll also learn how the "Lethal Weapon" series spun into such out of control budgets that its studio simply couldn't justify a fifth film. And they point out the moment that Pierce Brosnan's final James Bond film became utterly ludicrous.
In Defense of Risk Taking
Landis, meanwhile, explains why his film "American Ultra" failed at the box office despite being a pretty cool flick ("In Hollywood these days, you get punished for taking risks"). He also shares the mind-boggling experience of showrunning the upcoming "Dirk Gently" series, and along the way trades insights with Black about the career path of Johnny Depp and the real reason Leonardo DiCaprio won an Oscar for "The Revenant."
It's also refreshing to see genuine friends having a great time amid the cutthroat atmosphere of Hollywood. But then, their friendship began in rather amusing fashion.
"I met Shane at a graduation reunion of a college I didn't graduate from and he didn't go to," laughs Landis.
"That says very little about us other than we were both desperately in need of a party that day," adds Black.
"He has movie nights on occasion at his house," adds Landis. "I went every Sunday for a year then both of our lives got more busy. Occasionally he lets me throw giant weird parties at his house. "
"Max has this entourage of people that' s very invigorating because I'm a little older," explains Black. "I don't think he could be my son, but it's not that far off. Some trans guy will walk in, and then fairies – I mean people really dressed in fairy costumes, with wings! – will come floating in. Other people with weird masks, Mexican wrestlers. There's a sense of Max at the center of a performing arts crowd. He's got a circle of hipster-esque young friends."
Landis, son of acclaimed director John Landis ("Animal House"), enjoys time spent with people who don't fit a certain mold.
"I was a bullied kid, because there is a squad of people who are kids of famous people and I was never a part of it because I was weird, creepy Landis," he says. "They live off their parents and trust funds and I'm working on my series in Vancouver. I worked hard and I'm proud of it."
Tune into the whole episode to hear Black's smooth voice and Landis' incredibly manic energy bounce off each other in a way that is impossible to describe.
---
Carl Kozlowski is founder and Chief Creative Officer at Radio Titans (www.radiotitans.com), and host/cohost of its shows "Grown-Ass Men," "Pajama Party," "The Koz Effect" and "Kozversations," plus Chief Guest Booker Winner of the world-famous Laugh Factory's "America's Funniest Reporter" contest.