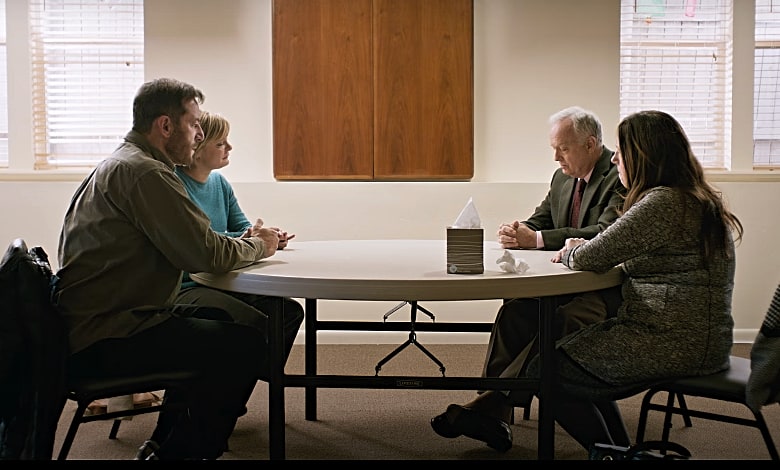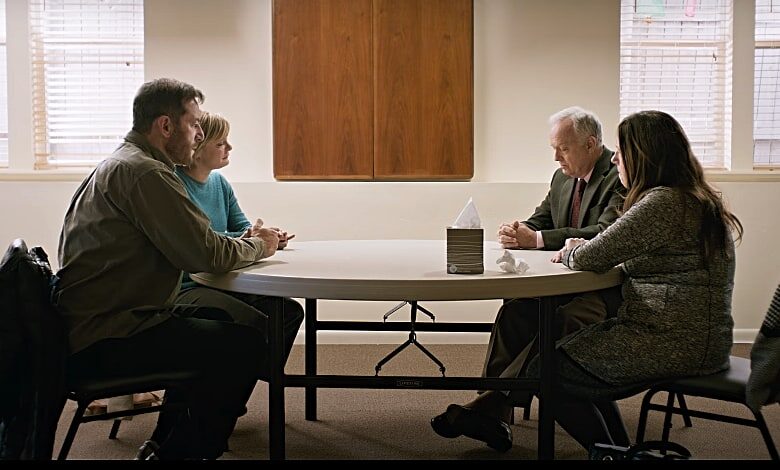 Writer/director Fran Kranz' "Mass" is set on a quiet day in an Episcopalian church, where a church organizer is running around trying to set up an important meeting.
She gets a young church volunteer to help her arrange the table and chairs in an isolated room, preparing what feels like a potentially volcanic assembly about to take place. The details of the meeting are off limits, to them and us.
I won't reveal why the meeting is taking place, since the film clearly wants us to be in the dark for some of the first act. Instead, I'll just say that the two couples in attendance, Gail and Jay (Martha Plimpton and Jason Isaacs) and Richard and Linda (Reed Birney and Ann Dowd), are meeting in the church basement as a polite form of confrontation.
MASS | Official Trailer | Bleecker Street
Whether you can guess why the meeting is taking place or not, the tension in the introductory scenes is hard to endure. Once the couples finally begin to talk and get to the reason of the gathering, the ease doesn't arrive, because the topic is so troubling.
If you remember Kranz from his Shaggy from "Scooby-Doo"-like performance in "The Cabin in the Woods," then what he's achieved here is even more remarkable. Here is a confident directorial debut, which takes on so much but is set in a sole location, with only four actors to carry it through, and the potential for a didactic pretentious work.
Instead, Kranz simply places us in close proximity with our four leads, indeed "opening up" the potentially claustrophobic nature of the piece, and allows the actor's nuances (instead of self-indulgences) to be showcased.
Jason Isaacs & Fran Kranz Interview - Mass (Bleeker Street)
There are so many ways this kind of movie could have gone wrong. I'm astonished how accomplished "Mass" is, as it is about the need for compassion and understanding and conveys this without turning maudlin or feeling forced.
This never distances itself from the subject matter by announcing itself as a dark comedy or a satire (it's neither of those things) but goes headfirst into portraying a discussion most would hope to never have in their lifetime.
Despite the single setting, four-character angle, "Mass" isn't aiming to grind us down or reduce the story to a yell-a-thon like "Who's Afraid of Virginia Woolf" or "Carnage." Perhaps Kranz can't completely escape a theatrical feel, but this is so much more than an actor's exercise.
RELATED: 'Skills Like This' – The Indie Darling Time Forgot
Isaacs (possibly best known for playing Lucious Malfoy in the "Harry Potter" films) and Plimpton (a great actress whose work goes back to the 1980s) are incredible, working inward and giving their lived-in turns a harrowing realism.
Birney, an acclaimed theater actor whose film career can be traced back to infamously starring in Sam Raimi's single dud, "Crimewave" (1986), is excellent here. Like his co-stars, Birney has a rich understanding of his character.
MASS | Everything You Cannot See | Bleecker Street
Possibly the most well-known of this mostly-four-person film is Dowd, due to her Emmy award-winning performance as Aunt Lydia on "The Handmaid's Tale." Initially, I was put off by Dowd's performance here, which seemed overly mannered.
Perhaps I was simply irritated with her character. While Dowd's turn is the film's most demonstrative in acting technique, her performance grew on me and has an engrossing arch.
The final moment is everything: I don't mean to overstate it, as it isn't comparable to the out-of-nowhere twist like "Magnolia" or the punishing snap of "First Reformed." Instead, the last minute, highly emotional revelation at the very end floored and moved me.
"Mass" encourages understanding and discourse over rage and slander, a quality that makes it rare and valuable. I don't know if the film could provide catharsis for someone, but it certainly aims for that, seeking a lingering, thoughtful response from its audience.
Speaking for myself, I was shaken and engaged with it and continue to consider the hard questions it asks but cannot entirely answer. It's undoubtably a tough movie but, if you're up for it, a rewarding one as well.
Three and a Half Stars