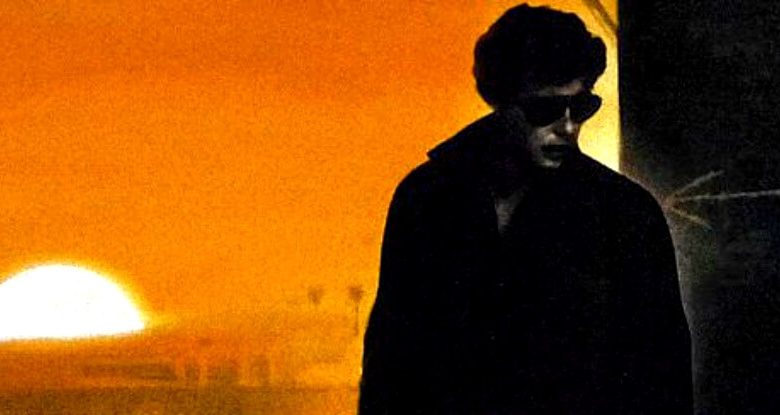 Friedkin's film feels less like a response and more a direct competitor to Michael Mann's trendsetting series, "Miami Vice."
Mann's show integrated songs with heavy MTV airplay, creating synergy between the music and the sleek imagery of undercover cops taking down Florida drug dealers. In Friedkin's hands, "Miami Vice" is instead L.A.-based, centered around Secret Service protagonists and art world bad guys. The 1985 movie is filled with gruesome violence, nudity and profanity too R-rated for television.
To Live And Die In L.A. (1985) - Official Trailer (HD)
In his film debut, William Petersen stars as Chance, a secret service agent who finds his work doesn't end after guarding heads of state. We know Chance is a risk taker. Both his name and an early shot of him literally walking to the edge (which he jumps off of and jumping jumps from) make this clear.
When Chance's partner is killed, he goes rogue to capture the man responsible, eyeing a corrupt artist named Masters (Willem Dafoe) as a suspect.
Friedkin was at an intriguing creative crossroads when he made "To Live and Die in L.A. (Collector's Edition) [Blu-ray]
." His previous effort, the 1983 arms dealer farce, "Deal of the Century," was a gross miscalculation. It starred Chevy Chase (whose performance is notably good and up to the demands of the material), Gregory Hines and Sigourney Weaver. The misbegotten, unfocused screenplay failed to mine "Strangelove"-like laughs from its hot button-premise. Rather than attempt an elaborate rebound, Friedkin stayed visible in unusual ways.
FAST FACT: Roger Ebert dubbed "Deal of the Century" a "disappointing mess" in his two star review of the film.
He directed the MTV music video for Laura Branigan's "Self Control," one of the top songs of its year. I keep waiting for cinephiles to note how the slick, then-raunchy video, released in 1984, has an uncanny similarity, both visually and thematically, to Stanley Kubrick's 1999 "Eyes Wide Shut."
Just remember you heard it here first.
Following the video's release, Friedkin directed an early episode of the 1985 revival of "The Twilight Zone." Friedkin's entry, titled "Nightcrawlers," depicted a Vietnam vet who terrorizes a small town diner with his strange powers.
The episode aired during "family hour" and depicted intense imagery never seen before at that air date. Some of show runners later stated that, not coincidentally, the show was placed at a later slot after Friedkin's episode and saw its ratings drop substantially.
FAST FACT: William Friedkin won the Best Director Oscar for 1972's "The French Connection." He earned a similar nomination two years later for "The Exorcist" but lost to George Roy Hill's "The Sting."
The episode is less than an hour and showcases some of the most riveting filmmaking of Friedkin's career. Friedkin's unorthodox path brought him to "To Live and Die in L.A.," which is an essential film in his directorial canon.
Unlike "Heat," Michael Mann's poetic, masterful meditation on the subject matter, the contrasts between the heroes and villains in "To Live or Die in L.A." aren't clearly defined.
To Live And Die In L.A. (1985) - Clip 2: The Airport (HD)
Exactly what the central characters want from their professions isn't entirely clear. No one on either side of the law, neither Chance nor Masters, has any moral compass or hesitancy to break the law in order to get what they want.
Despite being a straight forward cop thriller, the plot is sometimes overly convoluted. "To Live and Die in L.A." overflows with predictable twists, clichés and cornball "tough guy" dialogue. Before shooting a man, DaFoe declares he is "at the wrong place at the wrong time." Before inevitably being killed, Peterson's doomed partner declares he is "getting too old for this s—."
The latter quote is uttered two years before the first "Lethal Weapon." Danny Glover, you're welcome.
This is the kind of film where a Middle Eastern terrorist is blown up in the first few minutes and no one seems to care, not even seconds after it happens. Although undeniably edgy and uniquely mean spirited in '85, some of this is laughable and old hat now.
Despite a screenplay that needlessly overextends the narrative and builds to a shocking but still unsatisfying conclusion, Friedkin's film is always enjoyable and has some terrific scenes. The car chase in "The French Connection" is still cited by film fans as, next to the one in "Bullitt," the best in cinema. Yet, the extraordinary, epic sized vehicular smash n' bash in this movie is even more gripping and amazing.
To Live And Die In L.A. (1985) - Clip 3: Car Chase (HD)
Petersen's character never lets us in. Unlike Petersen's Will Graham in Michael Mann's "Manhunter" (Petersen's second film role), we never see the psychological toll Chance's job is taking on him.
Chance certainly has an inner life and a crazed drive in his profession. We're only given glimpses of what's going on behind his anytime/anywhere exterior. Nevertheless, Petersen's strong work, here and in "Manhunter," helped establish his trademark role on "CSI."
More importantly, Peterson's intensity matches Dafoe's, which is saying an awful lot. Dafoe holds the film is in scaly grasp every time he's on the screen.
RELATED: How the Villain Stole 'Nighthawks' from Stallone
John Pankow co-stars as Chance's partner and protégé. The casting of the lightweight Pankow with the electrifying Petersen never gels. Debra Feuer and Darlene Fluegel play, respectively, the love interests for Dafoe and Petersen. Both of these actresses do well but are on hand to look gorgeous, embody sexist characters and little else.
Friedkin infuses many scenes with homoerotic imagery and undertones, a touch that feels less progressive and more an effort to be provocative. As in Freidkin's "Cruising," these moments are crass efforts to elicit audience gasps and have a trying-too-hard-to-be-controversial vibe.
Wang Chung - To Live And Die In L.A.
Having '80s pop band Wang Chung compose the music and song score is another mixed bag. When Friekdin hired Tangerine Dream for his 1977 jungle adventure masterpiece "Sorcerer," the group's mysterious and pulsating music perfectly accompanied the dazzling imagery.
In the case of Wang Chung, the music pulsates but is overly insistent. At one point in time, I owned a Wang Chung tape cassette (due to my love for "Everybody Have Fun Tonight"). However, their nearly invasive presence on Friedkin's movie is such that we're supposed to believe in a world where "Dance Hall Days" is acceptable stripper music.
The Shout Factory Blu-ray release is a treasure trove of riches for the film's fans. It carries over the fine making-of documentary and Friedkin's informative commentary track from the previous MGM disc.
The new material is a series of interviews, the best of which come from an engagingly chatty Petersen. Feuer and Dwier Brown (a Friedkin regular who makes a brief appearance here as a doctor) offer insight on Friedkin's process and applaud his friendly candor.
Stunt man extraordinaire Buddy Joe Hooker recalls what went into the film's legendary car chase and Wang Chung cheerfully recall their unusual involvement and approach to composing the film's music. Also included is the music video-like trailer and the film's original ending, which Friedkin correctly deems to be a lousy alternative to the actual one used.
"To Live and Die in L.A. (Collector's Edition) [Blu-ray]
" drags its feet in the second act, taking too long to get to its big set pieces. While it isn't up to the classics that it were later inspired by it, Friedkin's film gives the crime thriller genre a thorough workout and offers some of the director's fiercest filmmaking.