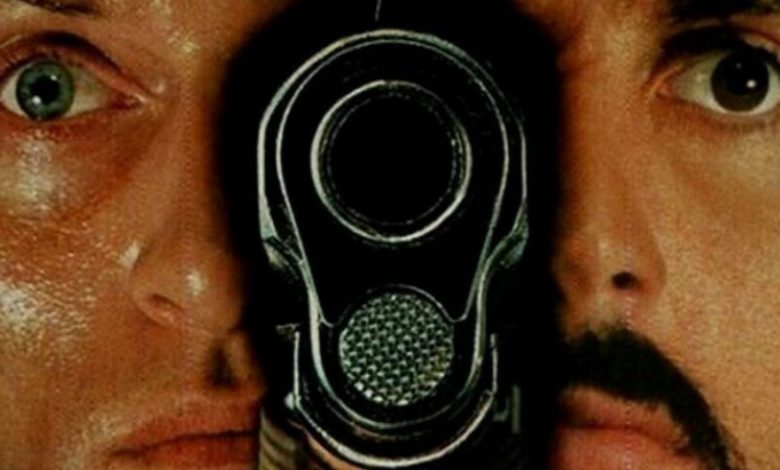 Sometimes, you look at the movies actors chose at the start of their fame and note the wise, career-enhancing roles that defined them.
Although forever deemed an Action Movie Star, Sylvester Stallone began his impressive career as an actor. Many have overlooked that he is NOT Rocky Balboa, but got his big breakthrough by writing a sensational screenplay, learning to box and conveying the soulful qualities of the cinema's most beloved fictional boxer.
What followed is all over the map.
The first act of Stallone's breakthrough as a film actor has some big highlights and some unfortunate detours. I prefer "Rocky II" to the original and applaud the edgy thrills of "First Blood." I wonder if Stallone regrets making "Paradise Alley." I suppose he still winces recalling the day he decided to make "Rhinestone."
Nighthawks (1981) - Clip 1: Cut Me! (HD)
Lying in between these blockbusters and flops is "Nighthawks." Director Bruce Malmuth's action thriller is somehow both a typical early '80s product and, in a profoundly unsettling way, very ahead of its time.
Stallone and a pre-"Empire Strikes Back" Billy Dee Williams play aggressive, fed up undercover New York City cops. They find their work undermined by colleagues and are assigned to an anti-terrorist unit. Years of battling drug dealers and urban slime lead them to trailing the U.S. arrival of a madman named Wulfgar (Rutgar Hauer).
The villain's plot to bomb the US is already underway.
RELATED: Why 'Die Hard' Still Matters
"Nighthawks" is not a great movie, but Hauer's scary, fiercely committed performance is exceptional. Coming off his Dutch Paul Verhoeven films, Hauer makes a vivid impression in his first role in an American production.
He followed this movie with his career-defining villain Roy Batty in Ridley Scott's "Blade Runner" and Verhoeven's first American film, "Flesh + Blood." Although playing the bad guy in a lesser Stallone movie may strike some as a dubious breakout role, Hauer's work is so crisp and nightmare inducing, he's one of the few screen villains who seems worthy of defeating his co-star.
Nighthawks (1981) - Clip 3: Hostage (HD)
Stallone and Williams, unfortunately, are blown off the screen by Hauer. The "Rocky" regular dons glasses and a beard that make him somewhat unrecognizable. Stallone is up for the character's emotional breakouts, but he never fully connects with the role.
The same goes for Williams.
Both capture the urban angst of their profession, but their characters lack the depth, steady intrigue and inner fire of the film's villain.
The late Persis Khambatta, who made a splashy film debut as the otherworldly ingénue in "Star Trek: The Motion Picture," is equally striking here. Although the part is underwritten, Khambatta, who is paired with Hauer, nearly matches his intensity.
FAST FACT: Rutger Hauer hinted at the chaos behind the scenes with the "Nighthawks" shoot in a 2015 interview. "I thought, if this was filmmaking in America, this wasn't the career for me," he said.
"Nighthawks" doesn't seem like a proper Stallone vehicle. It's so nasty and casually sadistic, it feels like a better fit for Roy Scheider. Later Stallone vehicles like "Cobra" and "D-Tox" (neither great, by the way) sport a similar approach and tone. This unholy trilogy aims low, while Stallone's best movies offer so much more than carnage and bloodshed.
"Nighthawks" often feels like two very different movies. It's an exotic terrorism thriller starring Hauer with frequent interruptions by an R-rated "Starsky and Hutch" episode.
The concept of a foreign terrorist wrecking havoc in The Big Apple was fanciful in 1981. To state the obvious, it's sadly too close to home now. "Nighthawks" will play for some as pure '80s escapism but its premise no longer feels as contrived as before.
Nighthawks (1981) - Clip 2: Shoot! (HD)
There is suspense but little excitement or invention in the action scenes. A far better buddy-cop action movie, "Lethal Weapon," wouldn't arrive for another six years.
The film is no classic, and it's often too queasy-inducing to be a guilty pleasure. Yet there are some great scenes in "Nighthawks." The big disco tech encounter, where Stallone and Hauer eyeball each other for the first time, crackles and builds slowly.
RELATED: If Rambo Won't Fight ISIS, Who Will?
The central set piece, where Wulfgar takes over a cable car, offers the jaw-dropping sight of Stallone dangling above a massive drop. Most remember the big twist at the end, which is effectively staged, genuinely surprising and utterly campy.
I won't reveal what it is, but the unintentionally funny moment is teased in the opening scene and, to give the movie credit, offers something you never seen before, or since, in a Stallone movie.
The extras on the new Shout Factory Blu-ray release appear understated at first but offer a wealth of information. An audio-only discussion with the film's producer and a separate interview with the cinematographer reveal a colorful and deeply troubled production history.
FAST FACT: "Nighthawks," released April 10, 1981, earned $14 million at the U.S. box office. That year's box office champ? "Raiders of the Lost Ark" with $212 million.
Co-star Lindsey Wagner's interview is especially engrossing. She recalls her once red-hot, post-"Bionic Woman" career and how she was cut out of most of "Nighthawks." Her recollections of lost scenes, in which she and Stallone shared tender moments, and how she discovered her absence in the final film at a looping session, are poignant.
A brief interview with the always engaging Catherine Mary Stewart has the actress recalling her brief but memorable time on the film. There's also the film's trailers and other promotional materials, making for solid package. The lack of the lead stars is balanced by the tell-all stories of how "Nighthawks" almost had its wings clipped during its rocky production (puns intended).
Some will find amusement in seeing New York City of the early 1980s portrayed as the sleazy, and dangerous crime zoo that it used to be. Watching Stallone and Williams stalk around the urban decay, you almost wonder if they'll bump into Snake Plissken.