Even if you've never read any of Leigh Brackett's stories, or if the name sounds unfamiliar, you probably know her work.
Try "The Big Sleep" for Bogart fans, "Hatari" and "Rio Bravo" for John Wayne addicts and "The Empire Strikes Back" for everyone else.
Brackett's career spanned several decades as a screenwriter, but to the science fiction crowd (George Lucas included), she was the Queen of Space Opera.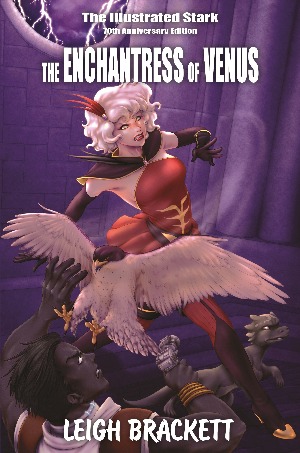 Brackett began making a name for herself in the pulp magazines of the '40s. While you might sometimes hear these days that Brackett skated as a woman in a men's field with her "masculine sounding name," it was common knowledge among scifi readers that Brackett was a woman.
Her editors went so far as correct fans in the letter columns and proclaiming "she is destined to be one of the finest science fiction writers of this generation."
Brackett wrote in the tradition of Edgar Rice Burroughs ("Tarzan," "John Carter of Mars") and Robert E. Howard ("Conan"). She told harrowing adventures of strong and manly men and beautiful, sultry women.
Her most well-known creation?
Eric John Stark, the black swordsman of Mercury. Orphaned as a small boy when his human parents died, Stark was raised by the natives of Mercury who called him N'Chaka, the Man With No Tribe. His savage upbringing made him an outsider among the space-faring humans of earth, and Stark often found work as a sell-sword among the natives of alien planets.
Late in her career, as the early 20th century planetary romances set on Mars and Venus fell out of vogue, Brackett moved Stark's adventures beyond the solar system to a dying world called Skaith.
Brackett's Skaith Trilogy, which begins with "The Ginger Star," may best be described as "Atlas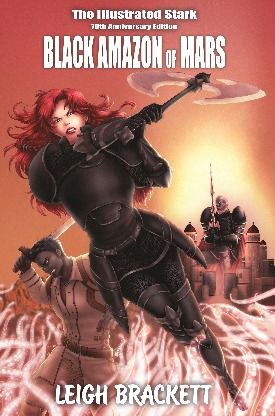 Shrugged" in space with weird aliens, swords, ray-guns and telepathic hell-hounds. In a scathing critique of the welfare state, Brackett's hero offers the shrinking population of working peoples an escape off-world from the hordes of "Farers" who've been promised limitless food by the state in the face of a famine.
This year marks the 70th anniversary of the first appearance of Stark in "Queen of the Martian Catacombs," the cover story of the Summer 1949 issue of "Planet Stories."
Brackett would go on to publish two more Stark novellas in "Planet Stories: The Enchantress of Venus" (Fall 1949) and "Black Amazon of Mars" (March 1951).
To celebrate the anniversary, Cirsova Publishing is releasing a new illustrated edition of the original Stark novellas. Each of these classic pulp adventures has been lovingly and faithfully illustrated by Portuguese art duo StarTwo.
These works were influential on both "Dungeons & Dragons" and "Star Wars" (though Brackett's twist is Darth Vader is a dame). Fans new and old will be delighted by these new editions.
For more information, visit: Cirsova's web page.
[tw-divider][/tw-divider]
"Alex" P. Alexander is the owner of Cirsova Publishing and editor of Cirsova Magazine. Cirsova Magazine was a 2017 Hugo Awards finalist for Best Semi-Pro Zine.