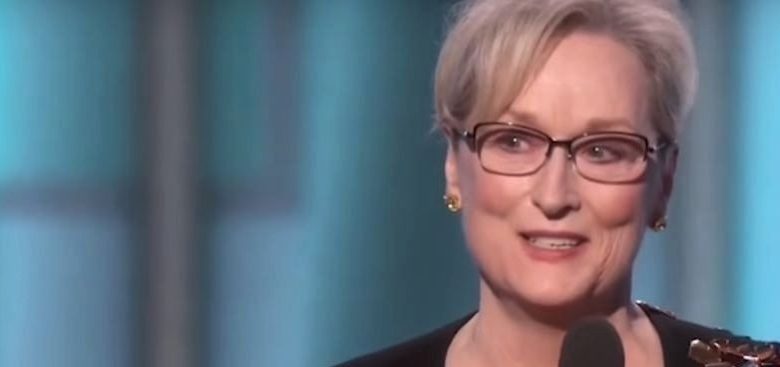 When Meryl Streep speaks, people listen.
The actress owns three Oscars and more iconic films on her resume than most of her peers. So when she turned her 2017 Cecil B. DeMille award speech at the Golden Globes into an anti-Donald Trump screed it rocked the news cycle. Her colleagues, in turn, cheered in agreement.
Meryl Streep's Golden Globes speech, annotated
And then, inexplicably, those colleagues doubled down on the same ugly rhetoric Streep slammed during that six-minute stemwinder.
Make that tripled down.
Will undecided voters tune out Hollywood's progressive message as a result in the mid-term elections? More importantly, how much worse can their comments get by the time 2020 rolls around?
Civility Matters … But Not to This World Leader
Streep's 2017 speech hammered Trump for allegedly mocking a disabled reporter with clumsy hand gestures:
"It kind of broke my heart when I saw it, and I still can't get it out my head because it wasn't in a movie, it was in real life. That instinct to humiliate when it's modeled by someone in a public platform, it filters down into everybody's life, because it kinda gives permission for other people to do the same thing."
Trump supporters explained away the moment by saying Trump routinely serves up similar impressions to his political foes, pointing to previous video clips as proof.
Let's say, for argument's sake, Trump's gestures were as cruel as his accusers allege. It's certainly part of his pre-presidential persona, using brute rhetorical force against his opponents.
One need only recall how he mocked Sen. Ted Cruz's (R-Texas) wife and alleged the senator's father played a role in President John F. Kennedy's assassination. He also denounced Sen. John McCain's military service, saying he preferred those who don't get captured by the enemy.
Ugly stuff. Many Democrats and Republicans denounced it at the time. Some conservatives still haven't forgiven Trump for those comments.
Streep's speech scored based on Trump's incendiary attacks, past and present. But she's been silent all the same despite the increasingly outrageous comments coming from her well-heeled peers.
The following is but a very partial list.
Sinking Lower than the D-List
Who can forget Kathy Griffin holding Trump's faux-severed head high? Or Johnny Depp saying it's time for another actor to assassinate the president, referencing John Wilkes Booth? Just days ago, the legendary Robert De Niro used his Tony Awards podium privilege to shout "F— Trump" while the industry crowd stood up and cheered.
Robert de Niro's 'Fuck Trump' speech at Tony awards
What's worse about Hollywood's nasty behavior? Much of the industry's ire is aimed at people other than President Trump. The best example comes courtesy of TBS star Samantha Bee. The comic called first daughter Ivanka Trump a "feckless c—" on her weekly show, a taped program that demands considerable planning, production and forethought.
Not only did Hollywood rally to protect Bee's job, they cheered on her verbal assault. Self-described feminists like Minnie Driver and Sally Field used Twitter to magnify Bee's vicious comments.
I like Samantha Bee a lot, but she is flat wrong to call Ivanka a cunt.

Cunts are powerful, beautiful, nurturing and honest.

— Sally Field (@sally_field) May 31, 2018
Comedian Seth Meyers and Griffin said she shouldn't lose her job for the comments.
Comedians routinely mock First Lady Melania Trump, too. To take one example, Jim Jefferies grossly sexualized her in his Comedy Central program.
Perhaps the most vile Hollywood-based attack came courtesy of Hollywood royalty. The Fonda family — Henry, Jane, Bridget and Peter –have entertained us for decades. What Peter Fonda said about young Barron Trump, the president's 11 year old son, could have fit right in with any "Saw" sequel. It was that depraved.
Peter Fonda: 'Rip Barron Trump from his mother'
First family members are typically protected in our culture. Not anymore.
The attacks hardly end there. "Avengers" director Joss Whedon's Twitter feed is routinely more cruel than what Roseanne Barr says on a given day. Whedon once mocked cancer-stricken teens in order to attack Rep. Paul Ryan (R-Wis.). Whedon also predicted the Trump administration would eventually target and kill gay Americans in a separate tweet. Singer John Legend cursed out Ryan for simply sending out a pro-Father's Day tweet.
Jim Carrey spends most of his time of late savaging not just President Trump but members of his administration. The budding artist shared ghastly images of Vice President Mike Pence and EPA chief Scott Pruitt as part of his political art.
Don't worry folks. Melania is fine. They're probably just reminding her how to play well with others. pic.twitter.com/qwlyNneX0P

— Jim Carrey (@JimCarrey) June 2, 2018
Late night comics Stephen Colbert and James Corden targeted Nikki Haley, U.S. ambassador to the United Nations, for being upset that Michael Wolff's "Fire and Fury" got featured on the recent Grammy Awards. They ignored the fact that Wolff spread a false rumor, with zero proof, that Haley was sleeping with the president.
Streep, who once stood and cheered for an admitted child rapist winning an Oscar, has said nothing publicly about any of the aforementioned attacks.
Not a word.
The commander in chief is the most powerful man in the world. He or she can bully someone far more effectively than anyone. But stars possess power all the same.
Soft Power on Full Display
Everything celebrities say is magnified, by the press, their social media accounts or a combination of the two. Carrey alone has 18.6 million followers on Twitter.
In our celebrity-driven culture stars hold sway over the masses. Companies shell out millions to have actors mention their products on social media. Too many stars have abused that power to mock, degrade and debase the culture and select citizens alike, all part of the so-called "resistance."
Ironically, President Trump has toned down his incendiary shtick in recent months. He still uses demeaning nicknames and hammers his foes without mercy but it is arguably not as cold as his primary season antics.
Meanwhile, the Hollywood "resistance" has only gotten meaner. It will likely get worse as the midterms approach. Just imagine the comments they'll make once the 2020 presidential election kicks in.
The mind reels.
Here's What Might Have Been
Hollywood could have taken the high road following Trump's election. Instead, many stars took Trump's cruel comments and creatively made them much, much worse.
It's well past time for a second Streep speech on the subject. It's hard to forget when she prefaced her Trump critique with this chilling line about the impact of his rhetoric.
"It made its intended audience laugh and show their teeth," she said.
Hollywood has been showing its fangs ever since, ironically. Isn't it time Streep said something about it?
---
A version of this article previously published at TheHill.com.