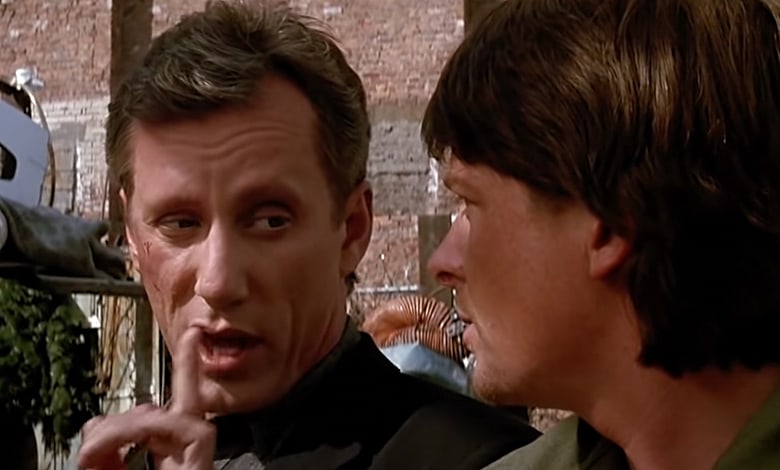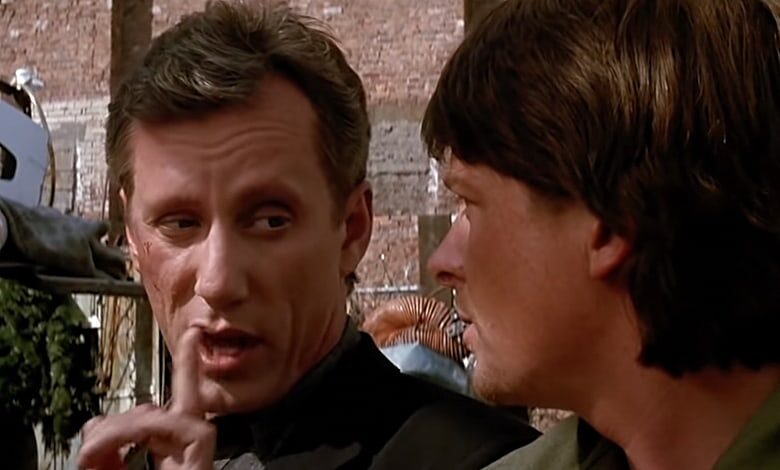 John Badham's "The Hard Way" (1991) begins with a jolt of exuberance from the very first scene and never lets up.
We watch as a massive movie marquee for "Smoking Gunn" is being raised in Times Square, bearing the likeness of film star Nick Lang (Michal J. Fox). The drums of street musicians and patrons dancing along to the beat fill the screen, as a massive billboard reveals the film's title. The energy level never lags from this point forward.
The Hard Way Official Trailer #1 - James Woods Movie (1991) HD
We are then introduced to Stephen Lang's The Party Crasher, who enters the frame as a flamboyant, preening (and admittedly cartoonish) villain. In pursuit of this murderous sicko is Lieutenant John Moss (James Woods), whose obsession with the case and hot temper make him an uneasy match for Susan (Annabella Sciorra), his extremely patient girlfriend.
While Moss is instructed to stay away from The Party Crasher case, he's assigned to essentially babysit a wealthy brat of a movie star, AKA Nick Lang. Lang has cut a deal with the department, in which he will shadow Moss on the job, to research an upcoming film role. Lang's very-L.A. attitude and studied insincerity clashes with Moss' eternally on-edge demeanor.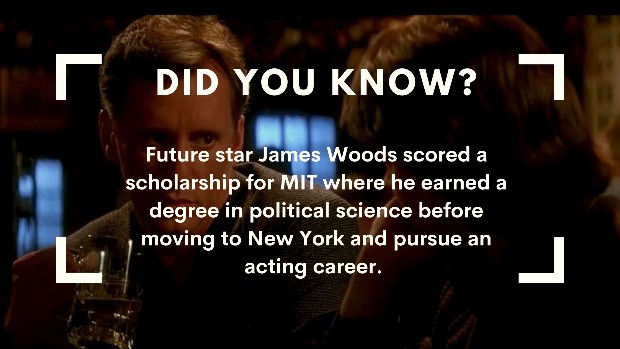 Badham's film opens with an action set piece that wouldn't be out of place in a "Lethal Weapon" movie. It develops into a smart (if exhausting) farce on how Lang's Hollywood phony has no business being a cop (on or offscreen) but has a different worldview from Moss that sometimes works in their favor.
The novelty of the premise, as well as seeing the joltingly intense Woods paired off with Fox at his most caffeinated and endearing, makes this work far more than expected.
In fact, "The Hard Way" is among the best buddy-cop comedies of the 20th century, as well as an action/comedy that finds the perfect balance of tone. The character humor is the driving force, but so is the screwball comedy rat-a-tat of the dialog, pacing and performance energy.
James Woods and Michael J. Fox character posters for THE HARD WAY (1991). pic.twitter.com/jf66rYJGnN

— Elena Lazic (@elazic) July 19, 2020
Here is a high-concept comedy with a gimmick that absolutely works, due to the commitment from the leads, as Fox's dynamic comic turn is countered perfectly by Woods' dead serious performance (he's acting as though he were still in "Cop" or "Best Seller").
There's never a dull or wasted moment, with the result playing like Dirty Harry being stuck with Bugs Bunny as a partner. The faux trailer for Lang's "Smoking Gunn II" looks uncannily like something Dwayne Johnson would be starring in right now.
It's all the proof we need that, 30 years later, Hollywood is still making the same dreck.
RELATED: Why 'Bugsy' Belongs in the Pantheon of Great Mob Movies
Fox is terrific in this, his best comedic performance. His antic energy, gift for physical humor and way with punching up every line has never been better showcased. Lang is a wildly egotistical, pampered movie star and Fox never hesitates to portray him at his most ridiculous.
This is Woods before his major mid-'90s comeback (this came before his odd co-starring role in Dolly Parton's "Straight Talk" and his movie stealing baddie in "The Specialist"). The actor famously admitted that his agent didn't show him the "Reservoir Dogs" script, which led to Woods seeking better material.
Post-"The Hard Way," Woods had a major comeback, with "Casino," "Nixon" and "The Virgin Suicides" among the highlights. His performance in "The Hard Way" is among his funniest and most underrated.
Delroy Lindo is sharp and funny in an early role as Moss' boss and Sciorra, months before her big breakthrough in Spike Lee's "Jungle Fever" (1991), is charming as the tough, single mom Moss is dating (ditto a very young Christina Ricci as Sciorra's daughter).
Michael J. Fox "The Hard Way" 1991 - Bobbie Wygant Archive
The clever placement of LL Cool J's "Mamma Said Knock You Out" is preferable to his hammy performance as Moss' colleague. Then there's the bad guy: The Party Crasher lives in a massive apartment, games and widgets everywhere, creating 8-bit video games, giving himself facials and mocking the videocassette playbacks of Moss from the news.
Lang, who later gained fame as the heavy in "Avatar" and "Don't Breathe" and its sequel, is chilling in this, even as the character is ludicrous.
Early on, Penny Marshall, playing Lang's agent, informs him that audiences "come to see your movies to make them happy, nobody wants to see you puke." This is, of course, a commentary on Fox's own inability to engage audiences in his admirable, darker, serious films ("Light of Day," "Bright Lights Big City" and "Casualties of War") that flopped at the box office.
Unfortunately, "The Hard Way" didn't last long in theaters, either, though Fox bounced back big later that year, with the release of his critics and audience favorite, "Doc Hollywood."
FAST FACT: "The Hard Way" earned just $25 million in 1991, a year in which "Terminator 2: Judgment Day" ruled with $204 million.
There are some unfortunate touches here, like stereotypical gang members and homophobic one-liners. For the most part, this is refreshingly un-PC, with still-relevant attacks on Hollywood excess and egos gone mad, and even a quick dig at Scientology.
"The Hard Way" was filmed entirely in a pre-Giuliani New York at its grimiest. It has a welcome edge and, despite Fox as the star, never seems like it could have been withered down to a PG-13 and wears its R-rating with pride.
The scene where Lang pretends to be Susan and engages Moss in play acting, in order to open him up emotionally, should have stopped the movie cold. Instead, it's another inspired bit for Fox and Woods.
RELATED: This '80s Comedy Deserves Some Respect, Stat
The second to third act transition poses an editing problem, as the sequence where Moss pulls an elaborate con on Lang is a little too long. Also, how Lang wound up with a police car after leaving Moss' care is never explained.
By the third act, all is forgiven, as it regains its focus and concludes with a knockout finale. Going full circle to the opening gag and spoofing the climax of "North By Northwest," the blend of macho spectacle and Looney Tunes hilarity goes into overdrive. It's also worth mentioning how amazing the pre-CGI stunt work is throughout, but especially in the final set piece.
As a parody of buddy/cop comedies from '80s and '90s, "The Hard Way" is everything the failed Robert De Niro/ Eddie Murphy vehicle "Showtime" (2002) wanted to be.
Showtime - Original Theatrical Trailer
Considering how it leans into the cliché of the genre but knowingly spoofs the rules and expectations of action comedies, it's as close as we've ever gotten to the action movie equivalent of "Scream."
Fox may be forever associated with all things McFly, but outside of his undervalued dramatic achievements (indeed, "Casualties of War," "Bright Lights Big City" and "Light of Day" are all career milestones), his portrait of Nick Lang is the funniest of his career.