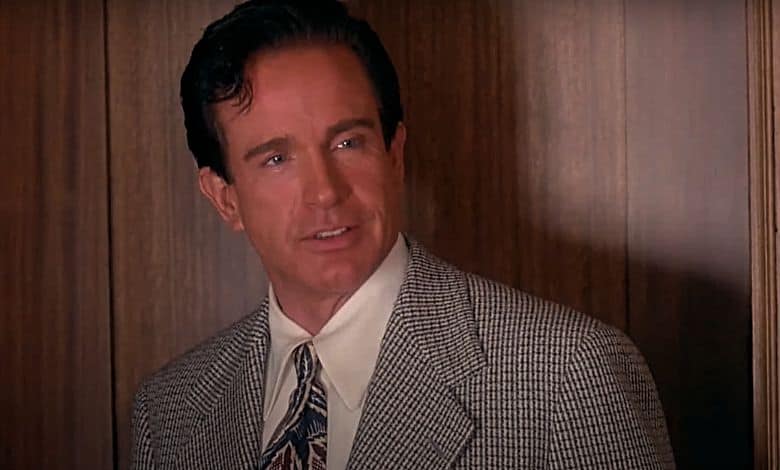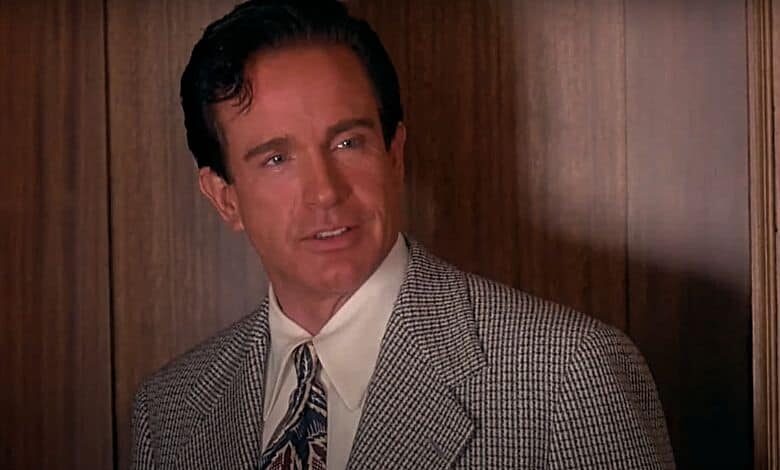 When we meet Benjamin Siegel (Warren Beatty), he's deep into his lifelong cycle as an infamous criminal, a hotheaded killer, a failed family man and a philanderer.
Meyer Lansky (Ben Kingsley), Siegel's best friend and partner in crime since childhood, tells him to take a vacation. Siegel flies to Hollywood to hang out with George Raft, his movie star buddy (Joe Mantegna), observes bit player Virginia Hill (Annette Bening) on a film set and is instantly smitten.
It's not the only scene where Siegel, who is probably insane, finds inspiration and possibilities while gazing at an oasis of beauty.
In their first scene together, the chemistry between Beatty and Bening is volcanic. The cliché is to state that Hill was the worst thing to happen to Siegel but the opposite is true and the movie knows this. Siegel is portrayed here as a terrible human being with dreams both moronic (like his foolish plan to assassinate Mussolini) and grandiose (his massive gamble to turn the Las Vegas desert into a gambling utopia).
"Bugsy" is one of Barry Levinson's masterpieces, every bit as rich and important as his "Diner," "Wag the Dog," "Rain Man" and "Good Morning, Vietnam." This is also Warren Beatty's finest film performance- he brings an element of danger to his every scene and never hesitates to make Siegel foolish or repellent.
James Toback's snappy, unpredictable screenplay is his finest. Toback writes it like a play, with very long scenes that build into dizzying, occasionally comic set pieces. The dialog is sometimes crass, sometimes literate, a reflection of Siegel's desire to come across as far more intelligent, verbose and in control than he is. We're constantly hearing Siegel do his verbal exercises, an ongoing attempt to come across as sharper than he truly is.
The structure is unusual – we don't get big set pieces, the smattering of tommy guns or some long monologue about mob ethics. We begin in the midst of Siegel's career, long after he and Meyer Lansky were kids running the streets. At the point we meet him, Siegel's very name makes rival criminals, as well as bystanders, shake with fear.
Bugsy (1991) - Bark Like a Dog Scene (4/10) | Movieclips
Beatty's performance is entirely copacetic with Toback's vision and Levinson's smart, underhanded staging: although Beatty's accent isn't consistent, it actually works in his favor. Siegel is always putting on a performance and is lousy at the central roles he plays: gangster and husband. He's too reckless to do either the right way.
It's Siegel's brute force and nagging epiphany of Las Vegas that are his saving grace, though this isn't a celebration of the man.
"Bugsy" never romanticizes Benjamin Siegel. Beatty's natural charm and good looks (note how he still exudes movie star glamour when looking through a peep hole) make the character appealing, but neither the actor nor screenwriter overlook what a monster Siegel is.
The creation of The Flamingo and Las Vegas as a gambling haven in general isn't depicted with slick mythmaking but as a series of dumb luck events. Siegel's moments of competence come across like cosmic accidents, like his big idea that randomly comes to him about The Flamingo in the first place.
RELATED: Warren Beatty's 'Rules' Require Lowered Expectations
There are terrific scenes throughout, like Siegels's impromptu deal making in buying a house he drives by and falls in love with. Or, recall his meeting Hill on a movie set (probably the most iconic sequence here), his casually murdering a man at his job, the odd, profound vision in the desert (which we do not see), and, in a wonderful bit of physical humor, Beatty's sad, funny portrait of Siegel attempting to balance his daughter's birthday party and a meeting with a room full of mobsters at the same time.
Bening is fierce and more than holds her own with Beatty. In fact, her performance is equally as forceful and she owns the frame as powerfully as Beatty can.
Harvey Keitel is funny and prickly as Mickey Cohn. Here's a weird bit of movie trivia: for all the iconic and acclaimed performances Keitel has given over the past four decades, his work in "Bugsy" was the only time he has ever been nominated for an Academy Award (which he lost to Jack Palance in "City Slickers").
Kingsley is a superb Meyer Lansky, which, to state the obvious, is an incredible achievement, when you consider the same actor previously won an Academy Award for playing Mahatma Gandhi. Mantegna is perfectly cast as George Raft and Elliott Gould has a golden supporting turn as Siegels' unreliable and self-destructive associate.
Bugsy (1991) - Harry Messed Up Scene (6/10) | Movieclips
The cinematography by Allen Daviau positively glistens, creating a dreamlike recreation of time long gone, but countered by Siegel's sudden, childish, violent outbursts. Levinson stages many scenes in a stylish manner, though he never gets in front of his actors and over-directs.
"Bugsy" is among the greatest, most underrated of 1990's gangster films, alongside worthy cult favorites "Carlito's Way" and "Miller's Crossing." It performed decently but not spectacularly at the box office, walked off with two well-deserved Oscars (for costume design and art direction) and, despite critical acclaim, hasn't remained in the subconscious of the zeitgeist.
It didn't catch on with audiences the way "Goodfellas" (1990) or "Casino" (1995) did, though it's more character driven and unconventional than most in its genre.
"Bugsy" is about the artifice of gangsterism, how the surface illusion glosses over the awful truth. Toback contrasts the celluloid dreams of Hollywood with the allure of gangsterism. Hill and Siegel meet on a film set, an encounter that shows Siegel in his element – a fabricated world where his allure and charm carry him.
Outside of a Hollywood setting, he's a vile thug with no control over his emotions.
FAST FACT: "Bugsy" earned $49 million at the U.S. box office in 1991. That year's number one movie? "T2: Judgment Day" with a $204 million haul.
Note how Siegel loves to watch and re-watch his screen test, a clumsy encapsulation of his half-baked dreams of stardom and respectability. Siegel and Hill's fiery flirtation on a film set is followed with a seduction in front of a movie screen: the silhouette of the two of them is a stunning visual (their embrace resembles a disfigured heart) but also a clear visualization of the nature of their union.
Siegel's chances of having things work out with Hill, as well as his long-term goals in general, are a foolish fantasy. Only his stubborn push for The Flamingo is the dream that's realized, though the tragedy is that Siegel wouldn't live to see it.
However, considering how much tragedy he left in his wake, perhaps it's fitting that he never shared in that glory.