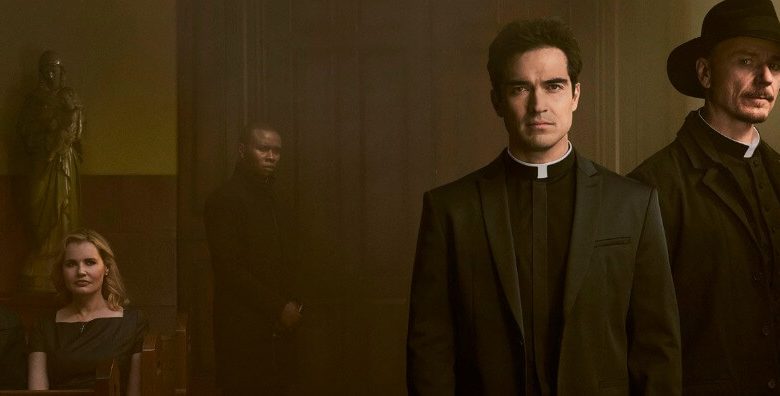 There was a time when William Peter Blatty's 1971 novel, "The Exorcist" and William Friedkin's 1973 film adaptation could inspire dread just by mentioning them.
Upon its release, Friedkin's film scared the dickens out of filmgoers on a global scale. It also became one of the top-grossing films of all time.
The Exorcist (1973) - Official Trailer - William Friedkin Horror Movie HD
The "Exorcist's" influence continues to live on. Many films have tried – and failed – to match the deep-seeded horror of Friedkin's classic. Anyone who can recall the film's infamous early showings (with reports of long lines and in-theater faintings) would never imagine Friedkin's film would one day inspire a television spin-off.
Yes, "The Exorcist" is now a Fox TV series. Cable would be the most likely venue for such extreme material. Instead, here's a highly touted broadcast TV remake that premiered the same week as the other movie-turned-TV series, "Lethal Weapon."
On the same network, no less.
Demons, Begone!
After viewing "The Exorcist" pilot, the series packs more potential than most new shows. If it can keep up the tight plotting, rich atmosphere and high caliber acting, FOX may have shaped one of the strongest silver screen to flat screen adaptations in some time.
Official Trailer | THE EXORCIST
Geena Davis stars as Angela Rance, a Chicago business woman and mother who struggles to keep her family happy. Her husband (well played by Alan Ruck) is losing his mental capacity. One of her two daughters is bedridden with an injury.
That isn't all.
Voices begin coming from her home's walls. Other similarly strange moments force Angela to seek help from her local priest, Father Ortega (Alfonso Herrera).
The priest is struggling with a lack of faith. He's also gripped by visions of an exorcism that took place months ago in New Mexico. The assistance of a haunted (in every sense of the word) priest (Ben Daniels) and a determination to rekindle his relationship with God inspires Ortega to help Angela's family.
RELATED: Horror Vet Defends Our Need for Nightmares
The pilot was directed by Rupert Wyatt, who helmed "Rise of the Planet of the Apes" and "The Gambler." It's not unusual to see filmmakers dipping their toes in TV work. Still, it's a nice surprise to see a director with Wyatt's skill giving this a big screen polish.
The cinematography by Alex Disenhof is beautiful, utilizing crisp tracking shots that reminded me of the Steadicam work in "The Shining." Everyone in the cast does outstanding work, though it's the layered turn by Herrera and an intense characterization by Daniels (more Walter White intense than Max Von Sydow stoic) that drew me in the most.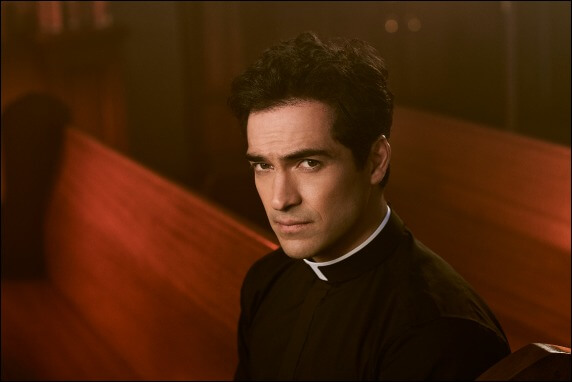 The series exists  in the same world as William Friedkin's film: we see Father Marcus doing an Internet search that mentions the McNeil's exorcism and sports a photo of the infamous staircase. I suppose that makes sense, respectfully nodding to the events of the original and building on the mythology.
Future episodes can make foreseeable mention of Pazazu, The Gemini Killer and other plot threads from the franchise.
'Exorcist' Pilot Scares Away Viewers
On the other hand, the early ratings aren't promising. "The Exorcist" was roundly beaten in its time slot by the new version of "MacGyver." Only an "ALF" reboot would have been a more embarrassing competitor. Hopefully, word of mouth and belated interest will grow.
Oddly enough, the show's producers are Morgan Creek, the same company whose meddling with both "The Exorcist III" and Paul Schrader's "Dominion- Prequel to The Exorcist" resulted in those films being released in compromised versions.
Here, you can feel a similar intrusion from either the producers or the genre requirements. A CGI attack from a crow, who crashes through an all-too-obviously CGI window, is one such example.
As with the aforementioned films, both of which are quite good but have obviously been tinkered with by their studios, "The Exorcist" pilot has visceral jolts that are overly familiar. In no way are they as effective as the psychological horror and intriguing ideas on hand.
It's refreshing to see men of faith depicted as complex, down-to-earth servants whose struggles are understandable and heartfelt. There's also the family scenes, as the Rance household is a plausible and likable unit.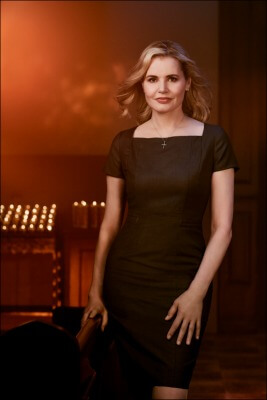 For very different reasons (that I wouldn't dream of spoiling), Hannah Kasulka and Brianne Howey (playing Angela's daughters Casey and Kat Rance, respectively) are exceptionally good. Davis is the big draw, and she's likeable as always. Her turn in the 2005-2006 "Commander in Chief" was more compelling, though.
Nothing's Perfect
A few missteps are forgivable in a pilot episode, which typically go heavy on foreshadowing what lies ahead and stacking memorable moments to capture viewing attention up front. What makes "The Exorcist" stand out, in a season full of shows that will either fly or die, is how solid and striking the series' vision is.
If this were a feature film, I'd be mightily impressed. As a TV series, I'm hoping the moments of literal horror are dialed down in favor of the far more effective character reveals and creepy suggestions of the supernatural threat.
The final moments in the pilot leave the viewer with a charge of anticipation. Once Father Ortega learns the truth of what's plaguing the Rance family (and it's a plot twist that chilled and surprised me), he leaves the house and walks off in contemplation.
The familiar "Tubular Bells" theme plays and the series effectively nods to its inspiration.
Tubular Bells - violin version (Exorcist theme)
Seeing the once-unthinkable concept of an "Exorcist" TV series boggles the mind with further possibilities. Will "Saw: The Series" be next?
In the next 30 years, will there be a "Haddonfield High?" Maybe another attempt at a Freddy Krueger-themed series? The list of TV shows that failed to match the films they based on is very long. The jury is out on whether another season of "The Exorcist" awaits us or if we'll still be talking about the series a year from now.
For now, its initial impression left me impressed and hungry for more.