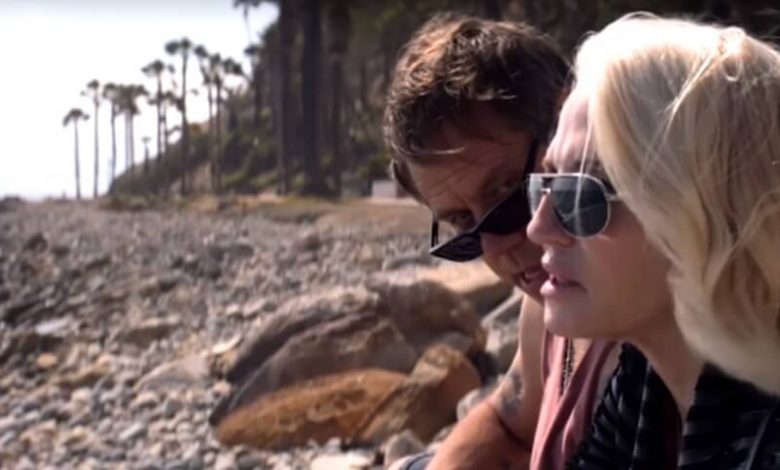 "Animal Kingdom" star Ellen Barkin stands out in a sea of angry celebrities.
Sure, Robert De Niro routinely curses out a sitting president and Kathy Griffin peddles "F— Trump" merchandise. The rage coursing through Barkin's Twitter feed is just as toxic.
Naturally, she still has a Twitter account despite her furious messages. TNT continues to hire her to play "Smurf" on the channel's gritty drama.
Animal Kingdom: How To Be Smurf - Season 2 [EXCLUSIVE] | TNT
Last October, Barkin called for President Donald Trump's assassination. Long before Trump's unlikely White House victory she endorsed a Tweet calling for Republicans to die via Hurricane Isaac.
This week she turned her rage on disgraced comic Louis C.K. The "Louie" star got unofficially banned from show business after we learned he had repeatedly exposed himself to women, abusing his significant Hollywood clout in the process. Since then, he's slowly dipped his toe back into the stand-up waters.
RELATED: Why Hasn't Twitter Banned These Celebrities?
The latest C.K. news? He performed a politically incorrect set in which he targeted the Parkland High School activists, woke Millennials and other subjects liberal comics won't go near.
It seemed that set Barkin off, given the following Tweets:
i hope louis ck gets raped

— Ellen Barkin (@EllenBarkin) December 31, 2018
and shot at

— Ellen Barkin (@EllenBarkin) December 31, 2018
She appeared to double down on her sentiments with a subsequent Tweet:
the big lesson i learned in 2018 is that i am not fighting hard enough

— Ellen Barkin (@EllenBarkin) December 31, 2018
UPDATE: Barkin appears to have deleted the Tweets. Here's the screen cap: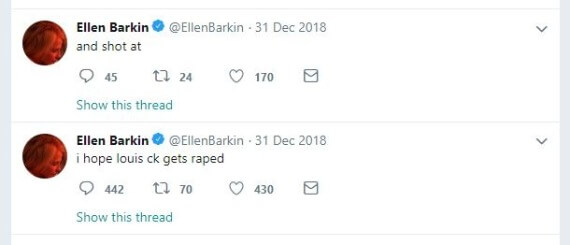 It's important to note how many people lose their gigs for saying something "problematic" on social media. Movie superstar Kevin Hart lost his Oscar hosting gig for homophobic Tweets send roughly eight years ago.
Roseanne Barr lost her signature TV show due to a racist tweet aimed at Valerie Jarrett, who is black.
Barkin has yet to suffer any professional consequences for her Tweets.