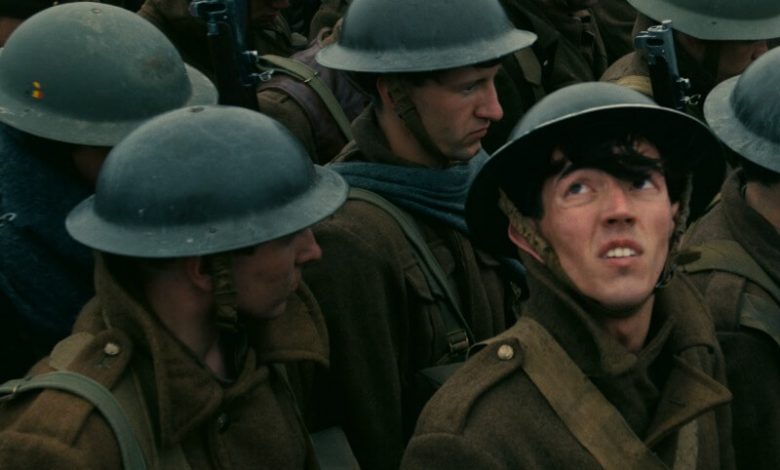 Christopher Nolan's "Dunkirk" is nothing like the countless war movies that precede it.
Every frame feels like a masterstroke from the auteur, from the delirious sound design to storytelling angles that reinvent the notion of men at war.
So why can't we stay invested in this near-masterpiece?
Is it the incomprehensible dialogue? The lightning fast narrative switches? Maybe it's a film maestro so enthralled with his tool kit he forgot the purpose of storytelling in the first place.
The real rescue that took place on the French port of Dunkirk demands a director of Nolan's unimpeachable talent. Allied soldiers trapped by German forces had little chance of survival unless an unlikely batch of rescuers arrived in time.
The air component of that tale is personified by Tom Hardy's Spitfire pilot. He's among our finest actors, but he's one of many performers who leave little imprint beyond his signature presence. Mark Rylance ("The BFG," "Bridge of Spies")plays a boat captain rushing to the scene in his modest vessel, a too young crew by his side. Some frightened soldiers, their chances for survival dwindling by the minute, make up the final storytelling leg.
And yes, that's Harry Styles among the brave soldiers. He acquits himself well but hardly stands out. He's not alone.
RELATED: Your Complete Guide to the Best World War I Movies
Nolan isn't interested in standard war movie tropes. The dying soldier. The dramatic rescue forged by a screenwriter more keen on thrills than authenticity. The jet black banter between troops when the fighting ebbs.
You won't find them here. That's an impressive achievement by itself. We're living in the age of the homage, where even the best films nakedly pilfer from the past. Nolan puts both feet down to make sure that doesn't happen.
FAST FACT: Britain's Royal Navy ships couldn't come to the stranded Allied soldiers' rescue at Dunkirk circa 1940. They were too big for the port's shallow waters. That's why a flotilla of smaller civilian ships rescued so many soldiers.
The sound design alone is enough to recommend the deeply flawed "Dunkirk." We haven't heard bullets zing like this before, particularly when Hardy's firing them into a wall of enemy aircraft. The effects clang when they should be Hollywood smooth. The reality of warfare is inescapable.
The same holds true during other war sequences.
Hans Zimmer's score deserves similar praise. Nolan's frequent collaborator builds on his Bat achievements, further isolating "Dunkirk" from the pantheon of great war films.
And while modern filmmakers obsess over every drop of blood spilled on the battlefield Nolan takes a PG-13 approach. The folly of war loses little in the process.
Christopher Nolan: The full interview - Newsnight
Nolan's screenplay is stripped to the bare essentials. Few character revelations sneak past the disciplined auteur. The closest we get are sequences with Kenneth Branagh as Commander Bolton,  getting debriefed on the rescue efforts.
At times "Dunkirk" could be confused for a silent film (with an extraordinary soundtrack added later). There's nothing wrong with that approach. Where Nolan and co. stumble is in the audio translation. The director mocked for making an incomprehensible Bat villain (Bane's vocal woes were overstated) does It again. The film demands closed captioning to capture comments drowned out by thick British accents and the sounds of war.
Realism rocks. So does cogent storytelling.
RELATED: HiT Blu-ray Review: 'Interstellar'
"Dunkirk's" cast delivers uniformly strong performances. That doesn't mean they necessarily the audience. Rylance is handed the most traditional role. He's on a mission, yet he has the emotional maturity to help a stranger guilty of a desperate act.
Even his characters stays at arm's length from us.
SPOILER ALERT: More than 300,000 Allied troops were rescued in the Dunkirk evacuation, dwarfing initial hopes that 30,000 to 45,000 might be saved from the Nazi regime's clutches.
Will "Dunkirk" emerge as an Oscar contender? Likely. Will we remember it like we do other war classics from the past 30 years? Here's betting audiences will slowly cool to its style flourishes while keeping movies like "Saving Private Ryan" closer to their hearts.
Technological feats astound in any medium. Characters that touch our hearts? They still matter most.
HiT or Miss: "Dunkirk" is a singular achievement, the most original take on war ever committed to film. Just don't expect to be moved by this WWII epic.