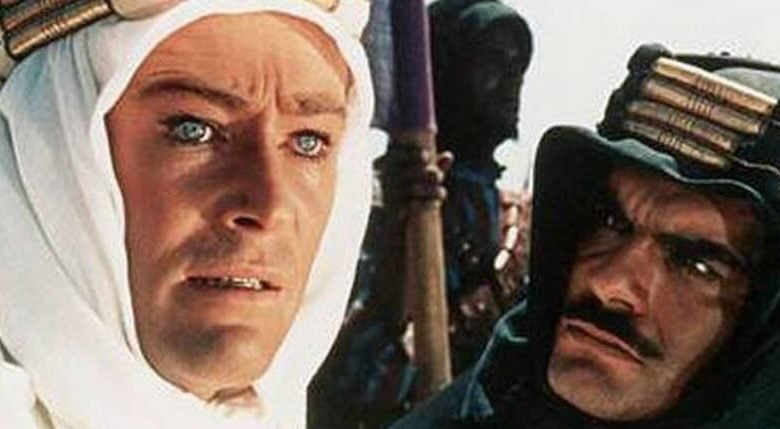 The 100th anniversary of the United States' entry into World War I is April 6, 2017.
Because there is no living person who participated in the war, all we have to remind us of that brief, but brutal, conflict is war memorials and the movies.
As you might expect, the majority of those films, especially the great ones, don't deal with the American Expeditionary Forces (AEF).
The U.S. involvement in the war was just too brief.
The Best of the Best
First, we want to highlight three of our favorites, films that don't even remotely deal with the AEF, before listing many other excellent ones, some of which do.
Right at the top of our list are three outstanding films: "All Quiet on the Western Front" (1930); "Paths of Glory
" (1957); and "Lawrence of Arabia" (1962).
'Quiet' Sets the Bar High
Lewis Milestone's anti-war adaptation of Erich Maria Remarque's novel "All Quiet on the Western Front
" is the earliest. The 1930 film, starring Lew Ayres as the anti-war, long-suffering Soldat Paul Baumer, was a sobering antidote for American wartime, anti-German hysteria.
The current DVD features the film in a version carefully restored by The Library of Congress film department. Nevertheless, it's still an 87-year-old production that suffers from cinema's recent emergence from the silent era.
It set the basic format for countless war films to come.
Stanley Kubrick's 1957 black and white (in the Technicolor era) classic takes on the insanity of war and specifically this war. "Paths of Glory" looks at the absurdity of trench warfare from a cynical French perspective.
Paths of Glory (9/11) Movie CLIP - Your Men Died Very Well (1957) HD
Both Kirk Douglas and Ralph Meeker turn in memorable performances. The film ends with a moving scene in which stunning actress Christiane Harlan, the only female in the cast, sings "The Faithful Hussar" to sooth a roomful of drunken poilus.
FAST FACT: "Paths of Glory" was banned in France for 20 years due to alleged anti-French material in the story.
David Lean's "Lawrence of Arabia" is often overlooked as a WWI film. Yet it's possibly the best, and made T. E. Lawrence, along with actors Peter O'Toole and Omar Sharif, globally renown.
The film was nominated for 10 Oscars, winning seven, but not the Best Actor or Supporting Actor awards for O'Toole and Sharif.
Lawrence of Arabia (5/8) Movie CLIP - Attack on Aqaba (1962) HD
Whether the film is an accurate portrayal of Lawrence is almost beside the point. His brother said that O'Toole had turned in a magnificent performance as "Ned," but it was not a true portrait of his brother.
In any case, it was a box office hit that defines what most of the world knows about the Arab Revolt during The Great War. Its popularity continues unabated; there have been five DVD editions. The latest enhanced Blu-ray version (Lawrence of Arabia (Restored Version)
), containing new footage that originally landed on the cutting room floor, was released in 2012 on the film's 50th anniversary. That version received a brief theatrical release in the U.S. and Canada.
The WWI Film Library: A Closer Look
After these top three, you can dip into the extensive film library to suit your taste. If you like aviation films, give "Wings" (1927, silent), "Hell's Angels" (1930) or "The Blue Max" (1966) a look.
The latter film stars a top tier (for 1966) cast featuring George Peppard, James Mason and Ursula Andress. Erich von Stroheim fans will want to view "La Grande Illusion" (1937). If you favor the American experience, try sharing a French cellar with marines Jimmy Cagney and Dan Dailey in "What Price Glory" (1954), a remake of the 1926 silent film based on Laurence Stallings and Maxwell Anderson 's 1924 stage play, or open warfare in the Argonne Forest with Gary Cooper in "Sergeant York" (1940). Perhaps you'd like to visit with three doughboys in Laurence Stallings' "The Big Parade" (1925).
Cooper appears with Helen Hayes in a less stoic role in an adaptation of Ernest Hemingway's anti-war novel, "A Farewell to Arms" (1932).
The latest acclaimed version of "Galloping Charlie" Whittlesey's stand with the Lost Battalion is a 2002 A&E made-for-TV effort titled (of course) "The Lost Battalion." Mel Gibson poignantly captures the Australian experience in "Gallipoli" (1981).
Katharine Hepburn finds love with Humphrey Bogart in "The African Queen" (1951), a brilliant film that concerns itself with perseverance and love in wartime Africa.
More recently, "Flyboys," starring James Franco, depicted Americans who volunteered to become fighter pilots in the Lafayette Escadrille. The film, which was a box-office flop, ends with an epilogue that tells of the fate of each pilot depicted in the movie.
Flyboys Official Trailer #1 - James Franco Movie (2006) HD
Another recent film, Steven Spielberg's "War Horse" (2011) has brought us face-to-face with the horror of using horses and other beasts-of-burden in a war dominated by barbed wire, machine guns and artillery. The practice was still common 20 years later in WWII.
Screenwriter Dalton Trumbo's "Johnny Got His Gun" (1971) marked his open return to the film world after being blacklisted by Hollywood. The story confronts the hospital existence of a wounded doughboy.
It's not for the squeamish.
If you are fond of comedies, you are seriously out of luck, but you might try "The Life and Death of Colonel Blimp" (1943), sometimes titled simply "Colonel Blimp." It stars a very young Deborah Kerr (22) and touches on Blimp's tragicomic career in WWI.
War … the Musical
In 1969, Richard Attenborough directed a British, anti-war film, "Oh! What a Lovely War," based on a 1963 stage musical by the same name. The film assembles a remarkable cast of actors in guest roles: Sir Laurence Olivier, Vanessa and Michael Redgrave, John Mills, Susannah York and Maggie Smith to name the best-known. The songs used in both productions are those popular during the war.
This list could go on, but the above films are among the best war films ever made and, in some cases, the very best films made, period.
Almost all are anti-war and shocking in their depiction of WWI combat.
---
Steve Powers is the author of "The March to Victory: A Guide to World War II Battles and Battlefields from London to the Rhine
." Along with Kevin Dennehy, he is the author of "The D-Day Assault: A 70th Anniversary Guide to the Normandy Landings
" and "Finding Custer: An American Icon's Journey from West Point to the Little Bighorn (Battlefield Guides Online)
."
Powers and Dennehy's new book, "The Great Crusade, A Guide to World War I American Expeditionary Forces Battlefields and Sites," commemorates the 100th anniversary of the war.  It is available on Amazon in late April. Find out more at www.militaryhistorytraveler.com