Industry News
Opinion
D'Souza's 'Police State' Captures Country's Two Tiers of Justice
Upcoming docudrama features Nick Searcy as long, crooked arm of the law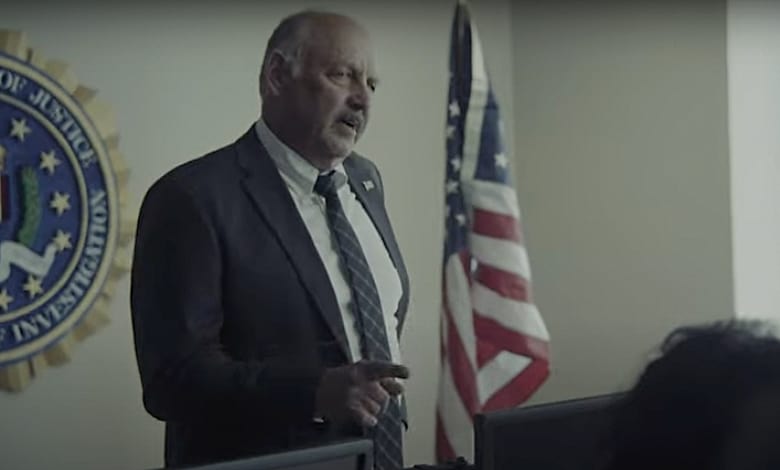 Nick Searcy plays one heckuva bad guy.
One of his earliest roles cast Searcy as the malevolent Frank in 1991's "Fried Green Tomatoes." That performance secured his Hollywood status, leading to a crush of memorable turns including work on "Justified," "Moneyball" and "The Best of Enemies."
More recently, he gave Gina Carano fits in The Daily Wire's "Terror on the Prairie."
Searcy may have his scariest role to date in Dinesh D'Souza's "Police State."
The "Justified" alum plays the face of federal law enforcement in the docudrama, shoving the rule of law aside to punish the regime's political opponents.
Christians. Conservatives. Parents. Patriots.
Police State Teaser | New Dinesh D'Souza Movie
Searcy appears in dramatic re-enactments in the teaser, bullying Americans around in ways that should frighten us all. This isn't fear-mongering or fictionalized cinema.
In recent months we've seen law enforcement crack down on nonviolent Christians while the F.B.I. deemed parents protesting their local school boards "domestic terrorists."
It's part of our new, two-tiered justice system, where some Capitol protesters spend decades in jail and others are allowed to roam free sans punishment.
BREAKING: Far-left activists have stormed U.S. Speaker Kevin McCarthy's office.

A very sad day for Democracy… will they be thrown in prison for years on end for this?

The radical activists stormed McCarthy's office to riot in favor of a 5 year reauthorization of PEPFAR, a… pic.twitter.com/OVB5jjEUgE

— Collin Rugg (@CollinRugg) September 11, 2023
Shannon Brandt who murdered Cayler Ellingson for being a Republican was sentenced today to 5 years in prison.

Shannon reportedly told 911 that Cayler was part of a "Republican extremist group."

Meanwhile Republicans are getting jailed for 17 years for tearing down a fence. pic.twitter.com/8tL8L3y3Li

— Libs of TikTok (@libsoftiktok) September 8, 2023
WATCH: Jim Jordan exposes Attorney General Merrick Garland for taking marching orders from radical left-wing education groups before he had the FBI investigate parents as domestic terrorists. pic.twitter.com/YFxG4hlHzU

— Tea Party Patriots (@TPPatriots) October 21, 2021
"We can do anything we want," Searcy says at the end of the teaser, the clip's most chilling moment.
Searcy covered similar ground with last year's documentary, "Capitol Punishment." That film spoke to ordinary Americans who saw their homes violently invaded by federal agents for having been around the Capitol building on Jan. 6, 2021.
The problem has only gotten worse since then, which means D'Souza's timing couldn't be better.
Again.
His 2022 film, "2000 Mules," asked tough questions about the validity of the 2020 presidential election.
Now, he's tackling the growing sense that some Americans can indiscriminately break the law (Antifa, violent BLM protests) while others will be severely punished (J6 protesters, Christians, concerned parents).
With "2000 Mules" there were tens of thousands who tried to get movie tickets last minute and couldn't. We've reserved hundreds of theaters for "Police State" on Oct. 23 and 25. Get tickets early and make plans to see it with family, friends or group! https://t.co/L3EAH8QJTZ pic.twitter.com/QcCyJd78Yl

— Dinesh D'Souza (@DineshDSouza) September 11, 2023
D'Souza is the most successful conservative filmmaker of our age. His previous films made millions, including "2016: Obama's America" ($33 million) and "America: Imagine the World Without Her" ($14 million).
His work blends re-enactments with traditional, talking-head segments to flesh out his narratives. "Police State" features Sen. Rand Paul, talk show host/author Dan Bongino, reporter Julie Kelly, Rep. Jim Jordan and more.
Critics, who overwhelmingly lean to the Left, loathe his body of work. That hasn't stopped him, nor has it prevented him from snagging serious screen counts for his films.
D'Souza describe the film in a letter to his email subscribers as "the movie I never wanted to make."
"I never wanted America to get to a point where a movie like this needed to be made," D'Souza added in the message promoting the project.
"Police State" opens nationwide in theaters for two days only – Oct. 23 & 25. Tickets will be sold "exclusively on the film's web site, not via theaters.