Even if the play or musical is later revived, it's usually not with the same actors who worked in unison the first time.
History tells us that Sarah Bernhardt was a great (and possibly definitive) Hamlet, that Christopher Plummer and James Earl Jones were awesome as Iago and Othello and that Lee J. Cobb was an astonishing Willy Loman.
Another legendary actor who embodied that role was Dustin Hoffman, who played Loman in the 1984 Broadway revival of "Death Of A Salesman [Blu-ray]
."
Death Of A Salesman (1985) - Clip: Taking Sides (HD)
Hoffman followed this Tony-award winning production of Arthur Miller's classic stage play with a 1985 TV movie adaptation. Instead of making a literal, cinematic take on Miller's somewhat cerebral play, in which cheerful daydreams, tortured memories and harsh realities frequently collide, the director, Volker Schlondorff of "The Tin Drum," took a different approach.
The TV movie brings in the cast from the Broadway play, has highly stylized and overtly theatrical sets and manages to "open up" the play for a camera while maintaining a distinctly theatrical approach.
'Death' in the Family
Hoffman's Loman is 60-years old, broke and sour from working on the road as a traveling salesman. His long suffering wife (Kate Reid) does all she can to keep his spirits up, while his son Happy (Stephen Lang) and Biff (John Malkovich) are cynical opportunists who have grown apart from their father.
FAST FACT: Arthur Miller was convicted of contempt of Congress during the House Un-American Committee era for not "naming names." His conviction was later overturned.
Loman pleads with his boss (Jon Polito) to keep him employed, but Loman's inconsistent job performance and unstable behavior make him impossible to work with. Loman maintains a hope that his sons will overcome their stalled careers and live up to his dreams of surpassing his own successes. It comes to a haunting confrontation, in which the family finally says everything they've been too afraid to say before.
Miller's play is unquestionably one of the greatest dramas in theater, a work that resonates with every generation. The Lomans are a formerly tight nit embodiment of the American Dream, whose ambitions are halted by personal mistakes and missed opportunities.
By the time we catch up with Happy and Biff, they, like their father, are driven by the need to "sell" a rosy, utterly false perspective of themselves to everyone they encounter.
RELATED: 'Tension Experience' – The Future of Live Theater
Miller's work is deeply impactful and frequently painful to watch. The scene with Hoffman and Polito in particular, in which the older man begs the son of his former mentor for work, is raw and uncomfortable to witness.
Truly, the title isn't a literal plot point, as Loman's abilities as a father and salesman are long "dead" at the start of the show.
9 to 5 Nightmare
Miller's drama speaks to those stuck in a rut of "would of/should of" or frozen job advancements, due to age or inexperience. There are also potent observations on the generation gap, how nostalgia can fuel false hope and the need to distract ourselves from an uncertain future.
This is dark, devastating stuff but every bit as essential as Tennessee Williams' "The Glass Menagerie," which shares many of the same themes about a fractured family, the need to escape a familial bond and the prison of memory.
From the looks of things, this movie was hell to make for everyone involved…
"Death of a Salesman" captures that transitional period when Hoffman's career took on a remarkable second act. His performance as Willy Loman is a curtain call on the brilliant first chapter of his career. "The Graduate," "Midnight Cowboy," "Lenny," "Straw Dogs," "Marathon Man," "All The President's Men" and "Kramer Vs. Kramer" are among the high points.
Prior to playing Loman, Hoffman had starred in the blockbuster "Tootsie," one of the biggest hit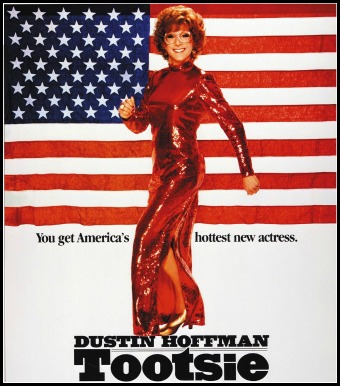 comedies of all time. He was at the top of his game and had the momentum of Al Pacino, Jack Nicholson, Robert De Niro, Jon Voight, Robert Duvall, and Gene Hackman, all casually and justifiably considered among The Best.
After playing Loman, Hoffman took a few years off and began a new chapter in his craft by starring in "Ishtar," one of the most embarrassing flops of its time. Thankfully, rather than allow a blind camel, hungry vultures and a cluster of horrendous musical numbers eclipse his film work, Hoffman rebounded mightily with "Rain Man."
His turn as Willy Loman may not be definitive, as the performances by Lee J. Cobb and Brian Dennehy in the role remain a vital piece of Broadway history. Yet, Hoffman's performance is essential for his fans.
This Shout Factory Blu-ray release presents this TV movie looking as good as it ever has. The made for television production has a rugged veneer and a soft haze that fits the theme of memory interspersing with real life.
One is More Than Enough
The one extra featurette is so good, I found it every bit as powerful and entertaining as the film itself.
The Christian Blackwood-directed "Private Conversations" is a feature-length documentary on the making of Schlondorff's film. Its among the most revealing, fly-on-the-wall making-of documentaries I've ever seen, on par with "Making of The Shining" and "Hearts of Darkness: A Filmmaker's Apocalypse."
From the looks of things, this movie was hell to make for everyone involved, as the director and star often struggled with finding a cinematic solution for scenes that worked perfectly on stage.
The shoot was revealed to be broken up by Hoffman's early morning make-up sessions, lengthy shoots and a nightly ritual of watching the dailies in a screening room. Hoffman's insistence on perfection and Schlondorff siding with the actor results in a few scenes either being re-shot or controlled outright by Hoffman.
Caught in the Creative Crossfire
A brief moment where future "Crocodile Dundee" star Linda Kozlowski enters a restaurant is reconfigured with Hoffman's invasive direction, as Miller and Schlondorff watch uncomfortably from the sidelines.
Kozlowski looks particularly unhappy to be there and Hoffman's more seasoned co-stars look equally non-plussed at being ordered around. It gives a vivid glimpse at a time when Hoffman was once unkindly nicknamed in the Hollywood press as "Difficult Dustin."
Yet, it must be said that, in the case of the Kozlowski scene and a keen observation Hoffman makes later about the cost of filmmaking, he's absolutely right. The candid moments include Miller revealing how autobiographical his play is and Hoffman (in silhouette) remarks how the play inspired him as a young aspiring pianist.
Every year introduces another season on Broadway or London's West End that teases productions that many will never be able to catch. The gift of the 1985 "Death Of A Salesman [Blu-ray]
" is that it captures Hoffman's Loman and his broken world, for all to see.
Loman's story is haunting but, in many ways, his journey is ours as well.