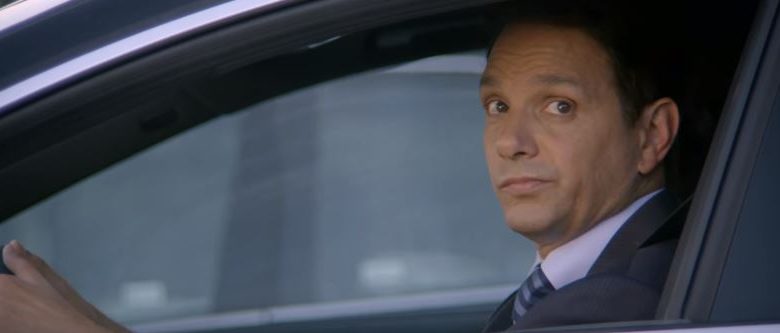 "Don't bring your asthma, or your fake peanut allergies into my dojo," William Zabka's Johnny Lawrence tells a student during his first lesson in "Cobra Kai."
"Uh, those are serious medical issues," Miguel Diaz deadpans wonderfully in response, played by "Parenthood's" Xolo Mariduena. Doesn't matter; keep them out of his damn dojo.
Thus, Johnny sets the tone for the new YouTube Red dramedy "Cobra Kai," a belated sequel to the 1984 smash "The Karate Kid."
Official Cobra Kai Trailer - The Karate Kid saga continues
Drunk on Coors, ragged from the rigors of hard life, and driving a late '80s Firebird with the music and exhaust too loud – Generation X – I mean Lawrence– sets the series on the right path. That's despite stretching well beyond the bounds of credulity, melodrama, nostalgia and outright cheesiness at times.
The balance is mostly done well and in an impressive fashion. It's also too difficult to keep at all times. But with this much heart, the series could suffer from more and be good. These flaws become part of its charm – like an 1980s action flick.
RELATED: 5 Movie Sequels We Crave (But May Never See)
My biggest worry of the series was 40-year-olds reverting to adolescence. "Cobra Kai" doesn't commit this indignity to Ralph Macchio's Daniel LaRusso or Lawrence. The rivalry is there from high school, and it stings, but they're also adults, with families and problems beyond that. There is no handwringing over the fun they had as kids and the misery of adulthood.
LaRusso's responsibilities run deep. He's the center of what keeps his family together and responsible for a large and profitable business. Having Lawrence reappear in his life exposes a weak point. Lawrence is at the bottom, having lost his job and become fully estranged from his son, when LaRusso re-enters his life after LaRusso's daughter is in a car that crashes into his beloved Firebird.
The storyline becomes a bit contrived at times, but weaves in and out of the mindsets of LaRusso and Lawrence. The two are remarkably similar in ways, with Lawrence suffering from a line of terrible father figures. His sensei as a teenager at Cobra Kai, Lawrence says, was the main father figure in his life until this "father" nearly killed him in a parking lot.
The Karate Kid Part II - No Mercy Scene (1/10) | Movieclips
The flip of the script – LaRusso was the poor kid on the rough side of town, Lawrence was the rich kid with everything going right – gives new dilemmas to both characters.
Lawrence's journey starts with Diaz, the new kid in town who lives in a dumpy apartment with his mother and grandmother. The lad is a frequent target of a group of four bullies. Lawrence intervenes on his behalf and beats up the men attacking him, but gets tased by the police. It's a pattern for Lawrence, who sees no good deed unpunished.
RELATED: And the Most Popular '80s Movie Trailers Are …
After months of training, Diaz defends LaRusso's daughter in a scene out of "The Last Dragon." A video of the fight goes viral, and Lawrence gets enough customers to save his dojo – if he doesn't chase them off with his boorish, politically incorrect behavior.
Something deeper is at work, though, an element most critics of the series have missed.
NOTE: The first episode of "Cobra Kai" is available for free below via YouTube.
Cobra Kai Ep 1 - "Ace Degenerate" - The Karate Kid Saga Continues
Cobra Kai's tenants of strike hard, strike fast and no mercy are ugly to some but bear hard-learned truths of life to the bully victims and misfits who come to Lawrence's dojo. These are already hard rules of life. The dojo is a chance to turn the odds, and many are quick to adopt.
One autistic kid, who barely speaks and has a cleft lip, takes a heap of verbal abuse from Lawrence, but comes back with a mohawk, a bad attitude and makes the semifinals of the karate tournament. He also resorts to a horrible cheapshot and injures his opponent.
The bully coin has flipped.
It's there, after Lawrence has his heart ripped out by his son, and he gives an impassioned and pained speech to his students about what "No Mercy" means in the dojo's code: Life will always kick you when you're up or down, and to have a chance, compassion is a death knell.
View this post on Instagram
By the start of the tournament he realizes his mistake. Watching this play out on Zabka's face, while he recognizes he has taught Diaz the wrong lessons about life, karate and martial arts – just as happened to him – is a masterwork.
Terms like "toxic masculinity" have been tossed around to describe the series, which has an almost universal positive reaction from critics otherwise. The notion is absurd. LaRusso and Lawrence tearing through town together in a 2009 Hemi Challenger, then hitting the bar felt like a scene from a bygone era – it isn't toxic masculinity.
Neither is Lawrence's flawed by well meaning way of training.
He's a man falling apart with only his students and a mix of good and bad lessons. Grasping to save his life and make something of it and save the relationships within it.
FAST FACT: The original "Karate Kid" earned $90 million at the U.S. box office, spawning three sequels and a 2010 remake featuring Jaden Smith and Jackie Chan.
Steve Pink, who directed "Hot Tub Time Machine" and was a member of the creative group behind the series, had a love and obsession for Karate Kid like most have for "Star Wars," according to Macchio in an interview with Zabka on NBC. The obsession paid off well for "Cobra Kai." The episode was watched 5.4 million times the first day it was available. The series had 15 million downloads as of May 6.
YouTube was quite aware they had a hit coming, and playing to the second season becomes the first season's biggest flaw. The rest lays out a template if Hollywood wants to bring back memorable and beloved properties – the only way to make it work is with character and heart.
---
B.J. Bethel is a mainstream media journalist, freelance political columnist and has been a contributor to Christian Toto's site though the years. His Twitter handle is @BJBethelTweets.