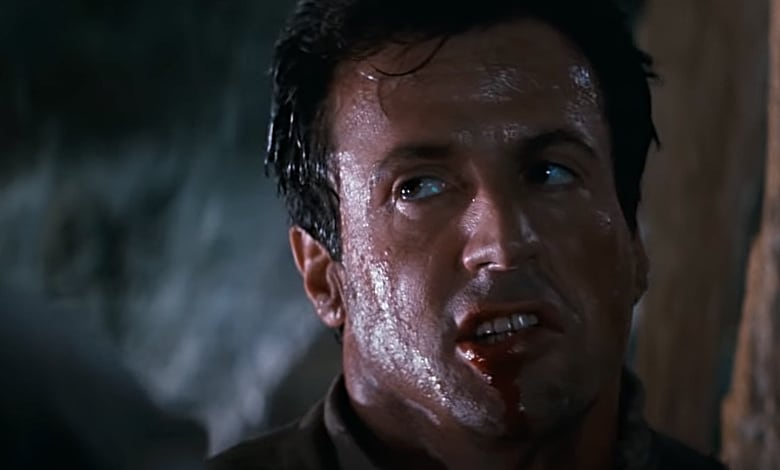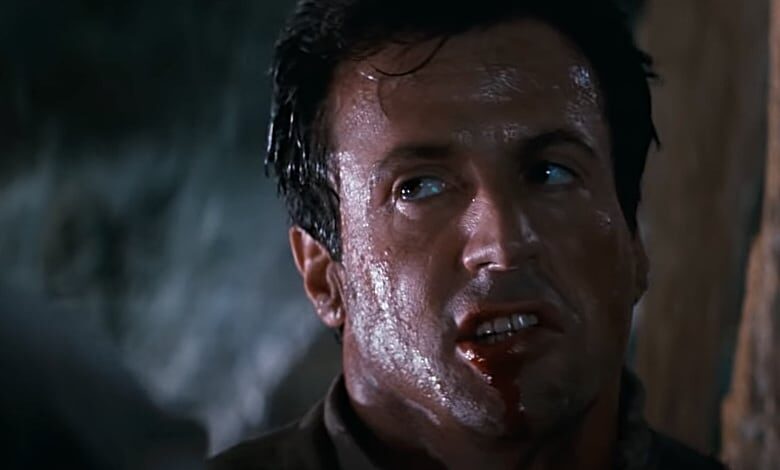 Renny Harlin's "Cliffhanger" (1993) is bookended by a scene in which its stars are perched atop a summit so high, they must've been lowered from a helicopter to make the shot.
Before the days of Tom Cruise putting himself in entertainingly dangerous positions for our entertainment, here's Sylvester Stallone and Michael Rooker clearly placed on surfaces miles above the ground.
Cliffhanger | Official Trailer
We meet Gabe (Stallone), a veteran mountain climber who is rescuing his friend and colleague Hal (Rooker) stranded high above the Colorado Rockies. Hal is waiting for Gabe on a peak with his girlfriend, Sarah, played by Michelle Joyner, who's excellent for only a few minutes of screen time.
Why wasn't this a breakout role for her?
A simple rescue goes horribly. A year later, Gabe and Hal aren't speaking, Gabe hasn't been on a mountain and a plane full of professional criminals crash lands into the Rockies. Led by the sadistic Qualen (John Lithgow), the armed thieves aim to find three missing suitcases that are stuffed with $100 million, which was roughly the budget of this movie.
Joining Stallone on the ledge is Janine Turner, terrific on "Northern Exposure," but suffering the same Teri Hatcher/ Dana Delaney limbo of finding success on television but not in movies. Admittedly, Stallone and Turner, who are supposed to be playing an estranged couple, lack any chemistry.
The dizzying cinematography, superbly timed editing and clever sound effects place the audience in vertigo-inducing spaces. Coming post-"K2" (the forgotten 1992 adaptation of the spellbinding stage play) but long before "Cliffhanger" wannabe "Vertical Limit" (2000), the knockout opening scene still stuns for its unbearable intensity and cruel conclusion.
CLIFFHANGER Clip - "Plane Crash" (1993)
If "Cliffhanger" resembles any film from the '90s, it's the forthcoming "Twister" (1996), which is also dopey with dialogue and characters but phenomenal when it's on its feet and sprinting.
There's an in-air money transfer that, truly, seems pointless but results in some amazing stunt work and a delightfully implausible action sequence to rival anything in a "Fast and Furious" sequel. What follows is a great plane crash, in a year full of similarly outstanding, scary sequences in "Fearless" and "Alive."
Speaking of implausible, we're supposed to believe that, at one point, Gabe can bench press a villain into a spike over his head but is unable to simply pull a damsel in distress to safety in the opening?
RELATED: HOW THE BADDIE STOLE 'NIGHTHAWKS' FROM STALLONE
This was Stallone's post-comedy comeback, as the mild success of "Oscar" (1991) and the embarrassment of "Stop! Or My Mom Will Shoot" (1992) was enough to remind the stars and his fans that the road to "Rhinestone" is paved with good intentions but horrendous reviews and meager box office.
Hitching his return to form on the popcorn movie maestro Harlin made for a shrewd pairing.
The screenplay is notably "Based on a Premise by John Long" and, for all the spectacle, lacks depth, though I'm unsure if the aim here is to do anything beyond entertaining the masses.
CLIFFHANGER Clip - "Soccer" (1993) Michael Rooker
Harlin's film could certainly be tighter (there's far too many reaction shots) and there's also two snowboarder characters whose premise can only be explained by the success of "Wayne's World" (1992) signaling Stallone that he'd need a young demographic to maximize his return to glory.
The dialogue is often unintentionally funny, mostly B-movie dialogue ("A lot of things fell apart on that ledge!"). A hall of fame howler comes in the form of Stallone's protesting, "Look Jessie, I haven't climbed in months! You just lose the feel!"
We never learn what Cabe has been doing in Colorado for all those months (my guess: a professional cliff diver at Casa Bonita's). Here's a bit of dialogue I wish were in this movie: On the ground, he's just Gabe, but up here…he's The Cliffhanger.
No such luck.
A sequel to 'CLIFFHANGER' is in the works with Sylvester Stallone set to reprise his role.

(Source: Deadline) pic.twitter.com/iN3F0vb4x1

— DiscussingFilm (@DiscussingFilm) May 1, 2023
A typical Hollywood touch is how the story piles on a massive body count but, following a scene of peril, clearly shows us that a rabbit did, indeed, escape a torrent of machine gun bullets.
It becomes increasingly funny how these characters mountain climb all, casually meeting each other on summits that, under normal circumstances, would have others calling Guinness Book of World Records.
Stallone recognized that this vehicle would elevate him back on top (of the cliff and of the movie star list), and he's in good form. Lithgow's performance as Qualen is constantly better than the material. Paul Winfield is on hand to do the walking and talking exposition scenes.
Like most of Harlin's films from this era, "Cliffhanger" is gruesomely violent and unnecessarily so – as in his entertaining, pulpy "Die Hard 2" and "The Adventures of Ford Fairlane" (both 1990), Harlin's bloodletting and pummeling muffles our feeling for the characters.
The Adventures of Ford Fairlane | #TBT Trailer | 20th Century FOX
During one especially gratuitous scene, Rooker lets out a spittle of blood all over the snow. That said, Harlin's best film is still the ultraviolent, hilarious and impossibly exciting neo-noir "The Long Kiss Goodnight" (1996).
If this is what "'Die Hard' on a mountain" looks like (and I suspect Harlin pitched it that way when offered the job), then it likely will still never be topped.
Hold on, indeed.