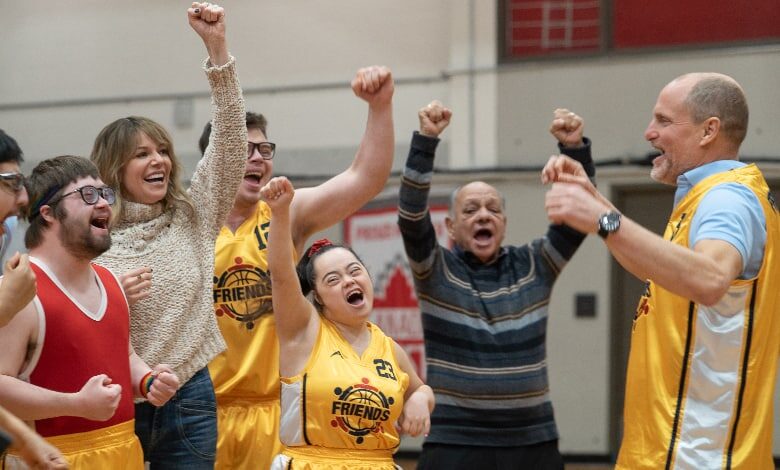 You won't find many surprises in the basketball comedy "Champions."
A down-on-his-luck coach gets a second chance thanks to a team of special needs athletes. The squad coalesces around the coach and finds the will to win.
That's not a spoiler alert. It's built into the story's DNA from the jump (get it?).
What "Champions" demands is a charismatic lead, palpable life lessons and a smidge of romance for good measure.
The film checks all those boxes and goes one step further. The film's athletes crush their line readings every time, with one player lapping them all.
CHAMPIONS - Official Trailer [HD] - Only In Theaters March 10
Woody Harrelson plays Marcus, a minor league basketball coach who can't control his tongue … or the rest of his body.
He's canned after an on-court explosion, and one DUI later he's looking at the hoosegow. His salvation? A judge sentences him to community service coaching a team of special needs players.
He'll do anything to avoid jail, but this scenario is the ultimate insult for someone who dreams of coaching in the NBA.
Or so he thinks.
Meet Cosentino (Madison Tevlin), Johnny (Kevin Iannucci), and the rest of the Friends. They're sweet, hard-working and know little about Basketball 101. They quickly connect with Marcus, who understands he'll need to spend 90 days with them, so he better make the best of it.
The odd coupling works, as does Marcus' bond with Johnny's sister, Alex (Kaitlin Olson of "It's Always Sunny" fame).
RELATED: 'AIRPLANE!' DIRECTOR: THEY'RE DESTROYING COMEDY
Director Bobby Farrelly, one half of the duo who gave us "Kingpin," "There's Something About Mary" and more, brings out the best in his cast (including Cheech Marin and Ernie Hudson). That means Olson's Alex exemplifies a 40-something woman hiding behind the wall she built around her heart, and Harrelson's Marcus doesn't know a good thing when it lands in his lap.
Farrelly's Friends prove adept at the film's gentle, consistent humor. The screenplay doesn't mock the athletes nor ignore their challenges. And the young cast could teach their Hollywood peers a lesson or two in comic timing.
Tevlin, in particular, crushes every line out of the park.
View this post on Instagram
The feel-good formula is never in jeopardy, but "Champions" still misses some golden opportunities. The relationship between Alex and Johnny, for example, cries out for more nuance. So does the Marcus-Alex romance, which too often cuts corners for narrative purposes.
Otherwise, it's hard to slam a movie with a big, beautiful heart choreographed by a pro who knows what clicks on screen. Farrelly treads carefully at times, but there's little to offend here beyond its predictable arc.
Harrelson, the best actor to emerge from the "Cheers" ensemble, is smack dab in his comfort zone. He's willing to make Marcus unlikeable at times, but the character could use more of that grit for dramatic purposes.
That might risk breaking the formula in play, but the best templates can stand some tinkering.
RELATED: MARLON WAYANS: 'NO APOLOGIES' IN COMEDY
Mentally challenged souls often take a licking on social media, with knuckleheads leaving snarky comments beneath their TikTok videos. It's a depressing part of our digital world.
In that atmosphere, the flawed but kindly "Champions" shines even brighter.
HiT or Miss: "Champions" follows a tried and true Hollywood blueprint, but it does so with humor, heart and an undeniable sense of uplift.