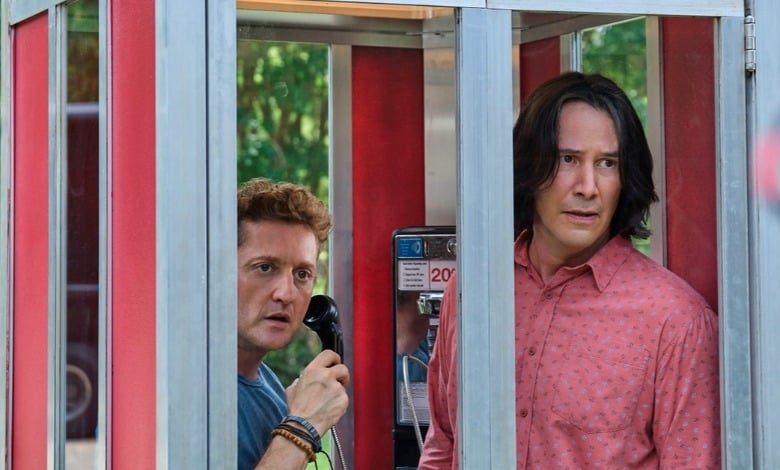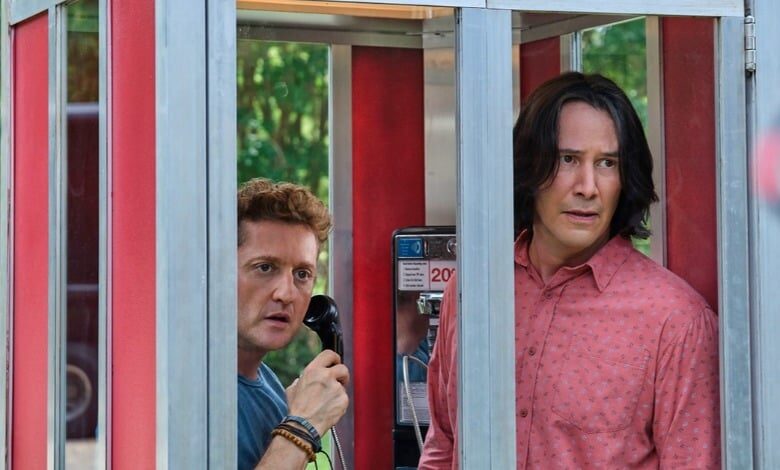 The worst sequels do more than rob us of our time and money.
They soil the source material.
It's one of the many rotten realizations after watching "Bill & Ted Face the Music," the belated third film in the franchise. Not only is the comedy laugh-free, it makes us question why we cared about these two numbskulls in the first place.
It's Flop Sweat Cinema, the kind that leaves you feeling sorry for everyone involved.
BILL & TED FACE THE MUSIC Official Trailer #2 (2020)
"Music" reunites us with William "Bill" S. Preston Esq. and Theodore "Ted" Logan (Alex Winter, Keanu Reeves), the teens whose music was supposed to heal the world. That never happened, despite a fitful career recapped in a very VH1 "Behind the Music" sequence.
Now, they're middle-aged men with beautiful wives and quirky teen daughters (more on them in a moment). Bill and Ted fear they missed their chance at musical greatness.
Whoa!
That actually matters in "Face the Music" since the universe depended on their "excellence." Now, a superior being (Holland Taylor) demands they write the song to save us all, at long last, or the world will suffer the consequences. She sends along Rufus' daughter ("Bob's Burgers" actress Kristen Schaal) to spark their creative fires.
RELATED: Is 'Caddyshack 2' the Worst Sequel … Ever?
Can these righteous older dudes bob through time and space, again, to find musical inspiration? Or will their daughters – Thea (Samara Weaving) and Billie (Brigette Lundy-Paine) – bail them out with some time traveling of their own?
The set up, the punch lines, the resolution – just about every element that matters here is flat or uninspired. We get plenty of nostalgia, though. Look, there's a digitally re-created George Carlin as Rufus for all of three seconds! The boys-to-men do that air guitar shtick.
Again.
Little is funny. Much of it is painful. The screenplay, by franchise returnees Chris Matheson and Ed Solomon, lacks anything remotely imaginative or, dare we say, smart.
Yes, this franchise is dumb right down to its DNA, but there's dumb-funny and dumb-dumb. This falls squarely in the latter camp.
And oh, what comic opportunities are left behind! There's a mildly clever sequence early in the film where Bill and Ted enter marriage counseling with their spouses. The possibilities here are endless, but the scene lobs a few mild yuks at us and then wraps.
That's it.
What about the comedy of two man-children forced to grow up? Seth Rogen made a career out of this shtick, and at times it clicks beautifully. Nothing doing here.
The film's frantic third act offers two minor treats. William Sadler is having a blast playing Death once more, but he's given nothing funny to say or do. The story wraps with an ode to parenthood that's beautiful on paper, but again what we see on screen is rudimentary and dull.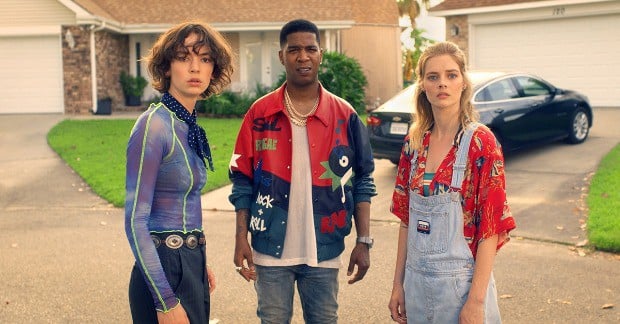 The next generation of Bill and Ted, personified by Weaving and Lundy-Paine, offers even more comic possibilities. Instead, we see them bounce through time like in the first film with zero laughs assembled.
Nada.
Weaving is a rising star, so we can't blame her here. It's the screenplay, a leaden affair dependent on our faith in the franchise, that fails her time and again.
A final note: The film's leads, now in their 50s, look older in ways that Hollywood deems acceptable. That apparently wasn't the case for their romantic partners from the first "Bill & Ted."
The new film tells us the slackers married the princesses featured in their first "Excellent Adventure." Those characters were played by Diane Franklin (58) and Kimberly Kates (51). Now, those roles are given to younger stars – Erinn Hayes (44) and Jayma Mays (41).
That's a most bogus call, guys.
HiT or Miss: "Bill & Ted Face the Music" lives down to our collective fears. It's a cash grab of the worst order.