Industry News
Bill Maher: Sorry, Woke Nation. Men, Women Are Different
'Club Random' host, Riley Gaines, agree on need for separate sports leagues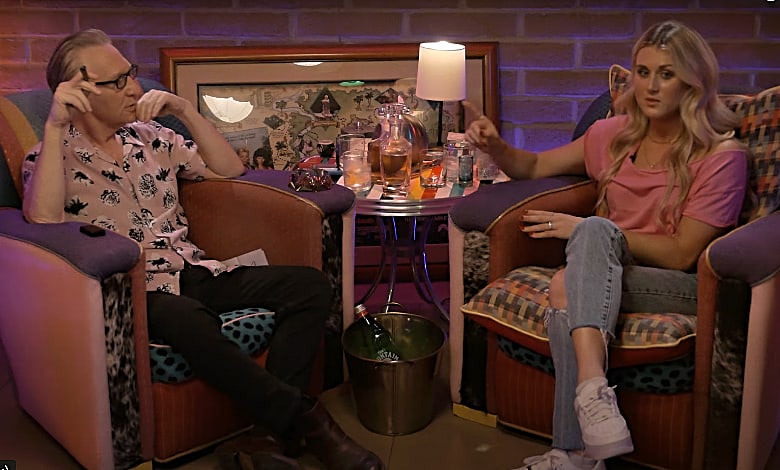 Bill Maher's willingness to critique fellow liberals draws plenty of friendly fire.
The woke mob, his progressive critics claim, isn't as bad or impactful as he suggests. It's worse, he insists, and he doubled down on it during his conversation with swimmer-turned-activist Riley Gaines.
The "Real Time with Bill Maher" host, unlike his late-night peers, routinely mocks woke overkill, from its eagerness to squelch free speech to how it denies common sense.
Case in point? How Woke Nation insists trans women should compete alongside biological women in sports. Maher broached the scorching hot button issue with Gaines, the former collegiate swimmer who competed against trans athlete Lia Thomas.
Gaines now tours the country arguing why swimmers like Thomas shouldn't be competing against women. It's earned her a national profile along with physical assaults, particularly during an April appearance at San Francisco State.
The 23-year-old had to barricade herself in a room for three hours while trans rights protesters raged outside.
Gaines' footage — as well as other clips shared on social media — show security and university staff blocking the angry mob from following the distressed guest speaker as she's taken to a safe room at 8:30 p.m.
The prisoners are running the asylum at SFSU…I was ambushed and physically hit twice by a man. This is proof that women need sex-protected spaces.

Still only further assures me I'm doing something right. When they want you silent, speak louder. 🗣️ pic.twitter.com/uJW3x9RERf

— Riley Gaines (@Riley_Gaines_) April 7, 2023
Maher began the conversation with an adult angle on the trans sports controversy. Had Gaines ever seen Thomas naked in the locker room, including his genitalia? She joked her way around the topic while the comic kept pressing her on it.
Riley Gaines | Club Random with Bill Maher
The host took said trans women should be "respected and protected," but he disagrees with his liberal friends on where it should go from there. And that includes respected news outlets like The Atlantic.
"We're so through the looking glass in pretending that male and female athletes are somehow peers. They're not," Maher said. "It's my refutation to the people who say, 'Oh Bill, when you go on about wokeness, it's just a fringe.' It's not a fringe. It's not a few people."
RELATED: SHOCK – BILL MAHER STILL BELIEVES TRUMP COLLUDED WITH RUSSIA
He correctly quoted a 2022 Atlantic article with the headline, "Separating Sports by Sex Doesn't Make Sense,' but it does … there are sentences in the article you'd swear this is just a parody in The Onion," he said of the far-Left satirical news site.
Decades of research have shown that sex is far more complex than we may think. And though sex differences in sports show advantages for men, researchers today still don't know how much of this to attribute to biological difference versus the lack of support provided to women athletes to reach their highest potential.
"When it comes to athletics, it's just so plain that we're just different. It's not sexist to say that," he said.
Gaines agreed.
"Ask The Atlantic if we should separate the Paralympics versus the Olympics, or we should have heavyweight boxers competing against featherweights. Are we fat shaming the heavyweights? We do this for a reason," said Gaines, host of the new OutKick podcast "Gaines for Girls."