Interviews
Why Scheffler's 'MILF' and 'Mommy' Shows Aren't Just for Women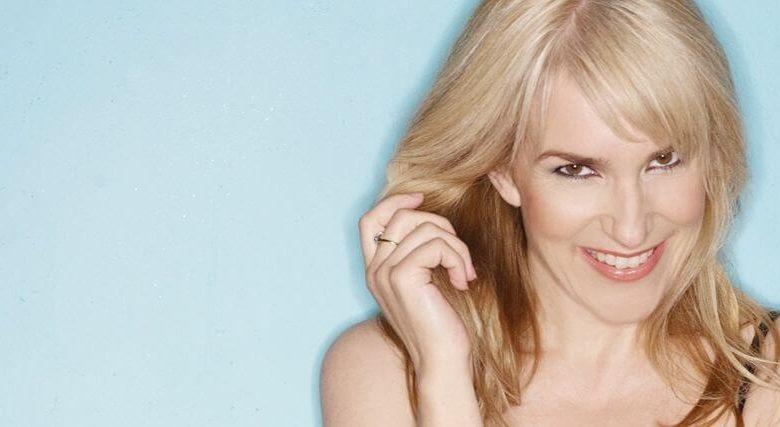 Anne Marie Scheffler was a happy mother and wife in a marriage she thought was perfect – until her husband turned her life upside down by asking for a divorce.
Rather than being bitter or angry, though, Scheffler dealt with the news in the best way she knew how She found the funny in her potentially painful predicament.
After all, the Toronto/ now LA-based comic had established a strong reputation in the Canadian comedy world prior to her marriage. In fact, her 2003 show "Not Getting It" – a "Sex and the City"-style program about her life as a single gal—still appears as a one-hour comedy special on national television.
Anne Marie Scheffler – Not Getting It- Full Comedy Now! Special from Anne Marie Scheffler on Vimeo.
So she channeled her frustrations into funniness by creating the show "MILF Life Crisis," in which she celebrates the idea of "dating again" after divorce and encourages women to embrace their sexy side. Her message is that it's never too late to find fulfillment on the dating scene.
An alum of the famed Second City theater outpost in Toronto, she has parlayed that prestigious connection into performing "MILF Life Crisis" and "Suddenly Mommy" at the theater's locations in Toronto, Hollywood and Chicago —including this weekend, when she performs both at Second City's Beat Lounge and de Maat Studio.
"As most comedians do, I draw on my real life experiences, and I found myself divorced and dating again in my mid-40s," says the 48-year-old Scheffler. "I was raised Catholic and grew up thinking you get married and stay married forever. Find that husband and you'll be fine. But then you have your children and you have your marriage, the children are still there but the marriage is over, and now you have to start dating again and that's scary.
RELATED: Howie Mandel Reveals Secret Behind 'AGT's' Summer Success
"Everybody's divorced now so it's not a big deal, but I think the first thing that happened to me was thinking I wasn't sexy anymore and no one would love me because I was too old," she continues. "I wrote 'MILF Life Crisis' because I wanted to name it and claim this derogatory term, a way to reclaim my sexiness and make it a celebration. I don't feel middle aged. I think I'll live to 200, so I'm quarter-age, and it's about dating again in your 40s and beyond."
MILF Life Crisis Live Show Sizzle
A self-described "Polish Pollyanna," Scheffler first developed her sense of humor while growing up in "a big Polish Catholic family with four kids, all trying to out-funny each other at the dinner table."
As she recalls, each night's dinner doubled as a contest to see who could make the other siblings laugh more— and she often won because her middle-child status made her crave attention more than the others.
Yet she originally dreamed of becoming "all fancy and dramatic" like her idol. Meryl Streep ("who's also Polish!" she points out). But when she studied acting, she found she had a knack for making people laugh and followed her teacher's advice that since comedy was often harder to perform, she should embrace those skills.
I wrote 'MILF Life Crisis' because I wanted to name it and claim this derogatory term…
Building her stage persona around her "very Pollyanna, very optimistic" personality, Scheffler also incorporated her vulnerable side to become more universally relatable.
"I went through situations of dating badly in 'Not Getting It,' because my character is a little too small-town, optimistic, and unclear with reality," explains Scheffler. "People come to expect your comedic voice, I tell the story through the optimistic Everywoman Anne Marie. I show me thinking a guy's into me, when they're just there for sex.
"I've been crafting my one-person shows for so long, I show the mistakes of getting into the mud in life onstage. For 'MILF Life Crisis,' online dating in your 40s gives you a lot of hilarious stuff to put on stage."
Suddenly Mommy Sizzle Second City Hollywood
Scheffler also performs her prior solo show "Suddenly Mommy" while on tour as well, often performing both over a weekend in the same venue. She wrote that show as a 40th birthday present to herself, reflecting humorously on how she "suddenly" became a mom and step-mom with a man she had only been dating for a short time.
"I wasn't prepared for the huge responsibilities of motherhood, even though I was already in my mid-thirties," recalls Scheffler. "People don't tell you that it's self-sacrifice, or that it's ok to actually walk away from the mother guilt and put yourself first once in a while."
RELATED: How Carrot Top Stays One Step Ahead of the P.C. Police
Indeed, Scheffler had watched her big career breaks slipping away with marriage and motherhood, as her personality changed from leading-edge comedian starring in her own television special to being a people pleaser to her new family.  People thought she left the industry "because society expects you to disappear into motherhood," she says.
She had a personal and creative reckoning when she hit the Big 4-0.
"Women who see 'Suddenly Mommy' say things like 'Your show touched me deeply, every husband needs to see your show,'" says Scheffler. "No one tells you motherhood is overwhelming, and it hit me like a Mack truck. I take the audience on a journey: I don't think I'm a good mom, then the rollercoaster ride of motherhood, not sleeping, single friends not calling you, old boyfriends seeing you on the street with your kids and thinking you're not hot anymore. It's tough, especially if you're not the traditional June Cleaver mother type."
Ultimately, Scheffler has come out the other side of the potentially traumatic experience of divorce with her spirit and humor intact. And she hopes that her story will inspire not only women who have been in her shoes, but , surprisingly, men as well.
"I have a nice situation: my shows sell out big venues. The audiences are 95 percent women and five percent men, and I get to be the voice of the "still sexy" woman and I know I am giving them a new lease on their sexy selves," says Scheffler. "Men who come love it because lots of women are in the audience. And it's like a rock concert! The women wear leopard prints and say 'Oh my God I'm a MILF! My son's friends say so. Represent!"
---
Anne Marie Scheffler performs "Suddenly Mommy" at 7:30 p.m.  April 20 at Second City Beat Lounge, and "MILF Life Crisis" at 6:30 p.m. April 22 at 6:30 p.m. at the de Maat Studio, 230 W. North Ave., Chicago. Tickets are $13. Visit SecondCity.com or call Why(312) 337-3992.
Want more? Visit Scheffler's "Upcoming Appearances" page on her web site.
To hear an hour-long interview with Anne Marie Scheffler on the podcast "Oh Man, That's Awful!" visit Spreaker.com or click play below:
Listen to "MILF COMIC ANNE MARIE SCHEFFLER – ABSOLUTELY HILARIOUS CANADIAN COMEDY STAR" on Spreaker.