Interviews
Howie Mandel Reveals Secret Behind 'AGT's Summer Success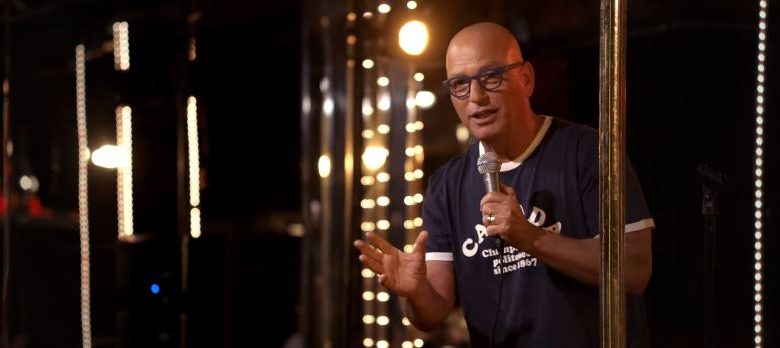 Only one reality competition show can regularly induce fits of jaw-dropping shock and awe.
"America's Got Talent" gives anyone with an unusual artistic skill — or who at least thinks they're special — a platform from which to get discovered.
The Search for Talent Continues in Phoenix, Arizona - America's Got Talent 2018
Featuring all manner of entertainers — from dance troupes and singers to brave souls who jump shirtless onto a trampoline laden with 300 mousetraps — "AGT" has become a ratings juggernaut.
"AGT" was by far the most-watched show on summer television throughout its first 12 seasons. It's currently taping this summer's audition episodes at the Pasadena Civic Auditorium throughout March.
A key part of the show's success has been its eclectic judges' panel, which includes the tart-tongued Simon Cowell, former Spice Girl Mel B and "Project Runway" host Heidi Klum.
But perhaps the most beloved judge is Howie Mandel. The comedian's wacky energy and goofball charm have carried him through four decades of showbiz success, from "St. Elsewhere" to winning an Emmy for hosting "Deal or No Deal."
RELATED: Why Harry Connick, Jr. Avoids Politics on 'Harry'
Caught in the midst of another season of madness, Mandel shared his thoughts on "AGT's" durability.
"The success of the show comes from many things, but mostly it's that television comes from vaudeville, which is just a variety show," says Mandel. "We are the biggest variety show on television right now. If what you're watching right now does not appeal to you, wait 30 seconds and there'll be something that does. Whether it's music, something death-defying or something kooky, with variety there's something for everybody.
"You're watching dreams come true, watching people with hopes and dreams whose lives change by just appearing on the show," Mandel continues. "They don't even have to win, just appear. It's amazing what a plethora of talent this world has. Ninety percent of making it is just showing up, and with 'AGT' you have to show up."
The One Bit that Made Mandel a Star
Mandel, 62, is a Toronto native who first realized he was great at making people laugh when an elaborate prank he pulled resulted in his expulsion from high school. Impersonating a school official via phone, he convinced a construction company to show up on the grounds and start building an addition to the school.
He found work as a carpet salesman while hitting the stage in local comedy clubs. He stood out thanks to his bizarre stage antics. He became best known for wearing a latex glove over his head and blowing it up with air from his nose until it resembled a cockscomb. He soon made the move to Los Angeles, where he became a regular at The Comedy Store and was hired as David Letterman's opening act on tour.
Mandel expanded into acting shortly afterwards, via his role as Dr. Bobby Fiscus on "St. Elsewhere," and has won Emmys and numerous other awards for his work as the creator and main voice of the long-running 1990s Fox cartoon "Bobby's World."
Gremlins (2/6) Movie CLIP - Multiplying Mogwai (1984) HD
He was also the voice of the lovable Gizmo in the "Gremlins" movies, but despite all these varied successes, his career went to another level as the host of more than 200 episodes of "Deal" from 2005 through 2009.
"'Deal' led to me being a judge on the panel, because 'Deal' was first show where I could truly be myself, not worrying about opening or closing a show, or editing," says Mandel. "In 'Deal' I thought I'd be this funny host, but empathy took over and I didn't want to distract from anybody winning and changing their life. That informs what I do on 'AGT.' I'm real and myself, everybody is, and we all realize how important this moment means to watch or be on stage, just like it was important for someone to walk off stage in 'Deal' with a million dollars."
If what you're watching right now does not appeal to you, wait 30 seconds and there'll be something that does
The million-dollar prize for the winner of "AGT" — paid out in 40 years of installments — has indeed changed the lives of many of its champions, who also receive their very own Las Vegas show for at least several months, during which time they have to sink or swim. Among those who have turned their time on the program into greater career moves is comic magician Terry Fator, who parlayed his Season Two victory into becoming one of Vegas' biggest stars.
Another is comic Taylor Williamson, who was the runner-up in the eighth season in 2013. A nationally touring headliner now, Williamson has some pretty colorful memories from the experience.
"After 'America's Got Talent,' I sold out comedy clubs across North America," recalls Williamson. "I visited Japan and was recognized by people from Hong Kong, West Africa and Singapore. Also, I kissed Heidi Klum on her mouth!
"Howie Mandel wouldn't let me kiss him," he continues, adding facetiously, "My point is, 'AGT' did not change my life at all because it was exactly like this before I went on the show."
"For me, a great act hinges on the element of surprise, especially at this point in my career," says Mandel, who still performs 200 adults-only standup shows each year. "If you can surprise me or something happens that isn't expected in any genre, if you make me go 'Oh My God! I can't imagine how anybody even thought of that!' or 'That's not what I thought was going to happen!' I'm sold.
"The element of surprise is the biggest requirement we look for," adds Mandel. "In a 14-hour day with act after act, you want to disrupt and be different by doing something that hasn't been done before, by someone who doesn't look like they'd be the person doing it."
Get Rowdy … but Not Too Rowdy
There were two marathon tapings of audition episodes March 8. Huge crowds lined up outside the Pasadena Civic Auditorium to see Mandel and the judges decide the fates of nine acts per episode. Audiences are encouraged to get as rowdy as possible while maintaining broadcast-TV standards of decorum (no nudity or R-rated swearing allowed).
"AGT" co-creator and current judge Simon Cowell personally urged the audience to "go crazy" as the first act took the stage.
While attending press were sworn to secrecy about detailing the acts who performed that night in order to preserve the element of surprise, suffice to say the current Season 13 crop of prospects is delivering plenty of odd and entertaining moments. People in the crowd leapt to their feet to cheer or catcall with every act, creating an atmosphere akin to a modern-day version of the ancient Roman Coliseum.
Through it all, Mandel draws the most passionate fan attention, with people chanting his name en masse and one fortyish African-American woman repeatedly yodeling "Howie!" until he sent a show staffer over to give her a souvenir T-shirt. Looking back, waving and doubling over with laughter throughout the tapings, it's clear this is one job that will never grow old for Mandel.
"I feel like I'm really lucky, because I'm one of those people where you just show up at what you want in life until it happens," says Mandel. "That's something I keep doing and will never stop doing. Standup allows an immediate reaction without worrying about commercial breaks or editing, but don't bring your kids to my standup show. That's my primal scream at the end of the day, and puts me in front of real people in the real world outside of New York and LA. It lets me see what people find funny and react and relate to— just like 'AGT.'"
The 13th season of "America's Got Talent" debuts May 29 on NBC. For tickets to the remaining March tapings of the series, visit "AGT's" audience outreach site.
---
To hear the full audio interview with Mandel, visit Spreaker.com or just hit 'Play; below.