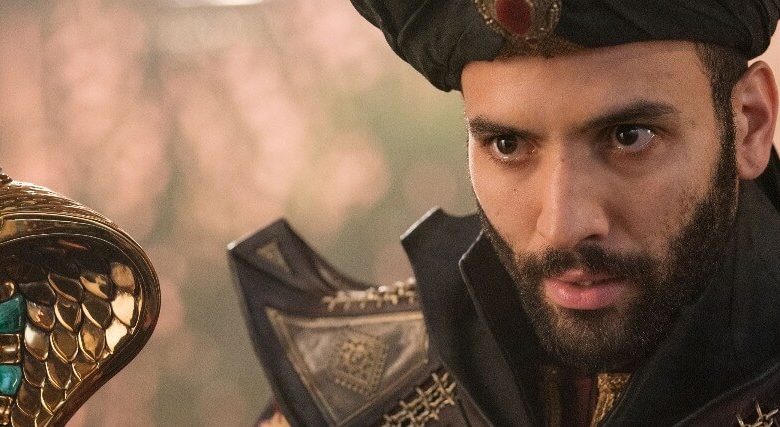 The "Aladdin" live-action remake is fun for kids. Just don't expect it to live up to the original.
Disney's "Star Wars" advertising says, "every generation has a legend," and when it comes to generational legends, Will Smith is one of mine. I will nearly always go see a movie with him in it – sans Jaden (sorry not sorry).
Seeing the new "Aladdin" was no exception.
Disney's Aladdin Official Trailer - In Theaters May 24!
The movie itself was a nice treat, and a kid-friendly one at that. The original is actually scarier, according to my kids.
The visual effects are skillfully done, ranging from interesting to odd to creative, and the story line remains mostly the same. The actors are gorgeous, all of them in their own ways.
Aladdin's Mena Massoud has plenty of boyish charm as Aladdin, and Naomi Scott played Jasmine very passionately. I was skeptical of Nasim Pedrad's additional role of the handmaiden, but the framing element eventually won me over.
And, of course, Smith as the Genie proved an excellent casting choice.
But in truth, the new movie is more like "Aladdin" fan fiction, updated for adults but still sanitized for children. Much like the "Beauty and the Beast" live-action version, "Aladdin" often fights with its own identity. It ends up with a mix of good and bad changes that don't always pay off.
Character Matters
The movie takes its cues from Smith, moving from "Fresh Prince" to a versatile movie superstar. He's funny and believable while tying the story together in a smooth, lovely way. I left the theater telling my husband I wanted to watch his sci-fi yarn "I, Robot" again, just to see if I missed something. This plays well into Genie's naturally big personality, but there are other character changes that didn't work so well.
Aladdin's role as the protagonist is greatly diminished compared to the original. Instead of trying to play it too cool with Jasmine when he meets her as Prince Ali, he stumbles all over himself. Genie needs to "Hitch" the situation together.
Gilbert Gottfried is also robbed of his original role. Iago is reduced to "Parrot" here. The animated film's Iago provides a better foil to Williams' Genie. In this movie, The parrot is more opposite of Abu, who, despite not having a real voice, manages to keep most of his original role.
Without Gottfried's Iago, there's nothing to fight back against Genie's overwhelming personality. The script fills this in with additional information on Akeem's guardsman, Dalia the handmaiden, Jasmine's mother and Jafar's backstory—in other words, stuff that's not as attention-grabbing, exciting, or needed.
Awkward Love Stories
Hollywood has lost the art and joy of the Rom-Com. While I enjoyed the Genie's love story line, I felt frustrated the two of them nearly always asks permission from the stronger, more modern-minded characters to move forward with their love, even at the end.
The relationship between Aladdin and Jasmine is also almost painful for how awkward it is. In the original, Aladdin is comfortable being himself, and Jasmine is more open to letting him change her mind.
Feminism Flashback
The '90s called, and they want their Spice Girl Brand of "Girl Power!" back.
Jasmine's original, "Maybe I don't want to be a princess anymore" line is replaced by "Oh, now I want to be Sultan." Now, there are some nice things that add to the story to go along with this change, such as how Jasmine disguises herself and sneaks out into the city to get to know her people (I use this in "The Order of the Crystal Daggers" series myself).
I hate that it's because she wants to rule them. It becomes grating and cringe-inducing at times, especially at the end. These changes cause the theme of the movie to become less about "believe in yourself" (a positive, internal conflict centered on character) and more about "challenging your place" (an external conflict, one that is often more cynical and about power.)
Marxist Materialism and Literalism
Marxist ideology is anti-imaginative, and Disney's trend of uber-Progressive feminism and Marxism is damaging to its craft.
This version of Aladdin makes me think they went through the original script and made changes line by line, putting in twists and PC-approved additions where they could. Consider Jasmine's new song "Speechless," which is pulled literally out of Jafar's original line, "I can see you're speechless. A fine quality in a wife."
Meanwhile, I was waiting for Jafar's big villain number … how great would a matching duet of "Street Rat, Riffraff" between Aladdin and Jafar have been?)
Aladdin (1992) Trailer #1 | Movieclips Classic Trailers
The original "Aladdin" worked as a fairy tale, because it is one. The ideas that people aren't willing to suspend their disbelief and they need every plot hole cemented is overly materialistic. In the original, Aladdin's main conflict came from how he knew he wasn't really a prince, and the symbolic idea of a prince is something more than just being born into a family of royalty. In this version, that plot hole is corrected and spelled out for the audience.
Disney is the one who gave me most of my childhood, and I suppose they're allowed to destroy it. The studio once helped audiences see things, including themselves, in a different way.
Can we trust them to keep doing this?
Each generation has its legend, but at times like these, it's important to remember even legends can fall.
---
C. S. Johnson is the author of several young adult novels in a variety of genres. If you like magic and alternative history, check out her latest novel, One Flew Through the Dragon Heart, now available on Amazon! With a gift for sarcasm and an apologetic heart, she currently lives in Atlanta with her family. Find out more at Johnson's official Web site.