Industry News
Carolla: Hollywood Hates McCarthyism … but Practices It Anyway
The podcaster promotes his 'All Woke, No Joke' book with hard truths, humor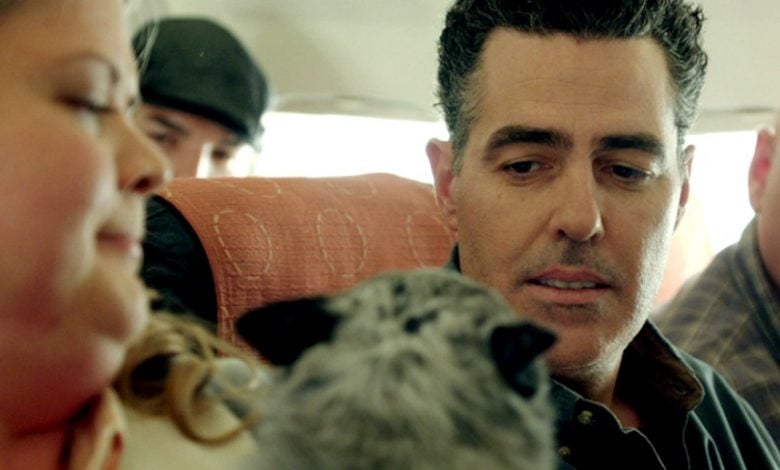 Adam Carolla knows he isn't welcome in La La Land these days.
The "Man Show" alum cheers personal responsibility, embraces facts over feelings and doesn't suffer from Trump Derangement Syndrome.
The latter alone keeps him at arm's length from one former pal, comic actor David Alan Grier.
Carolla told an online throng of 1,000-plus Zoom viewers Monday that his political views "aren't good for business" in Hollywood. And he suggested he's far from alone.
The industry "rail[s] against the evils of McCarthyism, and then they practice it immediately," Carolla said alluding to numerous press reports showing how conservatives are mistreated within the industry, and worse. He adds fans shouldn't hold their breath waiting for him to star in a Netflix comedy special.
Or anywhere else on traditional media.
"There's no way I could say what I say on a network or HBO today … I always kind of knew that," says Carolla, who peddled a 2019 stand-up special, "Not Taco Bell Material," via his Chassy Media company.
Not Taco Bell Material Trailer
"I knew the way they wind was blowing that it wouldn't work in Hollywood … I anticipated it. That's why I built the pirate ship," he said, referring to his fleet of podcasts, alcoholic beverages and indie film lineup.
Monday's "Adam Carolla Unmasked" online event, hosted by Powerline blog.com's John Hinderaker, helped promote the comedian's new book, "I'm Your Emotional Support Animal: Navigating Our All Woke, No Joke Culture." The comic's fifth book, out June 16, mocks our wimpy culture creep while attacking Fake News and other societal ills.
Carolla spent part of the Zoom chat, sponsored by Center of the American Experiment, mocking The New York Times for publishing, and then apologizing for, an op-ed written by Republican Sen. Tom Cotton. The essay argued the U.S. Military should be called in should the violent protests roiling the country continue.
The newspaper, which once printed a defense of pedophilia as well as an op-ed by a Taliban leader, backtracked after its woke staff rebelled.
"The most insidious part of the whole op ed was a news outlet not correctly reporting their own news," Carolla said. The newspaper's editorial team said Cotton argued the military should be considered against protesters, but the op-ed made it clear the issue was violent mobs unwilling to stand down.
"They didn't screw it up. They did it intentionally to make him much more outrageous," he said. "That's why they chose to flip flop those words."
RELATED: Carolla: Apolitical Comics May Be Secret Trump Voters
Carolla spent the latter half of 2019 promoting his free speech documentary "No Safe Spaces" along with co-star Dennis Prager. The movie explores how Cancel Culture blossomed on universities and slowly shifted to the culture at large.
The film, which apparently won't be seen on Walmart's DVD shelves, also won't appear on Netflix or Showtime, he suggested. "There's no way it's showing up on HBO."
He hinted at the reason why.
"It's considered in many circles 'conservative rhetoric' except for it's just about free speech. I don't know when that turned into a conservative talking point," he says.
The podcaster doesn't consider himself a conservative, routinely rejecting the label. He's an atheist who leans Libertarian, but he says he's labeled conservative almost by default.
Take school choice, an issue that should appeal to both parties, he says.
"I don't know why that's conservative … it seems pretty liberal to me. If it is a conservative talking point… sign me up. It helps the kids you claim to care about," he says.
Carolla famously paired with buddy Jimmy Kimmel for Comedy Central's "The Man Show," a program that would trigger snowflakes if it hit the airwaves today. Carolla says the show wouldn't fly on conventional channels now, but he still thinks there's a market for it. Perhaps, he says, on a "deeper cable station and you just lean into it."
He's optimistic the marketplace will soon open up for alternatives to Hollywood's increasingly woke content.
"Every time somebody goes too hard, even a corporation or network, in one direction it leaves room for other things to spring up," he says. When Carolla first joined the podcast revolution the show charts predominantly featured left-of-center fare from NPR and The New York Times.
Lately, he's seeing a crush of conservative podcasts ranking near the top of the charts.
"What that suggests to me is you can only push so hard in one direction before you leave an opening for other alternatives," he says, a trend that may apply to Big Tech censoring right-of-center voices, like Prager's online university.
"When they start censoring they're gonna create other opportunities. It'll take a while, but they'll create it," he says.