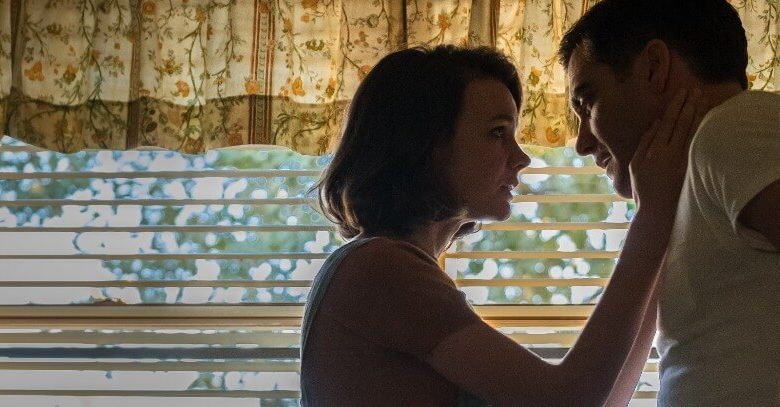 When we meet the Brinson family in "Wildlife," Jerry (Jake Gyllenhaal) and Jeanette (Carey Mulligan) are sharing a tender moment.
Their only son, Joe (Ed Oxenbould) watches his parents, visibly embracing this happy, unguarded connection. His careful, almost mournful look indicates that this is a rare thing to witness and treasure.
Not long after, we see the struggles the family is going through: Jerry's pride is constantly setting him back, while Jeanette is a strong presence, both encouraging and no-nonsense in the way she speaks to her husband.
We witness Jerry at work, where his casual manner with clients makes his boss uneasy. Jerry's firing coincides with a scene where Jeanette practically begs for a job at a movie theater, a sequence that is sad at first but has a surprising finish.
Paul Dano's "Wildlife" is 10 minutes old and already establishes the kind of experience it offers. Full of pain and authenticity, it can be hard to watch, Although there is little actual violence or offensive content, the honesty of the characters and the actor's performances frequently made me uncomfortable.
Wildlife ft. Jake Gyllenhaal & Carey Mulligan - Official Trailer I HD I IFC Films
Dano's experience as an actor, whose collaborations include Paul Thomas Anderson, Richard Linklater and Denis Villeneuve, have served him well. This is his directorial debut (he co-wrote the screenplay with Zoe Kazan, based on Richard Ford's 1990 novel) and a promising one.
"Wildlife" is set in 1960 and, rather than offer an art director's obvious facsimile of its time, seems to truly capture the look and feel of a lost era.
When Jerry exits the story at the top of the second act, the journey of Jeanette and Joe takes a turn that tests their relationship and challenges the already shaky family dynamic that Joe is struggling to maintain.
While Joe excels in his job as a photographer, Joe's mother teaches swimming lessons and becomes especially friendly with one of her clients, Warren Miller (Bill Camp, in an excellent, authoritative performance).
Miller's wealth and self reliance impresses Jeanette, though Joe is all too aware how his mother is taken by a man who is not his father.
Paul Dano discusses his film "Wildlife" at IndieWire's Sundance Studio
Unfortunately, an initially absorbing narrative loses its footing in the second act. Not only for the subplots it drops (Joe's friendship with a classmate seemingly got lost in the edit) but for how familiar it becomes.
While not entirely predictable, "Wildlife" goes in the expected directions and doesn't live up to the promise of its powerful early stretches. Nevertheless, the concluding scene, somehow both somber and sweet, is a perfect capper.
At one point, Jeanette tells her son, "It's probably nice to know that your parents weren't always your parents." Actually, as most can attest, it's troubling, especially when we're young, to consider the kind of people our parents were before we showed up.
Dano's film depicts Joe's understanding that the idealized notion he has of parents (if it was ever real to begin with) is coming to an end.
There are striking similarities to Michael Caton-Jones' excellent 1993 feature "This Boy's Life." That Robert DeNiro/Ellen Barkin drama set in the 1950s. In that film, based on Tobias Wolff's essential, autobiographical book of the same name, the young Toby (Leonardo DiCaprio, in his breakthrough dramatic role) endures his single mother Caroline (Barkin) marrying an abusive lout (De Niro, in a scary, unhinged performance).
This Boy's Life (1993) Official Trailer - Robert De Niro, Leonardo DiCaprio Movie HD
While "This Boy's Life" has terrifying scenes of domestic abuse and a powerful conclusion to its nerve-shredding story, "Wildlife" is far more subtle and restrained. In a sense, Dano tastefully dials back the more sensational aspects of the story and keeps a distance that reflects the limited understanding Joe has of his parents.
At the same time, the greatest commonality between Dano's film with "This Boy's Life" is that it features scenes so honest, they're squirm inducing. "Wildlife" is about those moments when we realize that our parents are not perfect and how foreign it is to feel more rational and mature than the ones who raised us.
Needless to say, "Wildlife" and "This Boy's Life" are not easy to watch. Both are easy to recommend for the acting (Mulligan, in particular, gives a layered, commanding performance that is among her best work) but offer a devastating depiction of an American family coming apart.
Sometimes, it's no comfort at all knowing that your parents weren't always your parents.