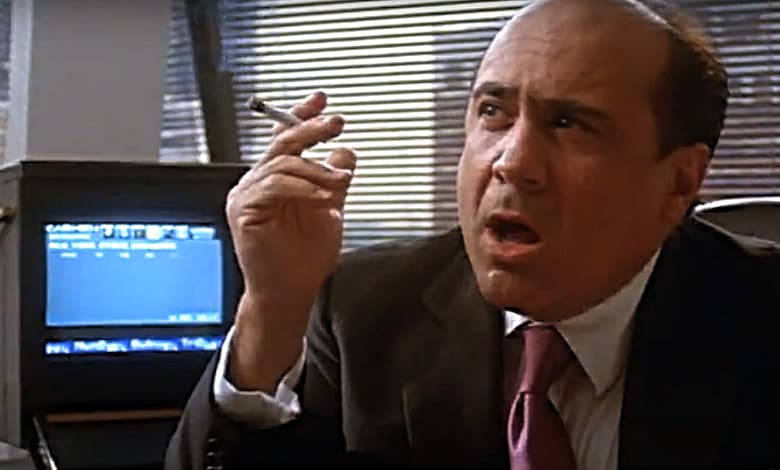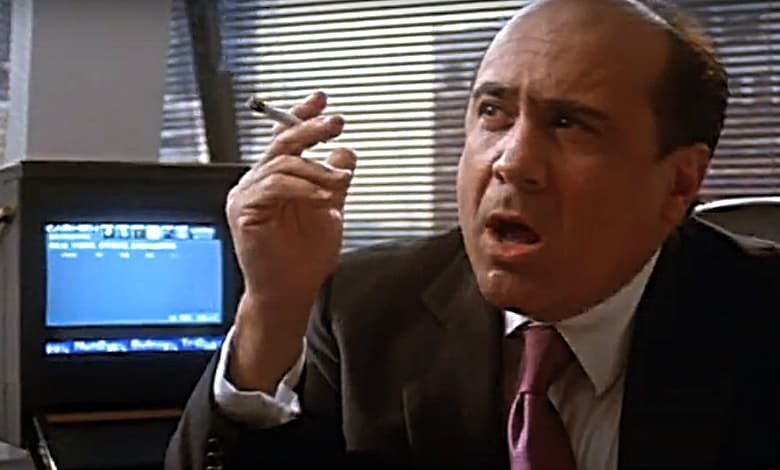 When we meet Larry "The Liquidator," the slimy corporate raider played by Danny De Vito, he's breaking the fourth wall.
He explains that money, like dogs and donuts, are the only things in life we receive with unconditional acceptance … but money, of the three, is by far the greatest.
Larry's plan to obtain a decades-old wire and cable company, in order to strip and sell off its assets, has infuriated the earnest owners (Gregory Peck and Piper Laurie). The duo sics their attorney and daughter (Penelope Ann Miller) on Larry.
Norman Jewison's "Other People's Money" (1991) isn't spotless, but it is very entertaining and makes a strong point by contrasting the kind of long running, mom and pop operation we love to support with the money-minded monster who wants to disassemble and obliterate it, simply for being old.
Other People's Money (1991) Official Trailer - Danny DeVito, Gregory Peck Movie HD
De Vito is dazzling in this, even as the screenplay softens the edges every step of the way. There's a forceful quality to De Vito's work here, even as he's played men like this before (most notably in "Ruthless People"). Larry the Liquidator is heartless, rude and sexist. He's also single minded, demonstrating a zero-sleep devotion to his work.
We can see why he's addicted to money, as his life (as busy as it is) looks like a dream existence of caretakers, assistants and wealthy accommodations that are always available for him.
When Larry unexpectedly falls hard for a woman who is aiming to stop him from being himself, it causes him, perhaps for the first time, to consider what he actually has that is truly of human value.
De Vito has a killer climactic monologue where he addresses hundreds of angry stockholders (I delivered this monolog as a community theater audition piece dozens of times and it helped me get most of the parts I went after).
DeVito was on top of the world when he starred in this.
His prior film, "The War of the Roses," which he also directed, overcame iffy test screenings to become not just a major hit but one of the decade's sharpest satires.
The War of the Roses (2/5) Movie CLIP - The Dinner Party (1989) HD
Following "Other People's Money," De Vito played The Penguin in "Batman Returns."
The film's love story is an odd one, and it really doesn't work because of Miller; she isn't miscast or even too young for De Vito, but she lowers her voice and gives a performance appropriate for a '40s era comedy, ala "His Girl Friday." That's not a terrible choice, except De Vito's contemporary turn doesn't mesh with her ode to an older era of film comedies.
They seem to be acting in two very different movies.
Peck is ideally cast, not just for his presence as a film icon but he sells the folksy stubbornness of his role. Laurie is excellent as his wife and, of all people, one-time Disney regular Dean Jones is superb as Peck's oldest colleague.
Alvin Sargent's screenplay is noteworthy as a successful play adaptation, as it opens-up Jerry Sterner's 1989 comedy/drama without reminding us of its stage origins. Yet, this isn't "The Big Short," as the emphasis is on pleasing the audience and not alienating them with stockbroker speak.
Despite David Newman's peppy, muscular and repetitive score and an often-farcical feel, the film maintains an elegance. The film never becomes an outright cartoon, like the tragic disappointment that is Brian De Palma's "The Bonfire of the Vanities" (1990).
The tumultuous production of THE BONFIRE OF THE VANITIES ('90) is the focus of the new season of #ThePlotThickens podcast.

Catch up on episodes 1 through 4 AVAILABLE NOW on @ApplePodcasts, @Spotify or wherever you get your podcasts: https://t.co/HyG0LQyKRJ pic.twitter.com/1FGaipgENb

— TCM (@tcm) July 25, 2021
Jewison, the acclaimed director of "In the Heat of the Night" and "Jesus Christ Superstar," made this while he was on a roll from "Moonstruck" and coming after the noble failure of his "In Country" (which showcases, no joke, what might be Bruce Willis' best performance).
While Jewison's film wants to immerse audiences into the public and private worlds of iconic New York businessmen like Lee Iacocca and Donald Trump (a fan of the play – he's even quoted in the published script jacket!), it works overtime to ensure that the audience won't hate Larry and, more importantly, won't turn on De Vito or his movie.
As good as the film is, remaking this today, with the Me Decade cynicism and pessimism intact, isn't a bad idea. If nothing else, Jewison's film, like the fine James Garner made-for-cable vehicle "Barbarians at the Gate," made me plainly understand how the game works, what the stakes are and how one can lose themselves in the pursuit of huge gobs of money and power.
FAST FACT: "Other People's Money" didn't make a fortune at the box office, hauling in $25 million domestically.
Jewison and De Vito seem to want this to be "Wall Street" as a romantic comedy, but the harsh qualities of Sterner's play have mostly been toned down.
A major flaw is the happy ending, a last-minute infusion of uplift that feels contrary, if not entirely inappropriate, compared to what came before. Moralizing and softening the blow of corporate cynicism was also in plain sight with Mike Nichols' sweet but extremely mixed bag of "Regarding Henry" the same year.
Regarding Henry - Trailer
While this is mostly a faithful rendering of Sterner's play (the best scenes and monologs are intact), the play concluded on a much tougher note, whereas this is a Hollywood ending at its most brazen.
It's not akin to the tonally off last fifteen minutes of Oliver Stone's "Wall Street: Money Never Sleeps" (one of the best films of its year that, nevertheless, is majorly undermined by a what-were-they-thinking mega-happy finish). Still, even if you've never seen Sterner's play, you can sense that the concluding moments here are an ill fit.
"Other People's Money" has problems, namely the lack of chemistry between De Vito and Miller and a last-minute twist in the very last scene that is far more manipulative and dishonest than anything Larry the Liquidator does during the running time.
Despite this, it is one of De Vito's shining moments as a leading man – he wouldn't get a role this good again until 1997, when his knockout character turns in "L.A. Confidential" and "John Grisham's The Rainmaker" reminded us of what a potent and original character actor he is.
Despite Warner Bros. releasing this in the fall of 1991, it wasn't the Oscar vehicle for its star the studio likely intended. Nevertheless, De Vito has had dozens of career highs and unlikely vehicles that showed how dynamic he is.
"Other People's Money" is one of them.