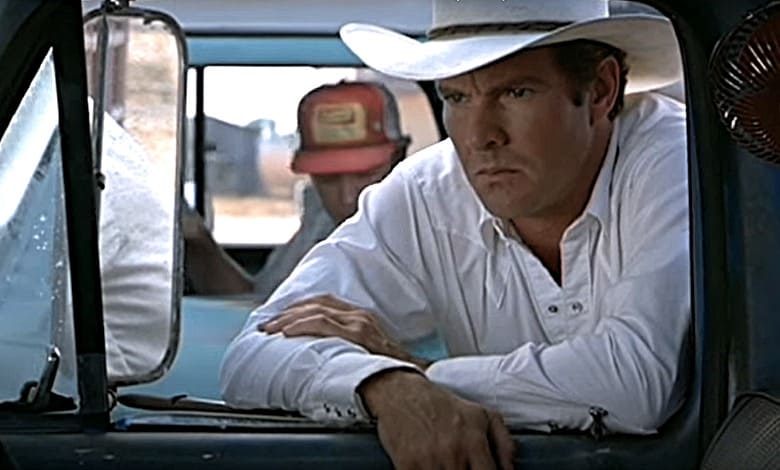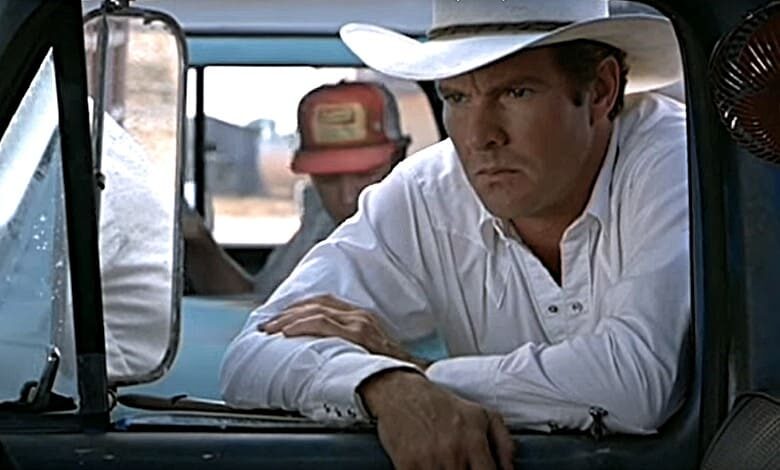 Steven Kloves' "Flesh and Bone" begins with the ominous sounds of wind chimes.
Specifically, home-made chimes that are made from kitchen spoons, a detail that will linger with the viewer once the ending has made everything connect. What the sound of sprinklers was for Lynne Ramsay's "We Need to Talk About Kevin," chimes are for this movie, but I digress.
We open with a lovely sunset on a Texas farmhouse, the kind that has a windmill and a tractor out front. One night, a boy appears and disrupts the routine of the family, of which there are a farmer, his wife, his son and an infant.
We never hear the lost boy speak, though the mother reports he keeps saying he's lost and notices a tattoo of a star on his hair line. While the mother takes pity on the lost boy, everyone else, including the family dog, are suspicious.
The lost boy is invited to stay for the night and, as the hours go by, an awful event occurs that scars the child and sets the story in motion. I won't describe what happens, though most have noted a similarity to Truman Capote's "In Cold Blood."
The opening prologue, depicting the crime that the story circles back to, is a masterpiece of tone. The stillness of the home, unhurried pace and the close-ups of the actor playing the lost boy (Jerry Swindall) are what make it traumatic to witness. There's a stillness to the pacing, a thickening dread that encases the rest of the film.
The lost boy grows up to be Arlis, a vending machine supplier played by Dennis Quaid. Arlis describes his life as a cyclical routine, in which he makes the same route, the same stops, communicates with the same people, then repeats the process.
"Flesh and Bone" is a grim morality tale and a highly unusual choice for a major film studio.
Arlis meets Kay (Meg Ryan), an alcoholic who he befriends after she fails her assignment to jump out of a birthday cake during a rowdy bachelor party. Arlis takes pity on Kate and the two form an offbeat friendship.
Despite this distraction from his weekly pattern, the sense that Arlis is circling back to something never leaves him. This cycle extends to his past, as Arlis is faced with the sudden reappearance of his cruel father, Roy, played by James Caan.
An instant, high-profile flop upon its 1993 release, "Flesh and Bone" is an art film in mainstream popcorn movie clothing, which audiences high on "Jurassic Park" and "The Fugitive" did not appreciate. It suffered the same fate as the other edgy, poetic and ahead of their time films of their year: John McNaughton's "Mad Dog & Glory" and Clint Eastwood's "A Perfect World."
Then-husband and wife Quaid and Ryan were cast drastically against type (she was actually a much bigger star than he was at this point). Quaid's wolfish grin and gold ole' boy vitality is absent. In its place is an introverted, quiet and tortured soul, with the actor up to the challenge of playing a man both touchingly odd but also dying on the inside.
Quaid's career as a dramatic actor actually kicked in with this movie. The star grabbed us with his all-American looks and wily performances, but this was the beginning of darker, richer work than audiences would expect. After playing Arlis, Quaid's performances in "Savior," "Switchback," "The Rookie" and especially his award-worthy work in "Far from Heaven" displayed a skill for capturing men who simmer from within, barely able to keep the pain and horror of their lives concealed.
You'd never think the star of "Great Balls of Fire" or "The Right Stuff" could pull off a role like Arlis but Quaid succeeds, and the film works largely because of him.
Great Balls of Fire! (1989) ORIGINAL TRAILER [HD 1080p]
There's a moment to watch for in Quaid's work – Arlis witnesses a man strike his wife and, rather than run to her rescue, he fearfully recoils. It's a small moment but it broke my heart. Arlis is seeing a familiar moment form his childhood and remains a broken soul. It speaks volumes to who the character is and what he must do to truly be free.
Caan gives one of his best, most surprising turns during his busy post-"Misery" comeback. You wouldn't think the very-east coast Caan could pull off a Texan; it's not about the dialect but the posturing. Caan taps into his ability to intimidate and monopolize a conversation.
Ryan leans too heavily on her comic instincts – there's an anger in the character that the actress doesn't fully engage with. Nevertheless, Ryan's performance grew on me; she connects nicely with her character's innate sadness.
Ryan is under-appreciated as a dramatic actress and it's unfortunate that her work in this, "Hurly Burly" and "In the Cut" is mostly ignored.
In The Cut | Theatrical Trailer | 2003
The supporting cast is impressive, starting with the late, great Scott Wilson, playing Arlis' boss (Wilson's long list of films includes "In Cold Blood"). Gwyneth Paltrow, in her first big role after playing young Wendy in "Hook," is excellent and comes close to stealing the entire movie. Paltrow's Ginnie is a con artist who Roy takes on as a protégé; she is basking in the freedom of her trade, but we wonder if she'll eventually compromise her soul the way Roy has.
To Klove's credit, the story works even if you're able to get ahead of it and figure out what will happen in the third act. Nevertheless, while the climactic encounter has a dramatic richness (cutting back and forth between two women in an open field with two men in a closed quarter, with a fateful event about to change everything), the wrap-up needed work.
It's not so much that Kloves wrote himself into a corner as he can't come up with a final scene that makes sense or allow audiences any kind of catharsis. It's not a mainstream conclusion, although it sort-of tries to be and doesn't quite connect.
This is a writer's movie, as it put an emphasis on gradual, novelistic storytelling and character-building. The atmosphere is downright tangible – it was filmed in Texas and none of the interiors or exteriors ever look like sets. We see landscapes and structures that are dying, while nature grows over them; it's like watching a Terrence Malick film where the environment has been sapped of joy.
The dialogue is full of beauties – one of my favorites is how a bartender refers to a drunk character: "feed this girl a cucumber and it'd come out pickles."
The lines, like the setting, have a lived-in feel, as does Arlis' occupation. Quick, name another movie about a vending machine supply man.
A repeated line is "practice makes perfect," an expression that Quaid and Ryan's characters share to express how the men in their lives have hurt them. Later, Paltrow and Ryan's characters ruminate how the all the men hold an evil within, waiting to be unearthed.
RELATED: Yes, Both 'Chinatown' AND 'The Two Jakes' Are Screen Classics
"Flesh and Bone" is a grim morality tale and a highly unusual choice for a major film studio. Had it been made as an independent work with a mid-range cast (I can imagine a version starring Dylan McDermott, Juliette Lewis and M. Emmet Walsh), it might have found an audience.
As an Oscar-courting fall release, it was swiftly rejected and, to date, is the last film written and directed by Kloves (who went on to adapt Michael Chabon's extraordinary "Wonder Boys" and now is the go-to screenwriter for J.K. Rowling adaptations).
What Kloves and his actors achieved is bold and refreshingly out of touch with Hollywood conventions. "Flesh and Bone" is tough and doesn't go down easy, but those are just two attributes that make it easy to recommend.