Opinion
Why Myers' 'Axe Murderer' Aged Better Than 'Austin Powers'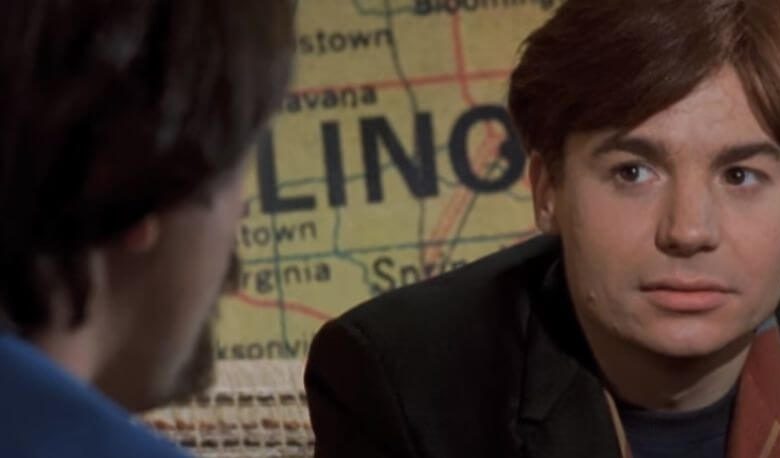 Mike Myers scored big with the "Wayne's World" franchise, but it isn't his biggest cinematic score.
That came in 1997 when "Austin Powers: International Man of Mystery" hit theaters. The movie wasn't a huge hit out of the gate. The comedy quickly snared cult film status and sparked a pair of blockbuster sequels.
Suddenly, every third adult at a Halloween party was shouting, "Groovy, baby!" and sporting crushed velvet costumes. What a bold, original character! Only a comic chameleon like Myers could whip up something like Austin Powers.
Have you seen it lately, though?
Austin Powers: International Man of Mystery (1997) Official Trailer - Mike Myers Comedy HD
It's still cute and funny, and you'll remember how much the movie impacted pop culture while watching it. Yet the film features so many dead on arrival comic bits you wonder how they survived the final cut. The sequels are worse, repeating the franchise's best gags while adding little news to the saga.
Mini Me proved a notable exception.
Comedy often ages badly. Other times, we laugh at the freshness of the material without acknowledging the yuks are skin deep. That realization comes with time.
It's why watching Myers' 1993 flop "So I Married an Axe Murderer" proved an unexpected treat.
Woman, Whoaaa Man - So I Married an Axe Murderer (1/8) Movie CLIP (1993) HD
The comic stars as Charlie, a beat poet with a serious fear of commitment. Enter Harriet ("Last Man Standing's" Nancy Travis). She's a fetching butcher who clicks with Charlie after he helps her deal with a crush of customers. It could be love, only a tabloid article suggests Harriet is a serial killer who whacks her husbands on their wedding nights.
As black comedies go, "Axe Murderer" is pretty tame. The emphasis is on shtick with a heaping helping of romance.
The film's flaws are easy to spot. Anthony LaPaglia's turn as Charlie's cop buddy is not just thinly sketched. He appears to be smirking at some of the jokes mid-scene. Myers may have broken out thanks to "Saturday Night Live," but laughing in character is only cool on a live TV show.
I Hated the Colonel - So I Married an Axe Murderer (2/8) Movie CLIP (1993) HD
Myers thinks his mugging should be sufficient to carry entire scenes, like his character bonding with Harriet in the butcher's shop. He's often proved wrong.
The film's rewards are considerable all the same. Take the soundtrack, a pure '90s collection powered by the Boo Radley's cover of "There She Goes." The film can't get enough of the ditty, and it's easy to see why. The song's shimmery pop never wears out its welcome.
RELATED: Why the Red Button Is the Perfect Audio Time Machine
The screenplay's oddball touches have only grown over time.
Charlie's dad (also Mike Myers) is employed perfectly here. He's a Scot with an accent as thick as a bowl of haggis. His scenes stop the movie cold … but you won't mind a bit.
Better yet?
The story celebrates the patriarch's long-standing marriage to fellow scene stealer Brenda Fricker. That gives the main romance some heft while allowing these outsized souls a sense of their humanity.
FAST FACT: The child actor who plays Charlie's younger brother (Matt Doherty) is listed in the film's credits as "Heed." As in, 'Heed, down!"
The film's third act teases the "is she really an axe murderer" question to its breaking point. Poor Charlie is scampering along a pitched roof while the film's killer sprints after him. (no spoilers here…) And while some comedies abandon the laughs to wrap the story up, "Axe Murderer" refuses to take that easy way out.
We even get a crotch punishing moment worthy of a Benny Hill bit.
​Credit director Thomas Schlamme of "The West Wing fame, an old pro who proves a superior partner to Myers than "Austin Powers" helmer Jay Roach. The term "kill your darlings" rushes to mind while watching any of the "Austion Powers" films.
"Axe Murderer" also features some out of the blue cameos with mixed results. The late, great Phil Hartman has but one small scene, but his knack for deadpan delivery nails the moment.
Alcatraz Through Vicky's Eyes - So I Married an Axe Murderer (4/8) Movie CLIP (1993) HD
An appearance by the future Kramer, Michael Richards? It's darn near torturous. Any movie smart enough to include a Charles Grodin cameo, though, is doing something right.
Lesser comedies (think "Happy Gilmore," "Billy Madison" and "Tommy Boy") are now considered "classics." Age and nostalgia play a heavy role in that reassessment.
"So I Married an Axe Murderer," for all its flaws, deserves to be lumped in with those modestly endearing romps.