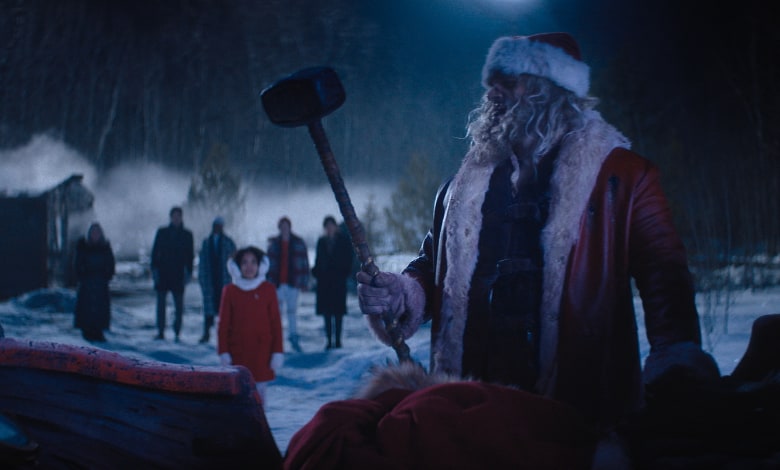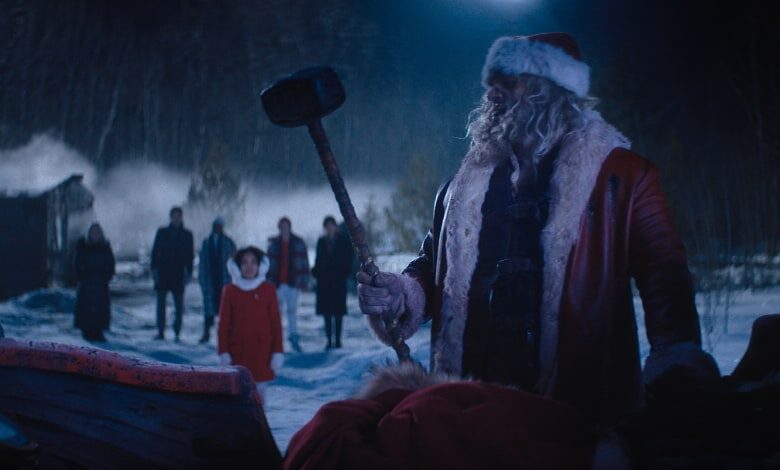 It's only natural that for every 80 sunny Christmas films released each year there's a few that start with a frown.
"Violent Night" fits that bill, and then some.
Crass, cynical and drowning in blood, this "Night" is no one's idea of a seasonal delight. It's still smart enough to scratch that Scrooge-like itch, powered by an actor who finds the right balance between "John Wick"-style mayhem and sticky sentiment.
Violent Night - Official Trailer
"Stranger Things" star David Harbour is Santa Claus – yes, the genuine article. He's drowning his sorrows in a British bar as the story opens, exhausted by greedy kids brimming with ingratitude.
Parents know the drill, remembering their kids opening a Christmas gift before instantly crying, "what's next?"
He's thinking about hanging up his red hat when he's embroiled in a life-or-death struggle. A wealthy family's home is invaded by John Leguizamo and a team of armed-to-the-teeth thugs. They want their hands on the clan's cash, but matriarch Beverly D'Angelo isn't budging.
That leaves a divorced couple (Alex Hassell and Alexis Louder) and their adorable daughter (Leah Brady) who still believes the Big Guy can save them all.
And, once we see a prologue of Santa's curious past as a Viking warrior, he just might.
View this post on Instagram
Director Tommy Wirkola brings a mixed resume to "Violent Night." His "Dead Snow" didn't find that horror-comedy sweet spot but its sequel, "Red vs. Dead" sure did. And his underrated 2021 thriller, "The Trip," made the divorce romp "The War of the Roses" look quaint by comparison.
Here, he's aided by a good enough script from Pat Casey and Worm Miller. Their screenplay offers some legitimate gut busters, making the ensuing ultra-violence go down smoothly. The former couple's potential reunion isn't wasted, dramatically speaking, and every time sweet Leah Brady graces the screen the story's sentimental side soars.
"Violent Night" might have found a home during the 1980s given the groan-worthy Christmas puns littering the screen. Harbour sells them all, a miracle unto itself, and he makes the film's "violent" tonal shifts matter, too.
That's no small feat given the film's absurdly high body count.
This hard-R thriller still wants it both ways. It's part "Nobody," part "A Christmas Story," with an homage to "Home Alone" dumped into the storytelling blender.
RELATED: 'FATMAN' IS THE CHRISTMAS COAL NO ONE WANTED
Leguizamo's character rants against the rich, again, just weeks after his "Menu" satirically scorched the one percenters. It's Hollywood's favorite, and laziest, target, and all the more curious given the actor's Hollywood run.
If the always-busy Leguizamo hasn't amassed a small fortune by now he better fire his agent. Stat.
No bloody Christmas tale should be stretched to nearly two hours like "Violent Night" is. And by the final reel we're exhausted by Harbour explaining away plot contrivances with a cheeky "Christmas magic" explainer.
Still, those seeking a chaotically comic alternative to the season's sweet treats will find "Violent Night" delivers just that.
HiT or Miss: "Violent Night" is more than a cheeky film title. It's a bloody-soaked attempt to turn Ol' St. Nick into a John Wick for the holidays.