Lists
9 Unusual Roku Channels You Didn't Know Existed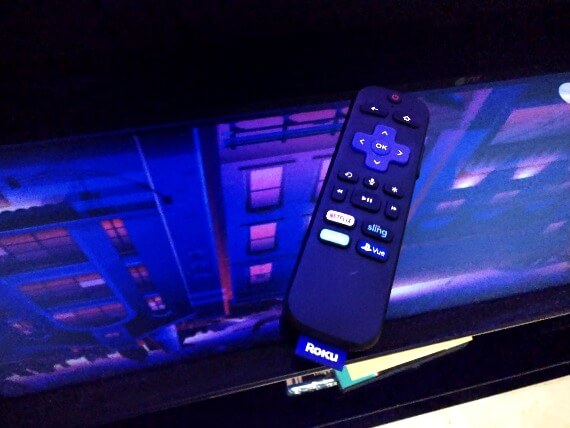 Roku devices make streaming in our digital age a snap.
The company serves up a number of models at reasonable price points. It's a fine way to access Netflix, Hulu, Amazon Prime or other major streaming services.
There's something else in play, though.
Roku devices tap into another world of streaming content. These channels lack big budget shows like Netflix's "Ozark" or Hulu's "The Handmaid's Tale." They don't have massive publicity budgets, either.
And some exist simple to titillate us.
So HiT went digging into the Roku archives to find 11 channels you didn't know existed. You might glance at them once and never go back. Still, in our fractured media landscape they might just be entertaining enough to add to your lineup.
FAST FACT: Variety reported last year that while the streaming revolution is real, nearly half of U.S. consumers are growing restless about the increasing number of subscription-based streaming options.
First, here's how you can find them. Hit "home" on your Roku device. You'll see a list of options on the left-hand side of the screen. Page down to "streaming channels" and hit "OK" – the Roku's version of the "enter" button.
You'll likely see some recognizable channels to the right. This user's Roku serves up CBS News Live 24/7, truTV and The CW, for example.
We're going to dig deeper than that.
Scroll down a few lines on the left until you see "Just Added." Hit the direction button, surrounding, "OK" button, to the right once. Now, the screen is filled with buttons for a variety of streaming channels.
Chances are nothing will look familiar. Some of the stations will seem amateurish, too. Many offer their services free of charge, while others incur a monthly fee.
Let's dig and find 9 channels you didn't expect to see – in no particular order.
Symptom Checker (Symptoms / Diagnosis / Treatment)
This channel offers two services in one. First, for those who get freaked out looking up illnesses on WebMD.com, here's a video channel for you. And, if you're the kind of person who enjoys seeing blemishes that make most of us retch, you're in luck. The channel offers "Nose Blackhead and Pimple Pops." Let's assume the video series' title speaks for itself.
Chiller Thriller
This isn't your average horror movie outlet. For $1.99 a month you can view movies from the not-so-golden age of shock cinema. You'll be able to watch classic fare like "Forbidden Planet" as well as more obscure titles. Think "J.D.'s Revenge" (1976) and "Doctor Cyclops" (1940) A quick note: The channel's logo reproduces an image this critic grew up watching – a six-fingered hand used to announce "Chiller" horror movies in New York City TV.
Dia De Los Muertos
This channel is dedicated to the colorful Mexican holiday. Add it to your lineup and hit "Set at Theme" and your Roku home page will have a more colorful appearance. That's …it. A random still from the great Pixar treat "Coco" would be a better Plan B.
My Sweet Ambitions
Tired of healthy recipes? Sick of meals overflowing with vitamins and fiber? "Pamela" is here to serve up a bevy of sweet recipes, from meringues to strawberry shortcakes.
LTTV (Local Talent TV)
Think "American Idol" is too hard on some contestants? This channel may deliver a measure of justice. Unknown singers can submit their music videos (keep it family friendly, though). Rock, Classic R&B, Thrash Metal and more. The narrator asking for submissions sounds like an artificial intelligence robot. On the plus side, the money you currently have in your pocket may exceed the budgets behind some of the submitted clips.
LSN (Light Saber Network)
Don't let Luke and Obi-Wan have all the fun. "Have you ever wanted to wield a light saber in combat?" the intro video asks? If yes, and there is no other correct answer, they've got some tips for you. The channel offers a number of topics, from "7 forms of Lightsaber Combat" to "Meet Saberation CEO," a profile of the man behind the Saberation Nation. Like many of these obscure channels, LSN offers only a few videos at the moment.
Cute Couple
This one will set you back .99 cents a month. Subscribers will tap into screensaver images of couples deeply in love.
The Bagpipes Channel
No description really necessary here. Uber-low-fi videos of bagpipe musicians flesh out the channel. If you like fixed camera positions and the sight of strangers walking behind the musicians at local fairs, you're in luck! Several videos noted you can buy ad space on the videos, so act fast before all the inventory is gone.
Best of all? You can remove a channel from your lineup with a simple click.
I Married Joan
Never heard of this "classic" TV show? Get in line. Then, add this Roku channel to your personalized lineup. The '50s era NBC sitcom followed a wacky wife to a noble judge, played by Thurston Howell III himself, Jim Backus. Vaudeville veteran Joan Davis is the judge's spouse, and together they apparently got into all sorts of mischief. Slapstick shtick ruled the day, tapping Davis' broad comic style.