Interviews
Director: '12 Mighty Orphans' Packs a Lesson for Us All
The inspirational true story could teach young, old the value of hard work anew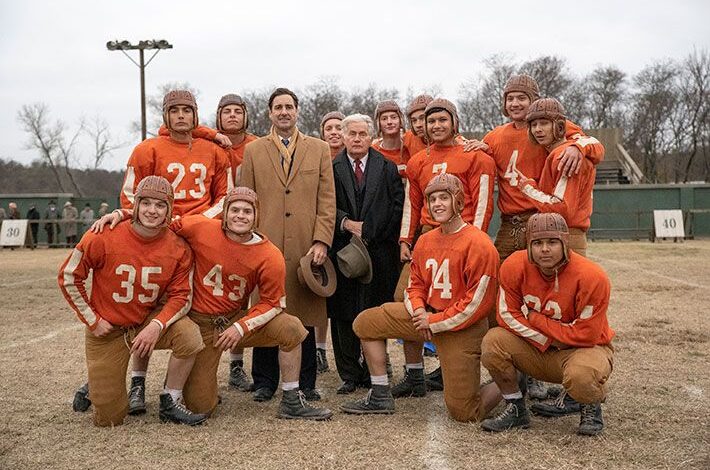 Director Ty Roberts says shooting the fact-based "12 Mighty Orphans" in Texas had its perks.
The real Mighty Mites football team, a ragtag group of orphans whose gridiron glory inspired a nation, hailed from the Lonestar State. The creative team behind the feature considered shooting in Oklahoma given the state's tax incentives for filmmakers.
It ultimately made more sense to stay in Texas.
"The story is so well known and embraced by Fort Worth. It would be foolish to do it outside of the city," Roberts says. Plus, the locals gave the cinematic "Orphans" plenty of love. The production encountered cheering fans during select shoots and area car collectors lent them period vehicles to capture the Depression-era setting.
"We tried to revive a world that's damn hard to revive on an independent budget," Roberts says, adding the film's technical team ended up erasing a few modern elements that snuck into the frame.
12 MIGHTY ORPHANS Trailer (2021) Luke Wilson, Sport Movie
Roberts, a Texas native himself, leaned into the story's roots even further. Most of the young cast playing the Mighty Mites were discovered in Texas. Many crew members also hailed from the state.
The film condenses the powerful true story, one that spanned several seasons as told in author Jim Dent's book of the same name. Roberts wished he could have squeezed in even more details, noting a previous cut of the film soared well past the two-hour mark (the official running time is now 1 hour, 58 minutes).
The film's script, which he co-wrote with co-star Lane Garrison and Kevin Meyer, still squeezes in plenty of true nuggets from that amazing era. Luke Wilson plays the team's father figure and inspirational coach, a football legend who did suffer temporarily sight loss while fighting in World War I. The orphanage also had to form its own school district at one point to satisfy the region's sports requirements, Roberts adds.
"We really followed the book and a handful of folks we talked to [about the Mighty Mites]," he says, noting the film "honors the story."
RELATED: 'Enemies' Inspiration Says Movie's Timing Is Perfect
"12 Mighty Orphans" benefits from an eclectic cast, from a Robert Duvall cameo to an appearance by comedian Ron White as a local cop. Martin Sheen's pivotal turn as Doc Hall, the physician who helps Wilson's coach make Texas football history, made Roberts' job easier.
"To have him walk out on the set on Day One, cracking jokes and introducing himself to every one of the boys … he just set the tone for me on a very deep level," says Roberts, who calls the acting veteran humble, giving and gracious. "He kept everything super light. Filmmaking can be very stressful."
Sheen's contributions didn't end with his on-screen performance.
"He was an incredible collaborator. His heart was in this … and he's a good Catholic. He would have been that guy to give up his paycheck for the orphanage [as his character did]," Roberts notes. Plus, Doc Hall struggled with alcoholism on and off screen, an issue Sheen himself grappled with over the years.
12 MIGHTY ORPHANS | "I Recommended You" Official Clip
"12 Mighty Orphans" offers an anecdote to modern mores. We're often focused on everything from past traumas to microaggressions, letting them interrupt our goals. These "Orphans" had all the excuses in the world to fail, but their coach and inner spirit wouldn't let that happen.
Roberts can relate.
"As cornball as it may seem… too many times in my life I needed someone to help lift my spirits, to push me in the right direction," he says, hoping his film will have a similar impact on viewers.
"It's really interesting to show what one man and his wife, Juanita (Vinessa Shaw on screen) were able to do to an orphanage in a fairly short amount of time," he says, what he calls a "selfless act of love."
"It's fit for kid and families to go in and watch and get a little inspiration and feel like you wanna work a little harder. That's the message we want to leave children with," he says.
View this post on Instagram
Roberts previously directed "The Iron Orchard," a tale of an aspiring Texas oil man and his dueling passions. He's set to write and direct "The Falcon Thief" next, capturing the man dubbed the Pablo Escobar of the raptor egg trade.
Another project holds a more personal connection. A long-gestating feature follows Butch Cassidy and the Sundance Kid prior to their fateful last stand.
"It's something I've been working on, on and off, for 20 years," he says. The upcoming film shows the duo leaving "an idyllic life" in southern Argentina, their criminal ways put behind them. When they're accused of a crime they didn't commit, though, they revisit their old ways.
"I live part of the year down there," Roberts says of the region. "My wife is from there. I've been researching it for a long time … it's a frontier romance combined with a pretty violent [side]. It's gonna be quite different from the other film."