Industry News
Opinion
Trump-less 'SNL' Suffers Ratings Droop
The hard-left show won't skewer Biden, Harris or any powerful Democrats now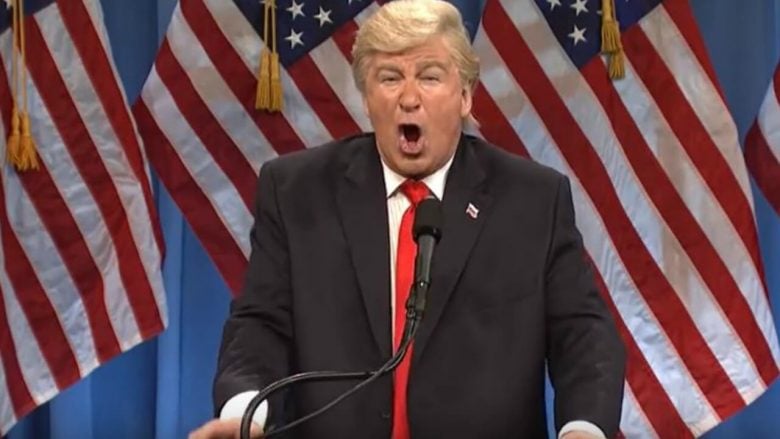 "Saturday Night Live" can feel CNN's pain.
The far-left network is suffering a ratings catastrophe now that Donald Trump no longer calls the White House home. CNN spent four years savaging President Trump with a blend of lies, conjecture and concentrated spin. Without its favorite bogeyman, Trump Derangement Syndrome sufferers have moved on to other programs, apparently.
CNN's prime-time lineup recently suffered a 45 percent plunge in the Age of Biden.
Is it "SNL's" turn now?
Dave Chappelle Stand-Up Monologue - SNL
The formerly apolitical show enjoyed huge ratings in the first episode following Trump's November defeat. That episode, starring Dave Chappelle and the Foo Fighters, drew a whopping 9.1 million viewers.
That was then.
The new normal took over after that heady high, according to the far-left Showbiz411.com.
…the numbers stayed around 6 million for three more weeks. But then reality set in: Alec Baldwin as Trump was gone. Trump himself was gone, and with him all acerbic political bashing. The resistance was done. "SNL" suddenly lacked a purpose. It went from being appointment viewing to a pedestrian experience. The fans tuned out.
The show's subsequent ratings drop showcase that assessment, hovering around 3.6 million viewers for the last three original episodes.
Pundits can point to several reasons for the fall, from a lack of A-list guests to the show's famously hit-or-miss creative streaks.
Let's state an obvious reason for the decline.
Viewers feasting on every Baldwin/Trump skewering have nothing to savor these days. Independent viewers hungry for timely, balanced satire find attacks on lesser-known Republicans like Reps. Matt Gaetz and Marjorie Taylor Greene.
Weekend Update: Matt Gaetz Venmo Sex Scandal - SNL
The show avoided sketches starring President Joe Biden for four straight episodes following his inauguration. Since then, they've barely touched the 78-year-old gaffe machine.
It's hard to remain a political comedy destination when you won't poke fun at the Commander in Chief. That's precisely what "SNL" is avoiding, so much so that it drew laughable defenses from two formerly sound news outlets – USA Today and The Washington Post.
Right-leaning "SNL" fans who tuned out for four Trumpian years might be lured back if it parodied President Biden in any meaningful way. That's not happening, though.
And it's not like there's nothing to poke fun at.
President Biden treats the fawning press like a vampire avoiding holy water
Both Biden and Vice President Kamala Harris keep wearing masks even though they're fully vaccinated
The U.S.-Mexican border is a crisis to anyone not donning partisan blinders
Biden's allegedly moderate streak disappeared, replaced by a hard-left persona that would make Rep. Alexandria Ocasio-Cortez blush.
No U.S. president is impervious to satire, unless the point isn't comedy but propaganda.
Late last year, "SNL" was still riding higher in the ratings. The Dec. 5 episode yielded a strong 6.19 figure, while the Oct. 24 installment with Adele generated 5 million viewers.
The recent drop comes despite media outlets continually fawning over the show. Reporters share its weekly sketches and highlight every twist and turn the series offers. It's great publicity, of course, but it's not having the impact it once had.
"SNL" could still rally when the show returns next month for its final volley of shows for the season. Critics who write the series off do so at their own peril. You can't survive on broadcast TV for 45-plus years without knowing the secret to longevity.
Still, a show that aggressively alienated half the country will struggle to regain its former glory if it treats the Biden administration as a no-joking zone.