Industry News
Opinion
The 'Gutfeld!' Effect? Low-rated Trevor Noah Retires from 'Daily Show'
Noah joins James Corden, Samantha Bee in fleeing late night landscape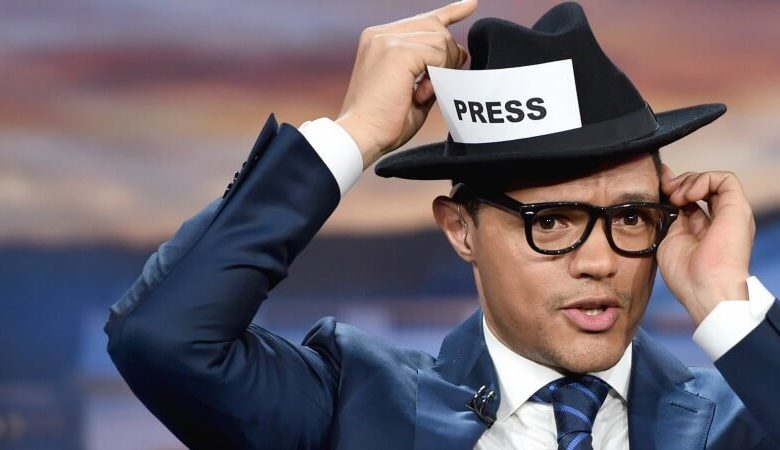 Did he jump or was he pushed?
Trevor Noah's reign on "The Daily Show" is coming to an end. The far-left comic made the announcement on Thursday's Comedy Central show.
His work is done. After reducing the 'Daily Show' audience by about 75 percent, Trevor Noah is moving on. From @DailyMail https://t.co/EVymAsJUgf

— Byron York (@ByronYork) September 30, 2022
The media is treating the news with all the pomp and circumstance of a royal family transition. He changed television! He brought the show into the social media age!
Left unsaid? He oversaw the show's dramatic ratings collapse!
Late Night TV Rankings Sep 19-25

1⃣@GutfeldFox! @GregGutfeld
2⃣@StephenAtHome
3⃣@JimmyKimmel
4⃣@JimmyFallon
5⃣@SRuhle
6⃣@FoxNewsNight @GillianHTurner @MikeEmanuelFox @KevinCorke
7⃣@BillMaher
8⃣@Nightline
9⃣@SethMeyers
🔟@JKCorden
#11 @DonLemon
#12 @IamJohnOliver
#13 @TrevorNoah pic.twitter.com/jEZL1hKsPy

— RoadMN 📈 (@RoadMN) September 27, 2022
Noah won't be missed, if only because his voice is already reflected in the remaining hard-left shows. If Noah isn't around to mock President Donald Trump, Gov. Ron DeSantis or any other GOP politician, Stephen Colbert, Seth Meyers, John Oliver and Jimmy Kimmel will pick up the slack.
And Jimmy Fallon, whose "Tonight Show" now routinely ranks fourth in the late night landscape, will scrounge for their liberal scraps.
The late night landscape is changing. We recently watched as TBS cut ties with Samantha Bee, and James Corden previously announced he's leaving the world of "Late Late" TV behind.
Iit's hard to deny a key reason for these industry changes.
Gutfeld: A liberal's dream come true
The Fox News superstar entered the late night fray April 2021 and is now the highest rated show in that space. Gutfeld's audience dwarfs Noah's TV flock, and The Daily Mail may be the only mainstream outlet to highlight Noah's calamitous ratings.
Where does Noah go next? It hardly matters.
What's clear is that late night is undergoing a transformation. Any platform eager to stay in the late night game will be forced to bring more diverse hosts to the table following the loss of Noah, Bee and Showtime's "Desus & Mero."
That diversity won't be ideological in nature, meaning it won't matter in a significant way.
RELATED: LIBERAL LATE NIGHT HOSTS HURT AMERICA. HERE'S WHY
Noah's legacy is insignificant compared to his predecessor. Jon Stewart helped established Comedy Central's faux news template, bringing a left-leaning bias to small screens nationwide. Stewart's skill set lapped Noah's, no doubt, and the "Irresistible" director launched the careers of Steve Carell, Ed Helms, Stephen Colbert and more.
Noah grew into the gig, but he never mastered that sense of outrage that Stewart brought to the goofiest headlines.
The outgoing "Daily Show" host occasionally broke from the liberal pack, like when he mentioned President Joe Biden's monumental gaffe earlier this week in which he asked for a dead person to speak up at a public event.
Those moments were rare over his seven-year run.
Noah also felt badly for Jussie Smollett, whose hate crime hoax paralyzed Chicago police and inflamed ideological tensions nationwide.
He copied his liberal peers in conducting fawning chats with Democrats like Vice President Kamala Harris, more yawn-inducing TV that served no one save the progressive moment.
Stewart is destroying his cultural legacy by going woke, courtesy of "The Problem with Jon Stewart" on Apple TV+. Noah leaves the stage with very little legacy to protect.