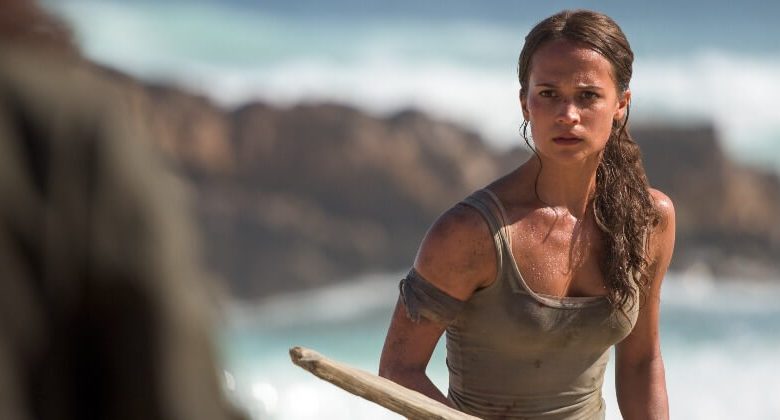 All those push ups went for naught.
Alicia Vikander looks as fierce as any actress might rebooting arse-kicking Lara Croft in "Tomb Raider." She's also got an Oscar on her shelf, so the acting box is checked.
That's apparently what the creators of the film did, too. Check all the perfunctory boxes on a big screen reboot.
Enough time has elapsed for us to "miss" the franchise
Cast a great actor as the villain
Hope Geek Nation wraps its arms around the reboot regardless of quality
What's missing? Excitement, a sense of inner logic and a valid reason to bring a franchise that never crushed the box office back to life.
TOMB RAIDER - Official Trailer #2
Vikander is Lara Croft, a tough as nails type pining for her lost father. She kickboxes in between delivery gigs, eschewing the easy fortune she could make by acknowledging pappy won't be coming back.
He's rich, but she's not in it for the money.
She stumbles upon a treasure trove of daddy's research, hinting at Asian lore which could have drawn him into a dangerous realm. Naturally Ms. Tough As Nails drops everything in hot pursuit.
RELATED: Vikander's 'Light Between Oceans' Dims at Worst Possible Time
She discovers someone else tracking the same Asian mystery as her father. Isn't that Boyd Crowder of "Justified" fame?
Yup. Only that series delivered rich writing and unforgettable sequences for Walton Goggins. He gets little here beyond rote villain tics, like killing someone in cold blood with barely a shrug.
It's not enough to waste both an Oscar winner and a man renowned for his on-screen villainy. "Tomb Raider" doesn't know what to do with the material in question. Audiences are more sophisticated today than they were when Angelina Jolie first played the character in 2001.
Lara Croft: Tomb Raider (1/9) Movie CLIP - The Training Robot (2001) HD
They'll giggle at some of the plot elements uncorked here, along with some head-scratching decisions by the heroine.
The film's opening moments offer weak but welcome laughs. They soon dry up, replaced by sequences showing Lara's ability to take a pounding. She's blasted by ocean waves, pummeled by thugs and battered by the elements.
She's like the Energizer Bunny, but less engaging.
It's still hard to see her muscling over a gaggle of villains when, in the opening scenes, she can't even take down a fellow, svelte kickboxer.​
FAST FACT: The 2001 "Lara Croft: Tomb Raider" made $131 million at the U.S. box office. The sequel, 2003's "Lara Croft Tomb Raider: The Cradle of Life" earned half that — $65 million.
It's all watchable for about two-thirds of the movie, even while audiences worry we're stuck with another mediocre franchise. The third act gets sillier, reducing Goggins' role and failing to connect Lara with her lingering daddy issues.
There's a hint that Goggins' character is just in it for the quick score and wants to reunite with his family. That thread is never given enough attention, and the screenplay routinely contradicts that pose with Standard Issue Bad Guy maneuvers.
The story itself is endlessly silly, but at least it's not complex. Other problems abound. How do we know supernatural powers await? We don't … no one does. That makes risking your life for it seem daffy.
It's all watchable for about two-thirds of the movie, even while audiences worry we're stuck with another mediocre franchise.
Click To Tweet
Dominic West is saddled with a silly beard and sillier dialogue as Papa Craft. His signature move is a two finger kiss to Scout, the moppet he left behind to save the world years ago.
Or something.
A few action sequences show a pulse, and the jungle settings intrigue beyond their digital trickery. The best dynamic in the film is between Lara and co-star Daniel Wu, cast as a drunk who sobers up in record time.
Naturally, their bond is given little screen time.
It all begs the question: Who is Lara Croft again? Well, she's tough. Really tough. And stubborn. And that's about all you get or need, apparently. Vikander shows she can run like a gazelle, but those endless sequences seem stripped from a video game, reminding us of both the franchise's roots and the folly of adapting games to the big screen.
"Tomb Raider's" final moments are reserved for the obligatory, "but wait, there's more!" sequel pose. It's not as embarrassing as how "Fantastic Four" wrapped two years ago. It recalls that flop sweat moment all the same.
HiT or Miss: Generic. Unnecessary. Loaded with CGI stripping us of any connection to the jungle terrain. Meet Lara Croft 2.0 if you must.