Interviews
How Stabbing Westward's Improbable Reunion Happened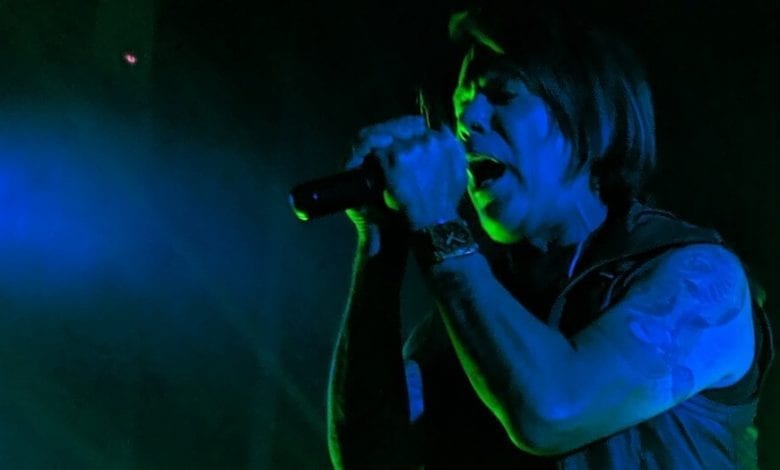 "I don't think I'm any more of a tortured soul than the rest of us. I'm just okay with talking about it really loudly." – Christopher Hall, Stabbing Westward
In the mid 1990s, alternative rockers Stabbing Westward lit up the radio and MTV with a unique industrial sound and powerful vocals from Christopher Hall. That combination earned them scores of fans and led to two certified gold albums.
The group delivered such memorable hits as "What Do I Have to Do?," "Shame," and "Save Yourself," before disbanding in 2002.
Stabbing Westward - What Do I Have To Do?
Sorely missed from the music scene, fans had just about given up hope of the band ever reuniting. But it finally happened with handful of reunion shows in 2015 and 2016, before a couple of full-fledged tours solidified the band's return (with guitarist Carlton Bost and drummer Bobby Amaro joining founding members, Christopher Hall and Walter Flakus).
On January 3, Stabbing Westward rang in the New Year by releasing the band's first new music in 18 years, in the form of a 5-track EP titled "Dead and Gone." The band is promising two more EP releases before the year's end.
I was recently fortunate enough to be able to discuss the band and its music with front-man Hall.
John Daly: The "Dead and Gone" EP is the first new music Stabbing Westward has released since the self-titled album in 2001. That was quite a hiatus, though you certainly kept busy during that time with your other band, The Dreaming (which has put out some really great stuff).
Likewise, Walter Flakus was involved in other music projects. What was the catalyst for the band's reunion a few years ago, and how long after that happened did you begin working on new Stabbing Westward music?
Christopher Hall: Walter drove four hours back to our home town to attend my father's funeral. I hadn't seen him for five years, and we had a lot of baggage to deal with. We went drinking in all our favorite bars and realized how much we had missed each other as friends and writing partners. We promised to stay in touch, and we kept that promise.
Daly: I've been thoroughly enjoying the new EP. The songs are infectious and reminiscent of your older work. Longtime fans will assuredly love what you've done.
There's also a timelessness to the band's sound that should resonate with younger crowds. Social media has become an important tool in the modern era for reaching new listeners, and I've noticed that Stabbing Westward has had more of an Internet presence in recent months. Can we expect some additional social-media efforts in the near future — perhaps some live streaming performances, or some video check-ins from the road?
Hall: Don't get ahead of yourself. I truly loathe social media but it seems to be a necessary evil to promote the record so I do what I can. I do enjoy the ability to quickly share my art whether it's music or photography. I know our drummer Bobby has live streamed his drum performances during our show before. I just don't feel it could ever live up to actually being at the show.
Daly: If I understand correctly, the "Dead and Gone" EP is the first of three EPs that will be released by the band in 2020, with the end result being a full-length album. What's the reason for this three-tiered presentation, as opposed to just releasing everything at once? Is there an artistic theme behind it, or are you just trying to get the new songs out to us eager fans as quickly as possible?
Hall: It's more that we want to spread out the experience over a longer period of time. In the olden days, an album cycle could last a year or more. Now it's a matter of days. There is so much constant competition for people's attention online that it's hard to get fans to notice. We felt by spreading the releases out we could stretch the enthusiasm over a longer period of time.
RELATED: How Tech Made New Rembrandts Music a Reality
And the plan is still in flux. I wanted to see how the first EP was received and look at the analytics: how long did people listen; how many spins are the songs getting two weeks later, etc. We also wanted to be able to spread the new songs across several tours. Rather than fans showing up and having to listen to 10 new songs we can play a couple of new ones for a few months and slowly build awareness.
Daly: I think it's safe to say that your music touches a lot of people on a personal level. There's a sincerity and introspective quality to the lyrics that have long appealed to me and other fans. We recognize and identify with these emotional themes of loneliness, guilt, and desperation, but the journey through your music — at least in my experience — has never been marred with despair or negativity.
In fact, I've always found your music to be rather cathartic. I think there's something uplifting and empowering about the airing of raw honesty, and I've always appreciated that from your work.
I'm curious if you find those same therapeutic benefits when actually creating and performing the music. And when people meet you in person, are they surprised to find that you're a very friendly, down-to-earth guy, as opposed to the 'tortured soul' they might be envisioning from listening to your music?
Hall: It is therapeutic in some ways to get the thoughts articulated, but it's often more complicated than that. When I write a song, it's usually in my head. I don't really record anything until I have it close to where I want it.
So that means I'm constantly keeping the idea in my short-term RAM; always humming in the background serving as a constant distraction to the real world around me.
RELATED: 3 Underrated Rock Supergroups You Need to Know
When I was younger it made me seem distant and odd. But now that I have two little kids, it makes me a terrible parent. We've just started the process of recording the second EP and I've turned back into a zombie. I'm going to have to try harder to put a firewall up between the two parts of my brain. And yes, people are generally surprised at how normal I am and by how short I am.
Daly: I'm sure you've heard this from lots of people over the years, but the music video for "Shame" really does stand out as one of the more unique and memorable of its time.
From the way it was shot as a cinematic thriller (actor Clint Curtis was genuinely chilling as "Nick") to the raw energy from the band in the performance scenes, the video knocked the ball out of the park. In fact, whenever I run into a fellow Stabbing Westward fan, the topic of that video always comes up.
Stabbing Westward - Shame
The video for the song "Dead and Gone" has already been released online, and it definitely has a similar feel to your older videos. The same is true of "Crawl." Has there ever been any discussion about shooting a sequel to "Shame" (for one of your new or upcoming songs) with "Nick" possibly having survived his fall from the building 20+ years ago, and reigniting his saga with "Julie?" (I swear I'm not Chris Curtis's casting agent, haha).
Hall: Do you know how to get a hold of them?
Dead and Gone - Stabbing Westward
Daly: A number of bands who enjoyed breakout commercial success in the 1990s have been back on the road in recent years doing 20th and 25th "anniversary" tours for their most popular albums. This has been a real treat for fans of that era's music, and I was especially excited in 2018 to learn that Stabbing Westward would be among those groups (for your "Darkest Days" album).
Your show in Denver that November was fantastic, and it was fun to see you and Walter reconnect with a crowd (during and after the concert) that still knew all the songs by heart. What has it been like "catching up" with longtime fans who (like yourself, I'm sure) have done some growing up, and have more life-responsibilities these days, but still share that a common love for your music?
Hall: It's been really fun. I didn't ever really think the '90s would make a comeback, but I guess that was foolish. Every generation hits that point in their life where their kids are grown up and they are finally able to go out and live life again. (I'm a good 15 years away from that day).
The '80s bands have been dominating the scene for the past 15 years, but it's time to move over Boomers!! Gen X is in the house. It's been really fun seeing old fans and friends again, though I must admit my memories from the '90s are a bit fuzzy.
Daly: As a writer myself (not a songwriter), I'm always interested in how other writers go about their craft. When you're at the opening stage of constructing a song, do you prefer to work alone in silence without distractions, or is it usually a collaborative effort from the beginning? Do you sometimes find that right words and chords hit you in the face at the least opportune times?
Hall: I work in two ways. If I'm writing the song, I work in my head usually while walking my dog and humming to myself. I often wear headphones to keep any one from talking to me, but there's never music on. I start with words and a melody and start putting together the pieces like a puzzle.
Music is very mathematical for me, so I generally know, as a melody develops, what the proper chord structure will be. So it sort of saves as an equation with words.
The other way I work is if Walter or Carlton write the music first, and I have to write a vocal melody and lyrics. That is usually done both in the shower, while listening to my phone in the shampoo nook (it creates better low end) and while walking my dog…once again singing out loud with headphones, looking like an escaped mental patient off his meds.
I just re-read this answer and would like to clarify that I do not walk my dog in the
shower.
Daly: With all of this new music coming out from the band in 2020, can Stabbing Westward fans expect more tour dates on the horizon? If so, where will you be headed?
Hall: Yes, but not a traditional tour. We are mostly doing weekends when our adult fans can go out, and we can get off of work. Dracula's Ball in Philly on May 1st and probably an industrial festiHowval in Chicago in September. I'm sure there will be more weekends between them. Just none on the books right now.
"Dead and Gone" (which is excellent) is on sale now, including at Amazon, iTunes and Bandcamp.
---
John Daly is a Colo.-based writer of four Sean Coleman thrillers, including his latest tale, "Safeguard." He also contributes to BernardGoldberg.com.