Uncategorized
'Spider-Men' Marketing Push Another Apolitical Home Run
Stars assemble for a meme-worthy pic, but there's a bigger message in play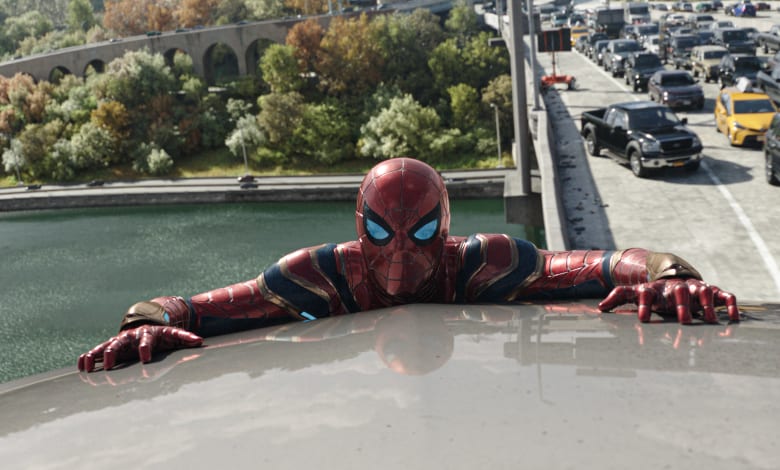 "Spider-Man: No Way Home" has earned enough money, thank you.
The film already stands as the third biggest blockbuster in Hollywood history, a feat accomplished at the tail end of a pandemic, no less.
Still, profit is profit, and Sony has every right to promote the film's upcoming home video release. The studio kicked off that marketing push with one of the savviest stunts in recent history.
The team played off the beloved meme of three Spider-Men pointing at one another, but this time featuring the three actors who play the wall-crawler in "No Way Home."
Tobey Maguire, Andrew Garfield and Tom Holland.
Life imitates art. All three Spider-Men have recreated the infamous meme. 👏 pic.twitter.com/E7GNnGQ2HU

— GameSpot (@GameSpot) February 23, 2022
Social media went wild over the image.
The image is playful, apolitical and ties directly into the film's goodwill toward its audience. "No Way Home" dropped the woke flourishes from the past two Spidey films, focusing squarely on entertainment.
That, plus a nostalgia trip to past "Spider-Man" adventures, made it a sensation.
SPIDER-MAN: NO WAY HOME - Official Trailer (HD)
The film's success seems simple in retrospect, but the timing matters. The unstoppable MCU has gone woke, focusing on diversity, lectures and other progressive tropes that cut into the franchise's box office fortunes.
Movies like "Eternals" made far less than expected – $164 million is an abysmal take for an MCU release. Some MCU stars have taken direct aim at select movie goers, too, via their political broadsides.
VOTE TOMORROW - Starring Robert Downey Jr, Scarlett Johansson, Keegan-Michael Key & Many More
"Spider-Man" showed Hollywood that superhero films could still make serious coin at the box office, with or without a pandemic.
There's more to the story, though.
RELATED: Hollywood Sold Its Soul to China: Now What?
Hollywood once relied on China to bolster its box office fortunes. "Avengers: Endgame" scored an astonishing $858 million stateside but another $629 million in China. More importantly, mid-level hits would snag extra cash from Chinese movie goers and flops would suddenly break even thanks to the Middle Kingdom.
That's no longer the case.
China is allowing fewer U.S. films into its marketplace, and the titles that manage that feat are earning dramatically less than before.
In short, the Chinese financial spigot is closing.
A new review of RED CARPET, from @ForeignAffairs:

"Schwartzel makes this story of big stars and big money a page-turner, but its implications are much larger. . . what values—of democracy or authoritarianism—will the world see on the big screen?"https://t.co/OHuko9kCqz

— Erich Schwartzel (@erichschwartzel) February 23, 2022
That means Hollywood, and its stars, will have to ingratiate themselves to U.S. audiences anew to get more return on investment.
The "No Way Home" model ties directly into that sentiment. It's upbeat, fan friendly and free of culture war broadsides. It's a template studios better study moving forward.
"Spider-Man: No Way Home" arrives on digital March 22 and on Blu-ray/DVD April 12.