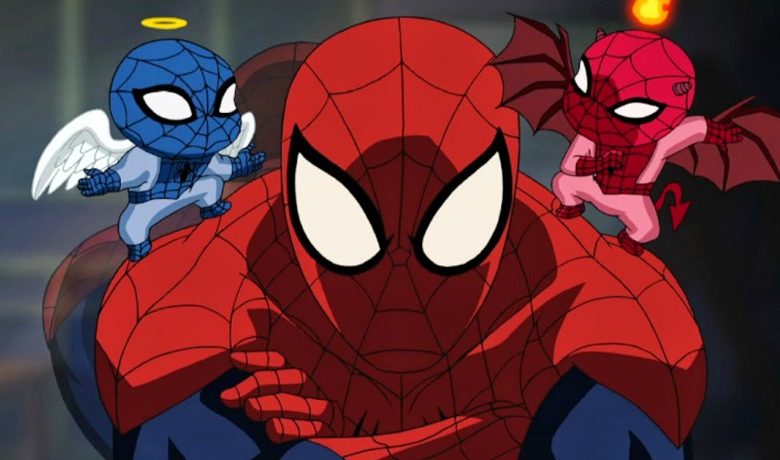 Over the next several months, the extra-dimensional villain Morlun and his family are hunting down Spider-Men – and Spider-Women – from across the multiverse.
Writer Dan Slott promises that every version of Spider-Man ever seen – from the clone Ben Reilly to Spider-Man 2099's Miguel O'Hara to Iron Spider from Marvel's Civil War – will team up to defeat Morlun.
While the event is exciting enough for Spider-fans – and promises continuity changes by killing off some alternate versions of the Wall Crawler – what's really interesting is the marketing plan that Marvel has prepared for this latest "event."
Of course, the publisher has teased the coming of Morlun over several Spidey issues. That's to be expected. But Marvel/Disney has leveraged the full power of its own multiverse to expose even unsuspecting readers to this would-be blockbuster.
First, the publisher brought its own "Superior Spider-Man" (the one where Doctor Octopus' mind takes over Peter Parker's body) back to print for two issues to kick off the event. Then the Disney XD "Ultimate Spider-Man" cartoon series' current season focuses on featuring different versions of Spidey teaming up to defeat the bad guys.
There's even an addictive "Spider-Man Unlimited" smartphone/tablet app that brings together different versions of our hero to fight alternate realities of the Green Goblin, the Vulture, Electro and others. Amazingly enough, each of these channels represents a different revenue stream for Marvel. Despite warnings from my own Spider-Sense, I've been tempted to plunk down money for the "free" app so I can take one more swing at defeating Sandman.
Ultimately, what does this mean to the quality of the storytelling itself? Does this focus on marketing take away from the enjoyment of eventually watching the Spider-Gang beat up their tormentors? Probably not. Slott has done a good job of reinvigorating the various storylines for a 52-year-old character in new and exciting ways – while having fun in the process.
It can lead to fatigue, though.
Does anyone really want to sift through the "Edge of the Spider-Verse" prequel, the dozen-plus tie-ins, the TV shows, etc. just to get through the story?
Like with any big comic event, we have to pick and choose what we want to expose ourselves to (or what we can afford to expose ourselves to). I plan on sticking to the core series and trying to ignore the rest.
Except the app. I can't put my iPad down!
*  *  *
Tom Smithyman is a newspaperman turned marketing executive. A comic book enthusiast since the '70s, he tries to keep up with these alternate realities while juggling a professional career, family, community theater roles and passion for travel. Connect with him on Twitter @tsmithyman andlinkedin.com/in/tomsmithyman/