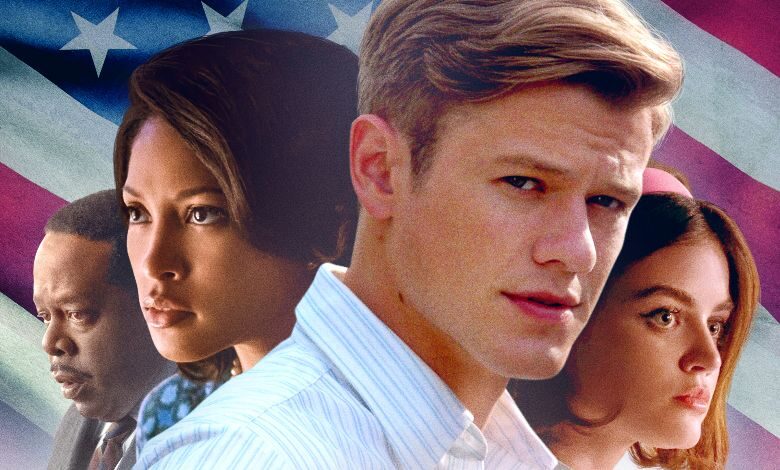 Director Barry Alexander Brown's "Son of the South" depicts the "based on a true story" legacy of Bob Zellner, the son and grandson of KKK members who aided the efforts of Civil Rights activists.
Brown, who edited many of Spike Lee's greatest films, wrote and edited "South" but fails to convince us why Zellner's tale needed a feature-length portrait.
Son of the South | Official Trailer (HD) | Vertical Entertainment
It begins in Mississippi in 1961, where we see Zellner's defying the peer pressure of his community and even his Klansman grandfather (the late Brian Dennehy), who warns him that his efforts for peace and unity will be met with violence.
As one of five white college students who is noted for his progressive views on race, Zellner risks alienating his family and community by finding ways to help the Civil Rights movement. Figures like John Lewis (an outstanding Dexter Darden) and Rosa Parks (a great Sharonne Lanier) intermingle with Zellner's journey, with the latter telling him, "There comes a time when you'll have to decide which side you're on… not choosing is a choice."
"Son of the South" is dedicated to Lewis, includes a special thanks to Dr. Maya Angelou and Lee serves as the film's executive producer. Considering the pedigree and the importance of the subject matter, I wish the film were so much better than it is.
RELATED: Serious Star Power Fuels Race-based 'Best of Enemies'
A fatal flaw is the miscasting of Lucas Till as Zellner. You may know Till from his turn as TV's new "MacGyver" or from starring in the infamous flop, "Monster Trucks." As Zellner, Till recites all of his lines in exactly the same glib and laidback way.
The actor is stiff, one-note and not yet ready to carry a film. Because the actor is so underwhelming, I found myself never caring about Zellner and wished the film would latch onto Lewis and or Parks. Till especially reveals himself to be out of his element when acting toe to toe with Dennehy or Julia Ormond.
FAST FACT: "Son of the South" is based on Zellner's autobiography, "The Wrong Side of Murder Creek."
While Zellner's actions were admirable and worthy of discussion, the film never convinced me that we needed another film about the Civil Rights era from the point of view of a Caucasian. This is a history lesson from the wrong perspective, a reminder of films like "Heart of Dixie" (1989). We've had more than enough of those.
Only the end credits, which includes footage of the real Zellner during a peaceful protest, convinced me of the story's potential as a film, albeit as a documentary. With new and far more memorable films about this subject matter, like the just-out documentaries "MLK/FBI" and "John Lewis: Good Trouble," as well as the recent "Selma" finding an audience,
John Lewis: Good Trouble - Official Trailer
Lucy Hale tries, and fails, to bring much life to the by-the-numbers role of Zellner's initially supportive but mostly disapproving girlfriend. As he did in Paul Schrader's "First Reformed," Cedric the Entertainer is startlingly great in a straight turn, once again playing a man of faith.
Brown's abilities as an editor are in plain view – note the scene where the Freedom Riders are beaten when their bus arrives in Montgomery. Brown shapes it with skill, though he also keeps cutting away from the violence and bringing us back to Zellner's safe distance.
The whole film is like that, a work that intends to inspire but feels too emotionally removed to be as angry and impassioned as it should be. Likewise, the music score is overly lightweight.
"Son of the South" feels truly alive when Darden's John Lewis and Lanier's Rosa Parks are briefly the focus. Since Zellner was a supporting member in the efforts for civil liberties and freedom for African Americans, he should've been a supporting character in a movie about this period and not the main focus.
The First White Southerner To Join The SNCC: Bob Zellner | MLK | TIME
There's a powerful sequence in which activists are given training to be non-violent against those who oppose them; it's the most bruising scene here. Otherwise, the complications that Zellner faces along the way, as depicted here, like a half-baked romance and a final confrontation from a town bully, come across as limp wristed.
The story going on around Zellner is the real story, which is a big problem for "Son of the South."
There are a few brutal scenes but otherwise, this is ready for the Hallmark Channel. Zellner's work, and that of everyone who suffered greatly and made enormous progress during this painful time, deserve a far stronger, more immediate film tribute.
Two Stars