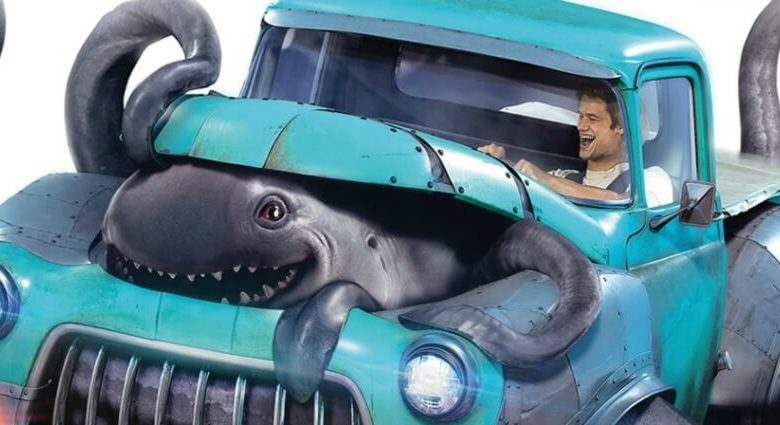 The term "misbegotten" is not employed with proper frequency in Hollywood.
It's a treat when a cinematic disaster occurs with a definable malignant gestation. Four years back Paramount Pictures was in the market for a new kid-based enterprise. The studio elected to go with a story not from a proven source material – like a book, show, video game or even stuffed animal — but concocted by the studio CEO's 4 year old son.
This is true.
Paramount staked out a prime summer release date for "Monster Trucks," readied a toy line and poured out $125 million on idea hatched by a preschooler.
Monster Trucks Official Trailer #1 (2017) - Lucas Till, Jane Levy Movie HD
Amazingly, things went awry with "Monster Trucks
."
Numerous release dates were missed, and years went by without movement. Last September the parent company, Viacom, absorbed a $100 million charge against its stock value, based on the dismal returns of a movie still four months away from its release date!
This brings new meaning to the cliche "dead on arrival." Let us wheel this wreck into the motor pool and dissect the wreckage.
00:00:22 SCEPTIC INTRODUCTION
We open with sweeping tracking shots over a landscape as an orchestral theme wells up and gives way to a pulsing soundtrack. This, for a pickup truck driving to an oil drilling site.
00:01:10 EDITING ARRHYTHMIA
The truck is driving in the afternoon, with the drilling platform in the near distance. It then drives through the gate…at night time.
00:01:28 ELEVATED FORESHADOW LEVELS
A stuffy looking technician Jim (Thomas Lennon) climbs from the truck as a helicopter with the word TERRAVEX on it lands. A perturbed Rob Lowe exits. My vast knowledge of family films tells me this will be the evil corporation behind any drama.
00:03:15 PLOT STIMULANT
Drilling is halted because a pocket of water was discovered thousands of feet down, and there is worry of an ecosystem. Because they are an evil company (suspected) they decide to punch through the water. A sudden drop in pressure leads to hoses letting go at the surface, a well cap explodes, and three large creatures land across the drilling site. For some reason this also leads to a massive explosion.
00:04:41 TECHNOLOGIC THROMBOSIS
An evil henchman states they caught a creature, and Lowe instructs them to capture the other two, for fear of being shut down by the Department of Fish & Wildlife. The drill site just experienced a mushroom cloud fireball. I doubt they will be drilling anytime soon.
00:05:07 RUPTURED VISUAL
Lennon's pickup truck was damaged in the explosion. One of the creatures has taken refuge inside. We know this courtesy of a point of view shot from behind the grill of a the pickup.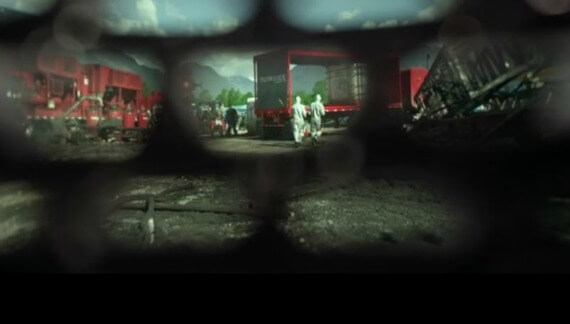 00:06:26 DEPLETED CHARACTER CONCENTRATION
On a school bus we meet a forlorn-looking teen named Tripp, played by 26 year old Lucas Till. Once home, he and his mother have some light banter about the property not getting an oil lease. She leaves as his stepfather Rick, the Sheriff, pulls up (Barry Pepper). There is tension between the two. Any kids watching to this point in the movie must be riveted!
00:08:44 ELEVATED FORESHADOW LEVELS
Tripp works in a junkyard, owned by Danny Glover (seriously, what C-lister ISN'T in this?). The truck from the oil site is brought in, and Tripp removes the engine. In a shed we see an ancient pickup inside. The soundtrack swells to a slow theme, telling us this vehicle is significant!
00:10:26 DEPLETED CHARACTER CONCENTRATION
While working on his engine a news report with a reporter interviewing an oil field worker comes on. It's Tripp's father (Frank Whaley). Surprised his father is in town – which makes his dad a complete lout – means of course Tripp will seek him out.
00:11:06 EXPLORATORY STORY INCISION
Out in the junkyard Tripp hears a noise. While investigating he finds a minivan with an impossibly large hole scored all the way through. This has not affected the value of the vehicle! (rimshot)
00:11:36: WEAKENED IMPULSE
On his way to school on his bike (what happened to the bus?) Tripp is met by a young girl, Meredith, who states they are lab partners. Tripp, the lonely high school boy who looks like a 25 year old X-Man, barely notices the attractive redhead. The monsters have not even arrived and this movie is unbelievable.
00:12:32 CRANIAL ATROPHY
Tripp and a crowd of students gather at a car lot where a number of trucks have the SAME improbable holes, and the gas tanks were removed. The step-dad sheriff is on the scene and he lazily chalks it up to "vandals." This community is in capable hands.
00:16:03 DEPLETED CHARACTER CONCENTRATION
At night at the junkyard Tripp encounters a large tentacled creature, and ultimately traps it in a repair well. He calls the police and Rick arrives with backup, but the creature has escaped. This upsets the sheriff-dad. Rick truly seems to resent having to do his job.
00:20:15 RUPTURED OPTICS
Frustrated, Tripp sets a trap. He figures the creature consumes oil, so he places 50 gallon drums in a car-crushing machine. This lures the creature out, and you can see why a toy line did not exactly figure in the licensing.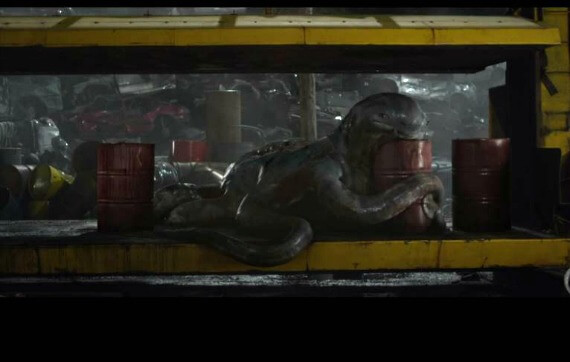 00:25:38 ADVERSE CEREBRAL ACTIVITY
Tripp plans to use a forklift to transport the beast to the sheriff's station and prove Rick wrong. This portion of North Dakota has zero cellular phone stores, since taking a picture of the beast is never considered.
00:28:07 ARRESTED PHYSICS
The Terravex henchmen arrive at the junkyard looking for the creature. The beast was able to move around on flatbed trailer and crawl into the garage. As the villains investigate Tripp notices the animal – which is roughly larger than a Smart Car – is hiding in the framework of his pickup truck.
00:29:13 IRREGULAR PLOT BEAT
The creature is able to get the truck moving and Tripp attempts to stop it from rolling out into the yard. This is when Meredith is discovered to have arrived, in the middle of the night, in a junkyard, with study flashcards in order to do homework.
00:31:56 TECHNOLIGICAL THROMBOSIS
Tripp has her get in his truck to avoid the villains, and the creature is able to get the truck to drive down the road at speed. After a lifetime in a subterranean lake this beast picks up the basics of locomotion and steering very quickly.
00:36:14 EXPLORATORY STORY INCISION
They escape to Meredith's home and wheel the truck into her barn. Her father has enough tools for Tripp to begin retrofitting his truck so that it can be functionally operated by the creature. It has now literally become the titular monster truck. (A 4-year-old thought this up, you say?)
00:42:14 CAUTERIZED PLOT CAVITY
After lengthy montages of truck-building Tripp names the monster "Creech." Meredith introduces wet-blanket sanity, mentioning the benefit of its home environment over living inside of a pickup truck. Tripp's response is the creature is having fun. Annnnnd that takes care of the ethical dilemma!
00:43:53 BLUNT-FORCE DIALOGUE
A high school rival pulls up to the gas pumps (where Tripp is feeding the creature gasoline) and comments on his garish-looking pickup: "It looks like if a garbage truck took a dump. Not like a normal dump – a really bad one. That's what this looks like." So, "zing," I suppose?
00:46:22 IATROGENIC DIRECTION
The gasoline has made Creech hyperactive, so on the road he speeds out of control, sideswiping vehicles and then driving on top of numerous new models at an auto dealership. There are no repercussions — because that is what monster trucks do!
00:50:20 VISUAL ADRENAL INFUSION
They drive out to meet Tripp's father at the trailer compound where oil workers reside. However Dad turns him over to the Terravex goons. Creech sees the scuffle and activates, and Tripp and Meredith jump in. Sheriff Rick arrives as well, just as they manage to escape by driving through his father's trailer home.
00:54:23 WEAKENED IMPULSE
Three Terravex security trucks, and Rick, take up the chase through town. As Rick pursues down an alley he loses them, because Creech is able to have the truck suspended ten feet up on the walls — and because Rick's field of vision is horrible.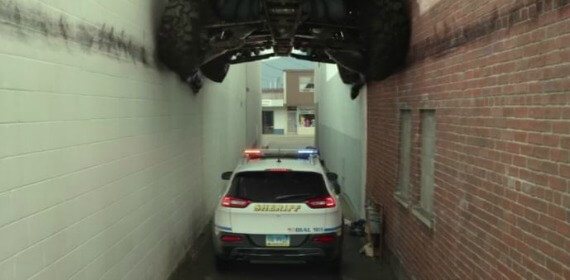 00:55:21 ARRESTED PHYSICS
As the security goon chases them into a dead-end alley Tripp pulls a lever and the front wheel wells open up. This allows Creech's tentacles room to climb the truck onto the roof. Tripp had the foresight to install this feature, you see, in case they would…need to…climb walls?
00:57:23 CAUTERIZED PLOT CAVITY
After the truck jumps numerous rooftops to get away they speed towards a train. The intuitive monster somehow knows when Tripp pulls the steering wheel out of its anchor it means "jump," and they clear the train. It's almost as if this monster can read the script writer's mind!
01:04:12 INVASIVE PATHOS
Jim has been working with the two creatures they have in confinement and learned they are highly intelligent species. Then he hears Lowe plans to kill them off and hide their evidence from environmentalists. I sense a character arc taking place…
01:05:50 DEPLETED CHARACTER CONCENTRATION
Tripp and Meredith hide out at a cabin and wake in the morning to learn Creech drove off on his own. They use an app on her phone to track the truck to Tarravex headquarters. This Creech is moving up the chart of the smartest characters in this film!
01:07:49 IRREGULAR PLOT BEAT
Inside the facility they locate the truck, then continue on to the pipe tunnels underneath the building, where they discover the holding area of the two other creatures. Despite having given us a brutal and efficient security force somehow the company facility was easily breached by a pair of teenagers.
01:11:10 CONTINUITY FAILURE
Creech breaks in through the walls to get at his two parents held captive. (Don't ask why they could not break OUT in similar fashion.) Security tranquilizes him, then Tripp and Meredith are escorted out. Jim steps in and tells them he wants to help save them all. Tripp says he has trucks fast enough to save them! (Huh?)
01:13:09 PACE STIMULANT
They need to completely modify two additional trucks, by morning, for the plan. Good thing Tripp has one classmate, on screen for 10 seconds early in the story, who's father owns a car dealership with all the needed tools and parts.
01:19:42 CAUTERIZED PLOT CAVITY
Once the creatures are loaded onto a semi Jim steals the truck. He brings them to the dealership and after a family reunion all three beasts occupy the trucks. The parents are instantly attuned on how to operate the vehicles, so everything is falling into place perfectly!
01:23:05 VISUAL ADRENAL INFUSION
To get back to where Creech and family can be released the three trucks race out across the prairie, with a large team of Terravex security trucks giving chase, as well as Sheriff Rick, for some reason. The chase goes through the woods, and then the rocky roadways of the mountains. Numerous impossible stunts occur due to the incredibly adept truck monsters.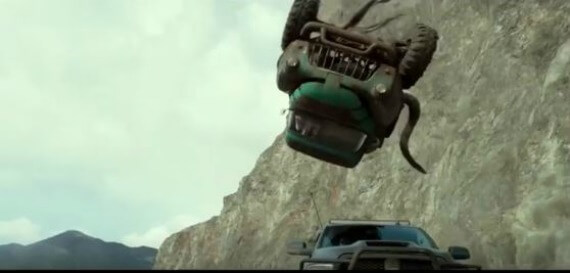 01:25:37 COMEDIC ARREST
The villain rams Rick and send him hundreds of feet down the ravine. A runner through this film is Rick is obsessive about the appearance of his sheriff's truck. He gets out and shrieks at the site of the damage — you know, rather than being grateful he is still alive.
01:26:31 CONTINUITY FAILURE
A wall of fire is ignited to stop the trucks as the security team blocks them in. But Rick – who was just in the damned ravine — manages to arrive in a dumptruck the size of a condominium. He plows through the security trucks but then gets stuck. He lowers the bucket so the Monster Trucks can use it as a ramp.
01:27:10 SCRIPT GRAFT
Suddenly two tanker trucks are seen and Jim knows they are filled with a toxin to poison the underwater home of the creatures. The company worried about the EPA is now unconcerned by a detectable pollution spill and mass kill off of an ecosystem?
01:28:47 ARRESTED PHYSICS
Now we get a number of reality violations. The trucks launch 100 over a cliff, they bounce and leap down a mountain slope, and Tripp jumps his pickup onto a semi hauler and topples it. For me the worst was a tire flying off one truck, but the monster grabs it and pulls it back on, and continues driving.
01:32:24 INVASIVE PATHOS
There is a final standoff between the trucks at the well opening where the family needs to return, as workers rush to pump the chemicals. The villain's truck is tossed into the machinery and shuts down the system, but then Tripp and Creech fall over and plunge into the shaft.
01:36:25 COLLAPSED CLIMAX
Deep underwater Creech comes to, and he brings Tripp to the surface, then a school of similar creatures help push his truck back up as well. As a coda the teens release endangered lizards on the property, and drilling is shut down. (Uh, wouldn't this new species do the trick?) Lowe is arrested, a real engine is put in Tripp's truck and they all drive off happy. Children in the audience are misled that real life is this tidy.
POST MORTEM
While "Monster Trucks" was certainly a high-concept picture things are more forgivable in a family venture. Same goes for shallow characters, silly antics, hyper reality and fantastic creatures. However the movie commits the biggest sin of all with a kids' lark — it's easily forgettable.
I wouldn't think a lesson like this would need to lectured to a movie studio, but here we are. Do not pour over $125 MILLION DOLLARS on an idea cooked up by a four year old! Amazing that for a few hundred million Americans this would seem obvious.
In Hollywood however this apparently is a lesson that needed to first be experienced in order to take hold.
---
Brad Slager is a freelance contributor to Red State, The Federalist and Hollywood in Toto. Follow him on Twitter @MartiniShark.