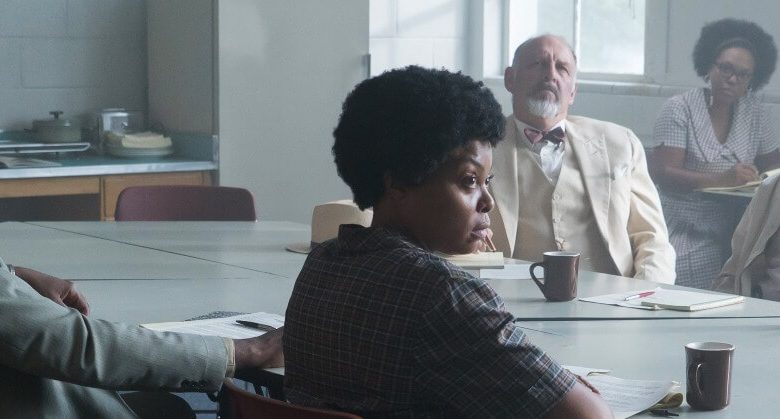 You can't recreate what happened in Durham, N.C. in 1971 without two powerhouse performances.
How do you convey a black activist winning over a Ku Klux Klan member with second-tier talent? Luckily, "The Best of Enemies" is blessed with two superlative stars who grasp the emotional stakes.
Taraji P. Henson and Sam Rockwell bring their combined gravitas, and empathy, to the project. The story itself, a stunner that could teach us all a lesson today, runs with their fierce contributions.
The Best of Enemies | Official Trailer [HD] | Own It Now on Digital HD, Blu-Ray & DVD
Henson plays Ann Atwater, a shrewd, take-no-prisoners activist in the deep South circa the early 1970s. Segregation thrives in her community, despite the laws of the land. Her talents are tested when the elementary school housing local black students suffers serious fire damage.
The parents want their children to attend the nearby all-white school while the necessary repairs are completed.
Not so fast.
RELATED: 'Enemies' Inspiration Says Film's Timing Couldn't Be Better
Portions of the white Durham neighborhood want no part of that scheme, including Ku Klux Klan leader C.P. Ellis (Rockwell). C.P., along with local legislators (including a chilling Nick Searcy), will do whatever it takes to keep the races far, far apart.
It's up to Bill Riddick (Babou Ceesay), the man assigned to mediate a solution, to help the kids in question.
Good luck, right?
BEST OF ENEMIES Interview with Taraji P. Henson and Sam Rockwell
The usual racial roadblocks hunker down in "The Best of Enemies" with little sign of retreat.
Unabashed hate
Threats of violence
Menacing visits to the voters behind the potential switch
Director Robin Bissell (a "Hunger Games" producer turned auteur) stages these moments with restraint and realism.
"The Best of Enemies" doesn't downplay C.P.'s venom or vile behavior. Nor does it write him off as someone beyond redemption. We need to see his journey, that improbable shift, if we're to buy into this true-life yarn. Rockwell deftly maneuvers through the stages of a man reconsidering his life choices.
Meanwhile, Henson's Ann is working 'round the clock for her community. She'll do almost anything for the kids, including opening her heart to a man who'd make the Grinch look all warm and cuddly.
RELATED: Will the Left Melt Down Over 'Best of Enemies?'
What's missing? The story mesmerizes on the surface, but a deeper commitment is needed to go beyond the feel-good redemption. The "Enemies" script is solid, not superlative. The framing here is all tasteful but rarely inspired.
We also ache to see more of C.P.'s wife (Anne Heche). She's the critical bridge here, a woman willing to embrace a hater without reflecting his rage. Is it too much to ask to square that circle, too?
FAST FACT: The real Ann Atwater read the eulogy at C.P. Ellis' funeral in 2005.
The film's worst sin, albeit a minor one, involves the filter select sequences are shot through. We need to see the story through the era's lens. Occasionally, it feels like Bissell is leading a cheering section, not recreating history.
Beyond that, the production design captures the textures necessary to fully depict this larger-than-life story. Henson and Rockwell handle the rest, and that's by no means an easy task.
HiT or Miss: "The Best of Enemies" isn't an instant classic. It's just a sharp recreation of an unsung chapter in Southern history.