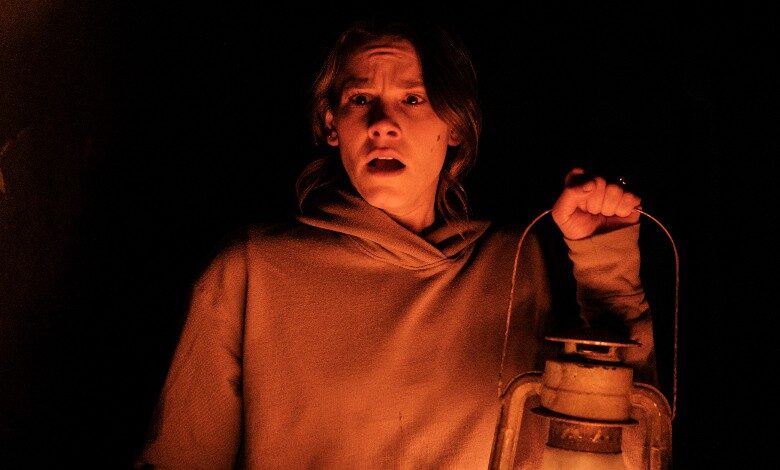 Few films caught Hollywood by surprise this year quite like "Smile."
Let's review the reasons why:
No A-list stars
No connection to existing IP or horror franchises
No pre-release hype a la "Snakes on a Plane" or "Cocaine Bear"
Yet "Smile" out hustled "Halloween Ends" at the box office by a country mile, wrapping its U.S. run with $105 million.
"Smile" will be available on 4K Ultra HD, Blu-ray™ and DVD this week, the perfect time to assess the film away from its sleeper success story.
Smile | Official Trailer (2022 Movie)
Sosie Bacon stars as Dr. Rose Cotter, a physician who works with emotionally impaired patients. One in particular suffers from hallucinations so realistic she's cowering against the office wall when Rose first meets her.
The appointment ends in tragic fashion. The poor woman takes her own life, but not before a creepy smile stretches across her face.
Rose is shaken by the death, one that connects with her troubled past.
Why did the patient smile in such a sinister fashion? And is Rose starting to experience visions similar to her late patient?
View this post on Instagram
Bacon delivers a sharp performance in "Smile," one often at odds with the pedestrian screenplay. The early sequences have an uneven tone, made worse by the poorly written exchanges with Rose's sister (Gillian Zinzer).
The police investigating the death are even clumsier, with one cop unable to coach his comments in anything but insulting language.
Rose's fiancé (Jessie T. Usher of "The Boys" fame) adds another disconnecting layer to the tale. "Smile" can't flesh out their love connection, and Usher's charismatic turn in the Amazon Prime series shows he's under-utilized here.
Even Rose's ex-husband, given some emotional gravitas by Kyle Gallner, lacks the dramatic heft that would enliven the story.
RELATED: 'TERRIFIER 2' FLIPS BIRD TO WOKE HORROR
So why did "Smile" score a TKO in theaters? The "smile" visual is jarring, a simple but evocative look that powered the movie poster and the film's creepiest scares.
It's perfection from a marketing perspective, and in Hollywood today that's half the battle.
Horror audiences, while addicted to sequels and reboots, remain open to original stories (which, when successful, spark sequels and reboots).
First time writer/director Parker Finn also knows his way around a jump scare. And how. The film is loaded with them, and many are top-flight shocks even for jaded horror fans.
Does it matter that they're gimmicky in nature? Perhaps, but they keep the film's longer than necessary running time (115 minutes) in check and offer thrills to share on social media.
Rose's trauma history is meant to power the film's third act, and while Bacon sells it effectively that background isn't stable enough to anchor the story.
How Parker Finn's 'Smile' Went From Streaming to Theatrical in a Single Night https://t.co/XgB67xPkII

— The Hollywood Reporter (@THR) December 9, 2022
The Blu-ray edition features a commentary track from Finn along with deleted scenes, a featurette on the score, the short that inspired the movie ("Laura Hasn't Slept") and a mini-doc on the film's creation.
"Something's Wrong with Rose" offers a meatier than expected 30 minutes of behind-the-scenes footage and interviews. Short films often get overlooked in film culture, but this isn't the first time one inspired a feature-length production.
Actress Caitlin Stacey, the star of "Laura Hasn't Slept," joined "Smile" as the evil spirit's first, memorable victim. Good call.
That sequence featured not just Stacey's bravura turn but a fusion of practical and digital effects.
Stars like Usher and Kal Penn, cast as Rose's superior, share their own theories on why horror matters to both them and audiences at large.
Film geeks will appreciate director of photography's Charlie Sarroff breaking down his approach to several sequences. Even interior color choices were made to build a creeping sense of unease, as if the film's signature grin wasn't enough for most audiences.