Industry News
Opinion
'Terrifier 2' Flips Bloody Bird to Woke Horror
Throwback franchise avoids progressive bromides, slays the box office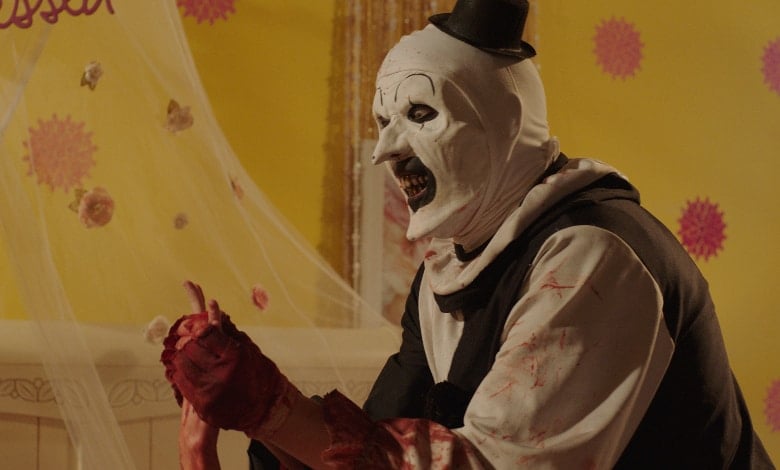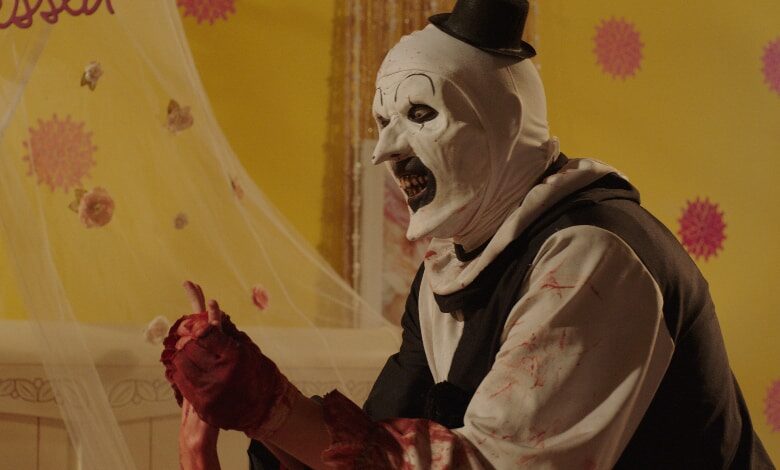 Jordan Peele did more than change the course of his career by directing 2017's "Get Out."
The "Key & Peele" star made "elevated horror" cool again. Thrillers suddenly challenged cultural norms and preached about social justice. Except not all directors were as skilled as Peele with the approach.
Think:
"Candyman"
"Antebellum"
"The Craft: Legacy"
Horror films have a long tradition of squeezing messages between the chills. George A. Romero's 1968 classic "Night of the Living Dead" had something to say about the era's racial climate, but the horror beats always took precedence.
Now, it's all but expected from a horror film, and it often comes wrapped in woke bromides.
The "Terrifier" franchise begs to differ.
Terrifier 2 Trailer #1 (2022)
The two-film series revels in '80s-style horror, from the practical FX and synth-heavy scores to its comely heroines. "Terrifier 2" lets its star (Lauren LaVera) wear a revealing Halloween costume for much of the film. Compare that to the recent "Texas Chainsaw Massacre" revival, which ensured its female leads were fully clothed.
Horror's prurient side isn't as acceptable these days.
A few complained the original "Terrifier" smacked of misogyny for one particularly nasty sequence. That didn't stop director Damien Leone from dishing out one of the most memorable, and ghoulish, "kills" in recent memory.
It turns out the minds behind the franchise had little interest in playing by the new woke rules.
"Terrifier 2" producer Steve Barton highlighted two articles on the film on social media, including one from this site:
My favorite #Terrifier2 headlines of the day "the exact opposite of 'elevated horror'" "Channels Woke-Free '80s Horror" thanks @Polygon and @HollywoodInToto pic.twitter.com/l9OrbCgLTJ

— Steve Barton (@UncleCreepy) October 23, 2022
Barton also shared this critic's Tweet trumpeting the movie's ability to scare us without the standard-issue finger wagging.
I've seen plenty of '80s horror… and I embrace smart genre films that don't stop the story cold for lectures

— Christian Toto (@HollywoodInToto) October 23, 2022
And audiences are eating it up.
The film, which boasts a $250,000 budget, will have made $5.2 million at the U.S. box office after this weekend wraps. The film's ticket sales keep growing even though it's on far fewer screens than most mainstream releases.
View this post on Instagram
"Terrifier 2" jumped from 700 to 755 screens over the weekend, according to BoxOfficeMojo.com, and its earnings skyrocketed 83.9 percent.
That's without a big studio marketing team calling the shots. The film leaned on a crowdfunding campaign to power the sequel. Now, it's a word-of-mouth sensation.
It doesn't hurt that some audience members are fainting, or worse, at the sight of all that movie blood and gore. That kind of organic publicity for a horror movie is priceless.
Compare that to "Halloween Ends," the bigger budgeted sequel which fell a shocking 80 percent in its second weekend.
Leone explains his creative approach to ComingSoon.net, and it sounds like he isn't worried about being canceled anytime soon.
I think you should be able to show whatever you want in a movie, just as long as you're not harming people or animals or something like that. But I think you should show whatever you want.