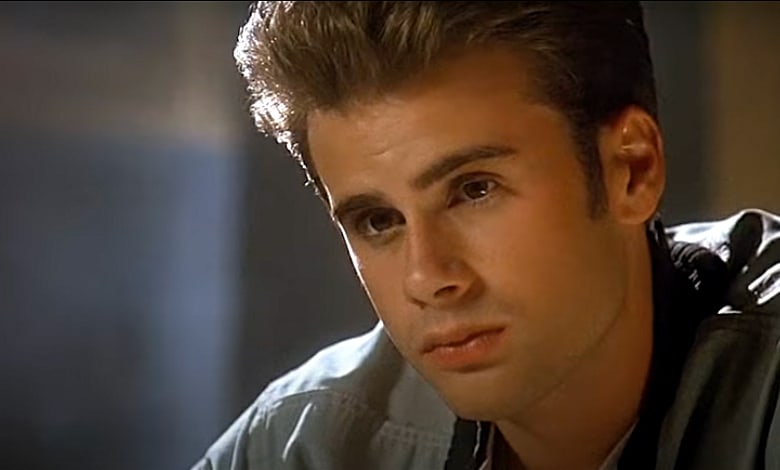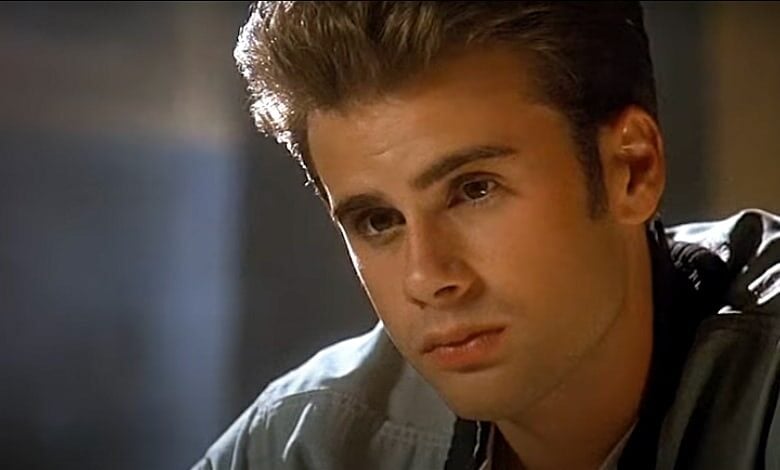 For die hard movie fans, the list of bad movies that fished us in with great trailers is tall and varied.
Near the top of that list for me is Jeffrey Hornaday's "Shout" (1991). A slick trailer, set to Jeff Lynne's catchy "Lift Me Up," had me fooled. In fact, that rousing song plays for almost its entirety in the trailer but isn't even in the movie!
It begins with a montage of a town at sunrise, with views of a movie theater showing "Shane," and an empty barbershop, in which a cat sits in a chair cleaning itself, all presented with a heavenly glow.
Despite being so early in the morning, the townsfolk, who all appear like Norman Rockwell figures, come out to see what the fuss is about, all sporting perfect hair. Clearly, we're about to watch a complete fantasy. Someone atop a bell tower yells, "Wake Up!"
Unfortunately, this is Hornaday's "Shout," not Spike Lee's "School Daze."
Set in the Benedict Boys Home, Jesse, our handsome hero (Jamie Walters, billed here as "James Walters") is at odds with Mr. Benedict himself (the elegant Richard Jordan, admittedly good under the circumstances).
It's 1955 (or at least a LIFE Magazine cover indicates, as "Shane" came out in '53) and what these boys need is to cut loose. Enter Cabe, embodied by John Travolta, and Benedict's back-from-college daughter, played by Heather Graham, to shake things up.
RELATED: Meet the Man Behind John Travolta's Dapper Transformation
The handsome period details are wasted – this may look like the '50s but the attitude and mannerisms of the cast suggests contemporary day. It's not the only detail that's very '90s. The soundtrack is full of 1991-sounding pop and vernacular.
Hornaday is a choreographer-turned filmmaker, which isn't as unusual as it sounds. Gene Kelly, Kenny Ortega (who directed "Newsies," "Hocus Pocus" and "Michael Jackson: This Is It") and Emile Ardolino (the director of "Dirty Dancing") are among the many who were dancers-turned-directors.
Hornaday, who choreographed "Flashdance" (1983), "A Chorus Line: The Movie" (1985) and "Dick Tracy" (1990), saw his film directing career begin and end with "Shout." The filmmaker can't inject enough youthful energy to overcome how bad Joe Gayton's screenplay is.
Walters has a strong presence, but his performance doesn't hold the film like it should. His co-star, veteran character actor Scott Coffey, is far better and more soulful. Graham, on the other hand, is solid, even touching during certain scenes (like a potentially cornball moment when she explains how her late mother once told her about her "kiss button," which Graham somehow makes tender).
Travolta makes "Shout" his Elvis Presley movie, which would be a recommendation, unless you remember the quality of most of Presley's films. Travolta has a warm charisma, always evoking 100 percent pure COOL and can charm his way through any scene; he earns instant audience goodwill whenever he starts dancing, which is why Travolta can glide his way through a stinker like this unscathed and look good.
Like any Presley vehicle worthy of The King, it has a bar fight (okay, admittedly, it takes place outside the bar) and cow reaction shots. If it only had one more music number, it could have been an official remake of Presley's "Roustabout" (1964).
"Shout" is an interesting time capsule for its cast, who were either on the cusp of a bigger career or enjoying a brief moment of stardom. For Walters, this led to starring in the FOX drama, "The Heights," about a band of the same name.
The series had a brief run but spawned a number one single, "How Do You Talk to An Angel?"
As for Graham, she coasted through some hit and miss movies for years, before "Boogie Nights" (1997) and "Austin Powers: The Spy Who Shagged Me" made her an in-demand actress.
RELATED: Defending John Travolta's 'The Fanatic,' the Year's Most Hated Movie
In a too-small role of Gabe's girlfriend, Linda Fiorentino survived this pit stop and followed up with acclaimed performances in "The Last Seduction" (1995) and "Men in Black" (1997.
Travolta was the film's headliner and made this in between "Look Who's Talking Too" (1990) and "Look Who's Talking Now" (1993). Oh, the indignity. He has a scene here where he teaches a student, who is holding back in his piano practice, to free himself and walk like a chicken.
It's a scene, I kid you not, more embarrassing than anything in "Battlefield: Earth" (2000).
"Shout" has a weird synergy with "Cool As Ice," a far more infamous flop, brought to you from the same studio, which opened a week later after "Shout" (!).
In the Vanilla Ice-starring "Cool As Ice," the Iceman plays an uber-hip rapper whose motorcycle brakes down in Squaresville, USA, woos a repressed young woman and makes the whole town, um, cooler.
Another thing connecting the two films: it's rumored that Gwyneth Paltrow turned down the female lead of "Cool As Ice," though she appears in "Shout," 11th-billed in her film debut, in a nearly wordless supporting role.
No matter – she appeared as Wendy in Steven Spielberg's "Hook" a few months later and got a big break standing out in "Flesh and Bone" (1993), only to have a massive career to follow. Nearly everyone in the attractive ensemble cast survived "Shout."
As a depiction of a white teacher who inspires the all-white teens in his band class to embrace that "new sound" called rock n' roll, the film becomes an accidental commentary on cultural appropriation.
In an unintentionally hilarious sequence, Gabe finds himself and his students in a "across the tracks" music club, where African Americans perform rock onstage and dance; it's kind of like that scene in "National Lampoon's Animal House," where Bluto and the boys aim to shake their tail feathers to Otis Day and the Knights but get shut out.
Here, it's reversed, as Walters gets on stage and strums his guitar alongside black musicians, in a scene that comes out of nowhere. All that's missing is one of the band members running backstage, getting on the phone and ringing up Chuck Berry.
Johnny B. Goode - Back to the Future (9/10) Movie CLIP (1985) HD
It's not the only scene that's tone deaf, ironic, since "Shout" is about a music teacher. It sincerely wants to be about prejudice and ignorance prohibiting white kids from listening to black music, but it's too obvious in its combining "Dead Poets Society" with "Footloose" (and the lyrics to "Town Without Pity" and Kenny Loggins "I'm Free" music video and every Presley movie that didn't have a car chase at the end).
The final scene (which replaces "Oh Captain, My Captain" with a loving blow into a harmonica) is, like the rest of this, really awful, but beautifully lensed (cinematographer Robert Brinkman, who also shot "U2: Rattle and Hum" and "The Rules of Attraction," is a gifted visualist).
"Shout" is a great looking bad movie, which is why it's so rousing as a trailer and such a dud as a full-length motion picture. Whenever I hear Lynne's "Lift Me Up," I always think of "Shout" and wish that dog of a movie were as exciting as the trailer it inspired.