Uncategorized
Defending 'The Fanatic,' 2019's Most Maligned Movie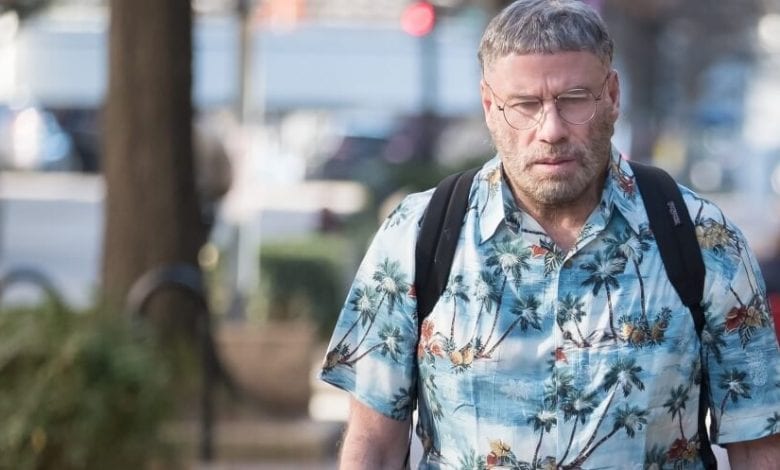 There's a greater chance Alyssa Milano will vote for President Donald Trump than "The Fanatic" will snare a single Oscar nomination.
Razzies? Oh, that's a much safer bet.
Still, the studio behind "The Fanatic" bought a "For Your Consideration" ad in The Hollywood Reporter recently to promote its headliner.
John Travolta's thriller earned withering reviews and even worse box office results earlier this year. The film, by "auteur" Fred Durst of Limp Bizkit fame, follows a mentally challenged man obsessed with a handsome movie star (Devon Sawa).
That obsession leads to violence and the worst hair style of Travolta's illustrious career.
The Fanatic Trailer #1 (2019) | Movieclips Indie
How badly did "The Fanatic" fare at the box office? The numbers are ghastly.
On Friday, The Fanatic grossed a mere $3,153 from 52 theaters scattered across the U.S. for a location average of roughly $60, according to those with access to grosses via Comscore. That means the movie may not earn more than $15,000 for the four-day holiday weekend. In a handful of theaters, it grossed $10 or less; the highest gross was $736 at the Arena Cinelounge in Hollywood.
Travolta's box office star no longer shines brightly. Durst is hardly a "name" director. The results were inevitable. Yet the film itself, available now on Amazon Prime, has its merits.
Really.
Let's start with the obvious flaws, and they are legion.
The key characters live in L.A. but keep bumping into each other as if it were Small Town, USA.
Sawa's character puts a Limp Bizkit song on the radio for his son to enjoy without a whiff of irony or sarcasm.
The film's use of narration is comically unnecessary and adds less than zero to the story, with apologies to Bret Easton Ellis.
The Tarantino-style third act is clownish and wholly unearned.
The fate of Sawa's character is flat-out absurd.
You'll probably watch it from start to finish anyway. Why?
It all starts with Travolta. The Oscar nominee hasn't been the same since his mesmerizing turn in "Get Shorty." That 1995 gem captured his charm, his presence, in a way that connected to his seminal work in "Saturday Night Fever."
It's been diminishing returns since then, with a few inspired detours like "Hairspray" and "Primary Colors."
John Travolta talks new movie 'The Fanatic' | GMA
Here, Travolta is all in. He plays "Moose" without a hint of his movie star self. It's a physical transformation, of course, with that absurd 'do and his constant rocking under duress. The actor said Moose is on the Autism spectrum, and that makes sense.
Moose's vocal patterns are equally curious, a pattern of child-like complaints that evoke our inner fan. We all want to connect, on some level, with the stars who brighten our lives with their work.
Moose just takes it to a frightening level without a hint of social responsibility.
"The Fanatic" moves briskly, too, depicting L.A.'s scuzzier side in more ways than one. Consider its close up on the working stiffs outside Grauman's Chinese Theater, engaging tourists with their practiced routines.
Naturally, one of the entertainers finds Moose an easy mark, giving the film an early whiff of danger.
So would I be immediately kicked out of @seattlecritics if I suggested a special award honoring John Travolta's hairpiece in THE FANATIC? pic.twitter.com/wcVGeSYKy5

— J.R. Kinnard (@jrkinnard) December 6, 2019
The film's theatrical score adds to the sense of unease, as do the animated interstitials capturing Moose's state of mind. The latter suggests a nuanced portrait, one which examines the uneasy bond between fan and star. That hardly describes "The Fanatic," a minor grindhouse romp clocking in at a tidy 90 minutes.
Those animations still evoke a sense of mystery, adding to Moose's traumatic journey.
So many movies made today are utterly forgettable. It's cookie-cutter storytelling, fast food for the masses. You leave the theater and, hours later, have little reason to remember what you just saw.
"The Fanatic" is nothing of the sort. It's clumsy and crude with plenty of missteps, some gargantuan in size. It's still flows from a singular vision, reminding us Travolta's rise to superstardom was no accident.
It's a shame the film will do nothing to slow his career descent.