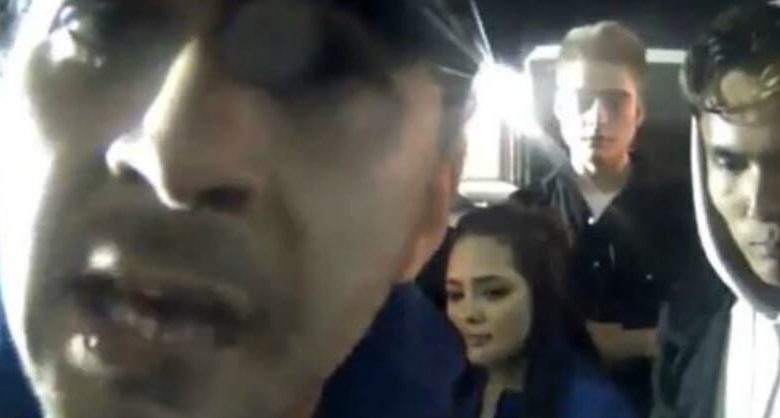 The stiffest competition in Hollywood these days has nothing to do with the annual Oscar race.
It's who can say the craziest things about President Donald Trump.
For a while it seemed Joss Whedon had the lead. The director's Twitter feed turned into a Daily Kos rant, but one even that far-left site might disown.
I think I'm broken

I never ran smooth but I think I'm really broken, I'm sorry, I was funny for a while, good times, please keep fighting

— Joss Whedon (@joss) February 7, 2017
Then actor Michael Shannon said Trump fans were ready "for the urn," placing him atop the unhinged pack.
Sarah Silverman called for a military coup, in between mistaking simple construction images for Nazi swastikas.
A flurry of "he's a Nazi/Hitler/fascist" comments from La La Land followed. In short, it was anyone's game.
Then Shia LaBeouf dropped the mic over the weekend in New Mexico.
LaBeouf Gone Wild
The "American Honey" star created an ongoing anti-Trump art installation last month at New York's Museum of the Moving Image. Titled "He Will Not Divide Us," the live stream project began with Trump's inauguration. The production's end date? Trump's final day in office.
LaBeouf and his co-conspirators invited passers by to take part in the project. Unfortunately, the museum itself eventually shut LaBeouf's vision down.
Why?
A museum rep blamed it on the installation becoming a "flashpoint of violence." LaBeouf got arrested Jan. 26 on assault charges after getting into an altercation with a passer by. Police had to monitor the site 24/7 in order to protect patrons' safety.
Shia LaBeouf got into a shouting match with a white nationalist on his anti Trump live stream
LaBeouf certainly deserves part of the blame, what with his verbal and physical confrontations. The actor still wouldn't give up on his dream.
FAST FACT: In 2015, Shia LaBeouf got arrested during a Broadway performance of "Cabaret." Earlier that day, the actor mixed it up with a homeless man among other bizarre behaviors.
He moved the installation to Albuquerque, New Mexico at the El Rey Theater. Once more, he took a personal interest in the project. He appeared on site, chanting "he will not divide us" while offering free-form rants. It's like the '60s, man. Except LaBeouf's idea of political commentary isn't exactly profound.
Or sane.
If this six-plus minute rant is any indication, he's already won the prize for most unhinged Trump celebrity. Warning: The embedded video teems with expletives.
Here are 11 of his most unusual utterances during a video taken at the New Mexico installation.
"Jesus was a f***ing immigrant … how you gonna be pro-life and anti-immigrant if you believe in Jesus you f***ing idiot."
"If you're a Trump supporter you gotta deal with what you decided on, and so do we."
"Look at what the f*** he's doin' … one month … this sh*t is crazier than Watergate."
"This is crazier than Nixon, this is crazier than Nixon."
"I gotta bunch of military motherf***ers questioning sh*t right now."
"More than 75 percent of your military is immigrants." [A 2008 finding reveals that number to be 5 percent]
"There is no decision you can make now as a human being that is not political."
"You're a part of this sh*t .. everybody is a part of this sh*t now."
"You're talking to the Russians … my father died for this sh*t, yo." [Note: The actor's father, Jeffrey Craig LaBeouf, served in Vietnam but did not die in the conflict]
"How is it cool to be a Nazi now?"
"You tried to shut us down in New York."